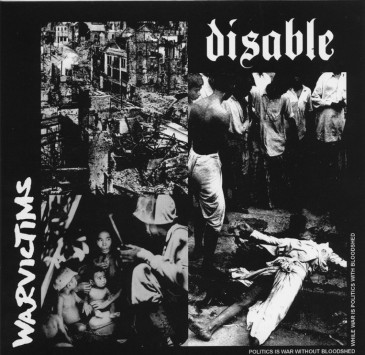 Hello again dear readers, and welcome to another installment of record nepotism gone awry. As we head full-on into May, the old adage of April showers bringing certain fresh-smelling and colourful plants is rudely crushed into the dirt by the heels of bullet-belted crust punks and their manifesto for their gloomier-than-thou outlook on life, herein played by Atlanta, Georgia's Disable and Gothenburg, Sweden's Warvictims. This recent split single allows for maximum venting on issues of dirty politics, the gory results of war, and other pleasantries whilst blitzkrieg-style riffs steamroll over an earthquake of drums in tracks like Disable's "Enola" and Warvictim's "Take Control." Fans of d-beat and hardcore will undoubtedly find their holy grail here and kudos to local lanky punker the Foat for bringing this to the masses via his Charged//Distorted label.
And now for something completely different. Calgary's the Ramblin' Ambassadors have released another killer slab of treble-heavy instrumental rock and roll. "Pine Beetle Express" shoots down the rails faster than a swarm of those pesky critters feasting on a forest full of woodsy goodness. Like Huevos Rancheros, of which guitar slinger Brent Cooper was a founding member, the Ambassadors marry the best parts of surf and spaghetti-western soundtracks with a dose of perky punk to great effect. The results are always spectacular. Rounding out this platter are two Shadows (yes, the penultimate British instrumental combo) numbers—"The Savage" and "Pants Off, Dance On (FBI)" —worthy of any hi-fi.
Lastly, locals Koban deliver a dose of gothic pop worth its weight in "Solid Gold," as the lead-off song from their new single attests. Guitarist Samuel Buss and bassist Brittany Westgarth, along with their drum machine, craft four songs of sublimely spacey but seemingly catchy post-wave in the vein of Warsaw, early Bauhaus or even Cocteau Twins. Tracks like "Listed" and "Bastille" move along darkly on sparse, barked-out vocal lines and staccato-laced beats. These guys would not be out of place on a bill with Mode Moderne or Shi Yi. In fact, I would pay good money to see that happen. Ok, Koban, the ball is in your court. Make it so.
And with that, I am out.
Disable/Warvictims: Charged//Distorted Records www.chargeddistorted.blogspot.com
The Ramblin' Ambassadors: Eat Shit And Die Records www.esanddrecordings.com
Koban: The Broadway to Boundary Records www.thebroadwaytoboundary.com