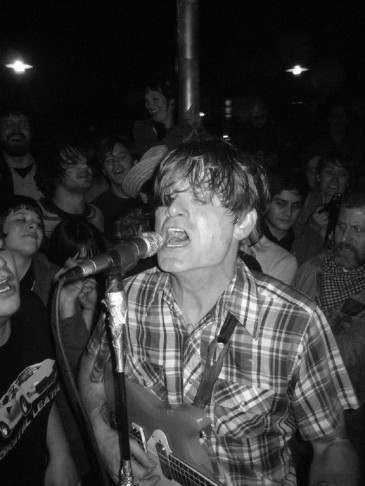 They say (CiTR's music director Luke Meat says) that nothing is like your first time at South By Southwest. If bands are your addiction, then Austin is your overdose. Instead of retail, Austin has bars. Six block of bar after bar. During SXSW, each bar is a venue, sometimes two, and maybe even three, if they decide to extend the party with a tent in the back alley. Many venues were outdoors, in alleys, parks or at the back of ranch houses hosting pong tables. The sound bleed in the street was incredible (from a showgoer perspective as well as from a city bylaw perspective), with a different band teasing your ears every ten paces. Two main streets were closed during the festival and filled up with music lovers, who seemed refreshingly normal after witnessing Granville's red-clad drunken hordes during the Olympics. There were so many bands in Austin that bands that starting with the letter 'B' took up three pages in my pocket program guide. Highlights of my SXSW included seeing the Muffs, Ruby Sons, Yellow Fever, recently discovered '70s punk band Death, Winnipeg's Boats! and Local Natives. Nashville's Turbo Fruits stunned the crowd as lead singer Jonas Stein climbed the speakers, grabbed hold of the awning poles and hung upside down from the middle of the tent, strumming his guitar. Goofy Das Racist rappers reluctantly treated us to the annoyingly catchy "Combination Pizza Hut and Taco Bell."
For our pre-SXSW event, we visited the 21st Street Coop, an undergraduate cooperative (and occasional show zone) that had the air of a combination commune and frat house. Wooden walkways connected the buildings, making space for beer-swilling partiers who spilled out of the small, hot, sweaty room. If you could avoid errant pissers and beer cans, the grounds were lovely, abuzz with the flow of students and random music industry professionals. Wounded Lion and Thee Oh Sees were the main attractions, and transformed the room into a mess of moshing, smelly boys.
Our SXSW ended at a Vice party in an unfinished office building. We jumped levels in the adjoining parking garage and snuck in the back door, catching sight of pot-bellied and shirtless Les Savy Fav, as lead singer Tim Harrington ran into the throng and reappeared on a table top floating across the crowd. CiTR's Duncan McHugh was one of the pallbearer-esque muscle men underneath.
SXSW also featured panels and presentations, interviews, a trade show and a poster exhibit. Our very own Nardwuar the Human Serviette presented his "Video Vault Part Deux," entertaining the adoring crowd with anecdotes and amusing segues. Nardwuar chronicled his conversations throughout the years with Courtney Love, and his intention to catch a few words with her at SXSW. Unfortunately, she managed to give him the slip despite his excellent star hunting skills.
The other panels delved into industry challenges and legal issues. In "Why Hasn't the Record Industry Sued Girl Talk?" two lawyers got into a snit over the definition of the public domain, and in "Evaluating the New Business Models: Benefit or B.S.?" five lawyers put a hundred people to sleep by discussing the details of contracts.
In addition to hourly evening showcases between the hours of 8 p.m. and 2 a.m., companies, countries, labels and media threw day parties, all free with stellar line-ups, free food, swag and occasionally liquor. The M for Montreal party was stacked with great Canadian bands including Besnard Lakes, Holy Fuck, Think About Life, Duchess Says, Rory Erikson and Plants & Animals. Although we were disappointed that our beer tickets were really a raffle for a pair of jeans, we stuck around for the afternoon to score free vegan BBQ and pineapple/basil ice cream bars.
While the food was disappearing fast in buffet form, the music was lined up like one of those classy ten-course tasting menus.
Duchess Says, a percussive art-rock-pop outfit from Montreal, charmed and jarred us with their edgy experimental sound. Lead vocalist Annie-Claude Deschênes paced the stage, punctuated the music with her body, and used her stiff hands to chop sound into bits and pieces. Vancouver's own Edo Van Breeman of Brasstronaut was bobbing around in the crowd, eyes on the floor, when Annie-Claude burst into the crowd, put her shoulders on Edo and wrestled him down to the ground. Check out the video here:
Mint Records and Six Shooter Records threw a fun bash with the Pack A.D. and Carolyn Mark, and Manitoba Music hosted an amazing BBQ in a beautiful turn-of-the-century mansion.
On recommendation by Val Cormier of CiTR's Folk Oasis, we hopped in the car for a day of Texas county adventures. After a historical distraction and cattle safari at L. B. Johnson National Park, we arrived at Luckenbach—population: 3, a trading post and dance hall on Farm to Market Road 1376. Thirty odd people were scattered around the town and the picnic tables, drinking Shiners (the Texas brew), and singing along to covers of country songs. We were treated to a rendition of the Waylon Jennings song that made Luckenbach famous—"Luckenbach, Texas (Back to the Basics of Love)." Luckenbach hosts concerts regularly, and was the site of Willie Nelson's Fourth of July Picnic in the '90s. We enjoyed the atmosphere in relative safety, under the boughs of a hulking, ancient tree, until one of the chickens hiding in the branches laid an egg that dropped to the ground with a crackle and splat.