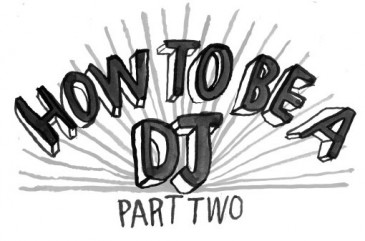 In part one of this series, we looked at some of the technical aspects of getting started as a DJ: equipment, resources, practice and developing your style. Part two covers the rest of it: starting to play publically, getting known, show promotion and some tips for the scene in Vancouver. Advice comes from Brad Winter, CiTR's music director, Michael Red of Lighta! Sound and Jason Sulyma a.k.a. my!gay!husband!
To move out of your own little space to performing in front of a live crowd can be the hardest step to make. You can start by simply playing at parties that you or your friends' host. Who's going to turn down an offer to have a DJ at their party?
"There are things you'll never understand until you play somewhere live," Winter said. "[Like] how to keep people on their toes, giving them something that they don't expect, getting that balance between what you like and what they like."
Vancouver has a really cool opportunity called Open Dex at the ANZA club every Saturday night from 10 p.m. until 2 a.m. It's half hour sets, open to anyone who wants to play. You'll find a relaxed lounge environment where people aren't expecting to dance (although it's definitely not prohibited), so less pressure than out at a club.
Winter recommends looking downtown for a few hip retail stores that have turntables. They can be welcoming to beginner DJs and they also don't have the pressure of having to entertain a crowd that wants to dance. Play at one of these a few times on weekends or evenings and you just might get an invite back to play at a special event.
If you're looking for a fun challenge, CiTR holds an annual DJ contest with entrants ranging from beginners just stepping out of their bedrooms to those with several years of experience behind them.
This can all be fun, so why would you want to take it further? One reason is just to grow a scene that you think is missing. "If you don't see events going on that fit what you want to play, then put them on yourself," said Red. "It's easier than you might think." We'll get to that, but if you're not ready to jump in and start promoting your own events right away, you might want to try to catch the attention of a promoter or a DJ crew that you think fits with your style.
This is where personal promotion through an online presence is essential. Red had some advice about this. Demos, mixes and playlists are key. These should reflect what you really want to play. They should give promoters and other DJs an idea of how you'd fit in with what they're trying to do. Be visible online. Use MySpace. Start a blog. "The easier you make [it] on the promoter to sell an event with you playing, the easier it's going to be for you," said Red.
The choice between solo promotion and operating as a group has several consequences. Red and Sulyma both acknowledged working as an individual brings greater freedom: "You get to follow your vision, book the bands you want, the flyers, the art, you get to decide it," Sulyma said.
Depending on how you view the conflicts that arise in a group, they're not necessarily a negative. "We're all individuals, and we're all artists … There can be clashes … but that can be a really great learning process provided everyone is willing to meet at that level," said Red. There's also the financial aspect. To run an event, you'll need to pay your staff, the venue and then having to split the small profit with a few others can make your rent hard to pay.
Some event planning tips from Red and Sulyma should be useful for any up-and-coming promoter. Sulyma gave a step-by-step: pick a name for your silly night, even though nobody cares about the name; get a good graphic designer and build your graphic to fit the kind of event you want, create a flyer and get it printed, then hustle hard. He suggests hitting the stores, the street and having a nighttime presence. "Don't just hang on the Internet the whole time and think that's promoting. When the Cobalt closed, there were 6,000 people on the Facebook group," said Sulyma. [ed. Point being that it still closed.]
Red added, "It's important not to push things on people. Give them the information and leave it in their hands to decide. Just put on a quality event, then word of mouth will spread."
A venue for your event might seem hard to come by, but they're out there. "Every bar is so broke here, and everybody only has weekend traffic, they would kill to have more shows, and if you say that you can't get a show from Sunday through Thursday, then you're not trying hard enough," said Sulyma. It does depend on what you're trying to do, though. Underground bass music has a particularly difficult time. Red was excited about the re-opening of 917 Main a.k.a. the Cobalt: "Everything appeared to work there, except … for the bass volume." He's wonders though, about mainstream venues taking more chances on underground. "It'd be great to live in a world where Top 40 mainstream dance music didn't dominate Vancouver's downtown scene." Perhaps it just comes down to money.
That's what Sulyma mentioned it coming down to. "If you fill the room, the venue can sell their liquor and then they'll let you do another show," he said.
One demographic that's under-targeted by events in Vancouver is the under 19 crowd. Sulyma's only complaints about venues in the city is that there are not enough venues for the huge under 19 population and that all-ages shows get the police scared and get parents scared. "Kids are sneaking into clubs anyway. They need to get used to doing unique social things in the evenings, not just house parties or raves where they'll get beat up or O.D.," said Sulyma. There's a challenge for you promoters out there: build up the all-ages scene. The Rickshaw, with their theatre licence, is one of the few great locations for all-ages shows.
Red and Sulyma had similar final bits of advice. "Make sure that you're playing music that you're passionate about. Make sure you're going where you want to go," said Red.
"Do it if you want to do it," said Sulyma, "and don't worry about haters."