On January 24, 2022, an orange, purple, and magenta mottled square popped up across Vancouverites' Instagram feeds with bolded text in the bottom right corner: What is Van Black Library? And why?
The post continues to introduce Van Black Library (VBL) and solicit donations for its (then) $6,000 goal. "Right now Van Black Library is, as you can imagine, a library. But also, even from the beginning, it's supposed to be a community center and community hub for Black people and BIPOC people with a focus on fostering an environment for Black people in so-called 'Vancouver,'" explains Maya Preshyon, VBL's Director, over a Zoom call in early February. "Libraries connect people to information, but they also connect people to people. And Vancouver's Black community needs places to connect with other Black people." 
The VBL project is based in manufactured cycles of disbursement and gathering. Of fracturing and mending. The maintenance of a community nucleus for Black people in this city.
Gathering.
Vancouver's Georgia Viaduct splintered Hogan's Alley in the 1970s, dispersing the city's historically Black neighborhood directly adjacent to contemporary Chinatown. "It makes you think about the potential that could have been, growing alongside Chinatown. You see today all the things that exist in Asian community in Vancouver — cultural connection, arts, resources, community — things that the Black community could have also been growing over all those generations if the viaduct didn't quash the community." 
Maya Preshyon is the powerhouse of VBL. They began the library as a direct response to this void of Black community in Vancouver. "As a person, I stay mad. I'm frustrated about a lot because I just can't put my brain off of it. I'm just thinking about things that are wrong, that I wish were better. Sometimes that can get out of hand when you're feeling isolated — you can't talk it through. I was feeling really lonely and pessimistic because It didn't feel like there was anything worth being optimistic about." She continues, "Things felt wrong in Vancouver, and I think it all comes down to the fact that ever since Hogan's Alley was dismantled, which was the focal center of Black infrastructure in Vancouver, there was never an initiative strong enough or an inclination strong enough to build tangible cultural infrastructure to support Black community and support Black people. Vancouver is built for a very specific kind of people to thrive, and for other people not to because resources for them just aren't built." 
Most Black people in Vancouver don't find themselves in a large-scale connected community. The forced fragmentation of Vancouver's Black community has fostered isolation and a thirst for Black connection. "I don't really know all of the history of Hogan's Alley. I just know that it's not there anymore and I feel the effects of that in my everyday experience," Preshyon describes. "Every event in Vancouver that I've been to, and I think other Black people do the same thing, you scan the room and count the Black people. And it's usually enough to fit on just one hand, if you're not the only one there. Then you make Black-people eye contact across the room so you don't feel like you're singling them out because most of the time, you don't know each other. Because you're not connected. It's a scarcity to find a network that you can connect with. So when you do find people, it feels like you're clinging onto something that you're not gonna find again. And that energy is a terrible tone to start a relationship. The stakes are too high."
Building a space that nurtures authentic community already comes with its own fleet of difficulties and nuanced maneuvers, but that task becomes even more complicated when it explicitly calls to a racialized community. "We're still figuring out how VBL can be a space devoted to Black people, run by Black people and by BIPOC people. So the allies, the white people that get it, they contribute what they contribute. They donate money, they donate books — hella books. But there won't be any white names behind VBL because if they wanna contribute, that's a donation. If you wanna give us an idea, thanks for donating us an idea. But it's not by them and it's not for them. And if they're based, then they will support any way they can."
Mending.
Within 2 days, the library's GoFundMe met half of its $6,000 goal. "I was like 'Oops! I misread that. This is actually, maybe very based?'" 
They've since increased the goal to $35,000 and raised over $31,000. "Looking at the strategic plan we realized that aiming for a 6 month lease didn't make sense, because it's a community center! The whole point of VBL is we want to give a lot, so we need to have the resources to be dishing out the goods."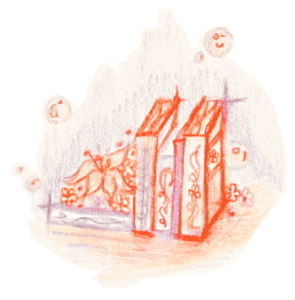 The goods in question? Beyond being a library that provides books, resources, and encouragement, VBL has plans for monthly artist workshops, childcare, book clubs, group therapy, really anything. "Anything that cool Black creatives, or people that provide something can do, we will say, 'Let us pay you so you can show people your cool thing!' And we will have a space that can do that for the community." Inspired by other community spaces, Preshyon hopes to provide free childcare for parents coming to the library to work and can rely on their community within the space, "volunteers of trusted people because it's other Black people, other BIPOC people." 
Preshyon doesn't run VBL alone, she's supported by Natalie Hanna, Nola Boasberg, Etaremi Brisibe, Nathan Preshyon, and Simon Grefiel who perform various roles from web design, library technician, grants, administration, communications, sponsorship, and they plan on taking on more volunteers as the project builds. "The team, to start, was comprised of people who were in close proximity to the project and wanted to support in any way they could," Preshyon explains. "Soon VBL will be onboarding several more skilled coordinators and the team will then be three-quarters Black and the board will be as well." But VBL is still figuring out what it means to contribute to the library. "Volunteerism is really tricky. Because time is money. The ability to volunteer time is a privilege and I don't want people to not be able to volunteer even when they want to. A lot of people have been really really eager to volunteer […] and while we're getting started, of course it's really awesome that people want to — because we're not really asking anything from anyone beyond what they enjoy. But my goal and dream ASAP, is that full-time people can be compensated for their labor in some way. In some substantial, significant, way."
The amount of care towards the project is immense, but opening and operating a project at this scale, obviously, is a huge undertaking. "It just feels like we're all really excited for what's to come and to have a physical space. I think the main thing is that VBL's really exciting. It's gonna be really fun and cool, so all the hard work and the sore eyeballs from staring at screens all day and being really tired, yes very tired, very very tired. But it's giving me the dopamine rush right now," Preshyon qualifies, "so I'm down. And from the rest of the team members the vibe is mutual."
Nucleus.
"VBL is something that is present. It is now. We can feel all the effects of history right now. So we're only addressing things that we feel presently. People often only bring up Black history in a way that does not ever continue into the present. They speak of Hogan's Alley and Vancouver's Black community as going extinct when Hogan's Alley was built over, but Black community didn't disappear. They were just dispersed and didn't have anywhere to connect anymore. So if the only thing you have to say is rooted in history and dead ends, then that's a problem. And that's why VBL's focus is Black futures, not Black history." 
Van Black Library's collection has a focus on portraying Black narratives and stories and perspectives. Donate money or books at vancouverblacklibrary.org/ways-to-donate and follow them on Instagram @vanblacklibrary for updates.