"Community curator," "content creator," "Chinese-Canadian." These are all labels that KC Wei, founder of agony klub, identifies with, but not without questioning and challenging their meanings.
Earning an MFA from Simon Fraser University in 2012, KC has found her niche blending together music, art and writing under her loosely designated label, agony klub. "A common thread through all of those disciplines is writing, and that's what agony klub is focused on, or at least, the starting point," KC explains.
agony klub, the label, was born from the monthly art rock? series that KC has been organizing at the Astoria since September 2015. Through art rock?, KC introduces "popular esoteric," a new age term centered around making popular things strange again. But it's more than just that, KC explains, "There's a political responsibility I feel in making art. I want it to do some good in the world, be a space locally that can feel new and out of the routine, that doesn't need to become something other than itself."
She admits that planning shows once a month was hard at the beginning, but the intention has never changed. agony klub and its productions have always been about appreciating diverse genres of music, from the loud to the barely audible. art rock? is all about offering a space to break the rules, and to surprise. "The agony (i.e. doubt) and precarity is something I welcome, I suppose. […] I like the uncertainty, it's always very full of potential. No matter which way it swings, it always ends up back in the middle to fill up again," says KC.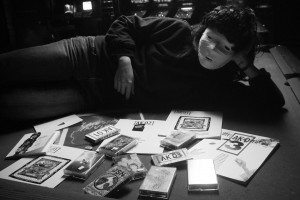 Besides creating and releasing music, KC also writes about music. In addition to producing a semi-consistent publication called AK, KC edits Whitney Houston, et al., an anthology of writing on popular music, with the second volume coming out in March. "In Whitney Houston Vol 2," KC explains, "all the writers went to a personal place, and I think that is really powerful. Something that is popular is supposed to be generic enough for a mass audience to consume, but when we can identify our own selves in it, then there's some alchemy at work worth exploring, whether it be critical or celebratory; often it's both."
In this forthcoming issue, Steffanie Ling, KC's coworker at VIVO Media Arts Centre, wrote a piece on the parallels and cynicisms of K-Pop to American pop music. Steffanie also happens to be KC's partner in publishing Stills, a starter zine that reviews films.
You may have noticed, there is a thread that links KC's projects and agony klub releases: a fixation on pop culture. This is especially apparent in agony klub's print catalogue. "Pop culture is, for the most of us, what triggered our awakening as young adults," says KC. She continues, "because agony klub has zero ambition to climb the career ladder of criticism, and has nothing to answer to except for this idea of 'making the popular esoteric,' I think it frees up a lot of room for writers to experiment honestly, and to get at the core of something that's usually an aside. And these asides can hold rigorous ideas and critiques, but also be light and stylistic in a way that don't really fit academia and journalism."
Another side-project of KC's is a documentary about the Vancouver music scene. Thus far, it is comprised of footage from art rock?, Red Gate's Halloween cover show last year, other music events, and some interviews with local personalities.
What's next for agony klub? Vancouver band Puzzlehead, dubbed 'clowncore' and self proclaimed "needing at least one French word" in their online bio, will be releasing a cassette with the label on April 1. Later in 2018, KC's own project, hazy — which she nonchalantly describes as "shoegazey and dreamy, abstract and complementary" — will be releasing a split vinyl with Eshuta. hazy will also be going on a small Western Canadian tour with Winnipeg band, The Pinc Lincolns this spring.
It was so easy to chat with KC and cross-pollinate recommendations, that an hour-long discussion flew by. With all the disciplines agony klub finds itself producing, you're bound to catch KC in action, and with passion.
x
The next installment of art rock? will be Tuesday, March 20, featuring Cave Girl, Echuta, Valsi and DJ Owen Ellis. art rock? will conclude in late April with a special outdoor show at Robson Square — more details to be announced soon. For more on agony klub, visit agonyklub.com.