For context, clipping. are doing well. Beyond the trio's acclaimed releases on Sub Pop, their varied fortunes are respectively a burgeoning PhD in music theory, a resumé rife with soundtrack composer, and a Grammy and Tony award for portrayal of Thomas Jefferson in the broadway hit Hamilton. So, if most hip-hop artists conceive the profession as WWE, then Clipping, all audio bombast and high-concept (their newest release The Splendor and the Misery is an Afrofuturist space-opera about an escaped slave's romance with a ship AI), are not far-flung from Broadway.
Credit to clipping. for bringing these corners together. The packed audience in the Biltmore was a far cry from their last appearance in Vancouver, at the late, great, Zoo Zhop — which Daveed Diggs graciously gave a shout-out to. As I was too sick to get into the heat of things this evening, I'd like to add that Diggs' gracious hosting and mindfulness of the crowd were likely as accommodating as any experience gets when the musicians are sampling Whitehouse.
Newfound fame aside, Baseck's opening set made obvious the deep cut of their references (and is itself a touchstone for clipping., who collaborated with the electronic guru and rave veteran on debut mixtape Midcity). It was Baseck's first set in Canada, and for the handful of ravers prepared to enjoy themselves, he was at home. Commanding a turntable and controller, Baseck's performance was kinetic.
At its busiest, the music was busy progressions of melody and staggered percussion, with synth as reminiscent of speed metal as drum and bass. Baseck's hands were all over the kit, coming down on his console to trigger pummeling drums hits and turntable scratches. These heavier segments most energized the receptive, enervated with headbangs and jitters, while for most, the best bet was to flail abreast the assault. These segments gradually rotated with expansive bass rhythms, showcasing Baseck's hip-hop craftsmanship, and a sci-fi grandiosity alluded to in the circuit-bent noise strewn across the set.
Unfortunately, the choice of venue diminished the set. What ought to have been a surround-sound attack, Baseck's dark mechanical patter lost its imperative and intimidating factor as the sound thinned out rapidly. The crowd was also unhelpful, for the most part being unacquainted and uninterested in letting too loose during the opener.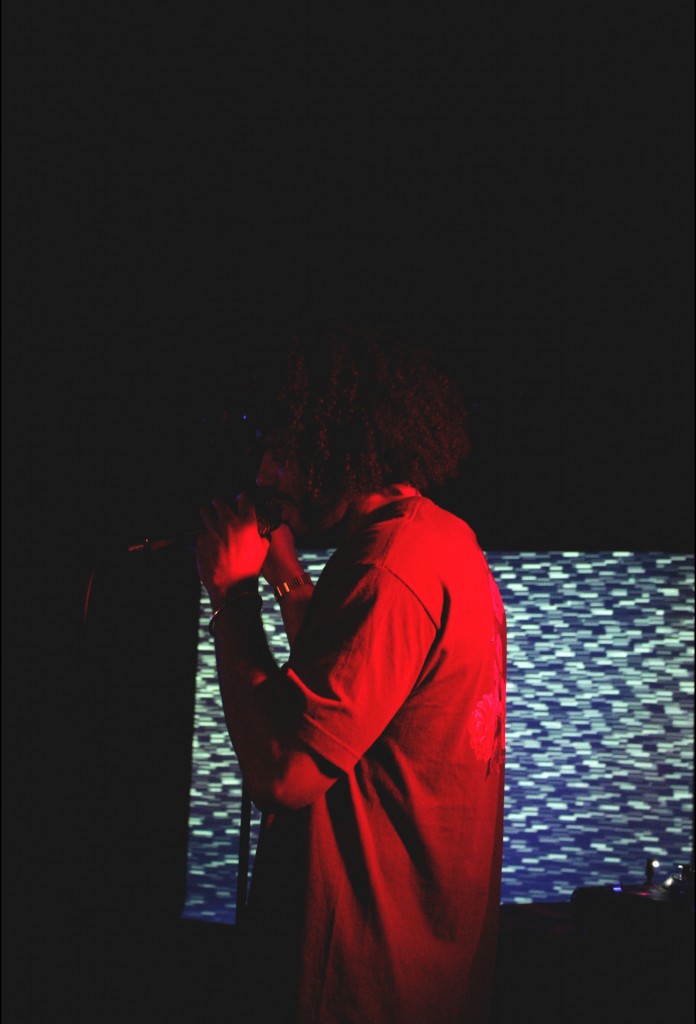 Obviously, clipping. came on stage to fervour. It was a far cry from the "Guns Up" days — Diggs didn't need to tell people to go wild. While the evocative and deliberate scenes of clipping.'s albums are one of their strengths, the effect of a pared down venue made their set about pyrotechnic function. Diggs' rapid and technical rap was at the forefront. Rappers with Diggs' skill, and high register, though harder to groove to, can go over any beat, no matter how cacophonous or implosive. This was essential for William Hutson and Jonathan Snipes' versatile rhythms, bombastic in spats of vocoder-crushed vocals, dexterous genre-shifts, clanging momentum, and rushes of noise.
On a final note, of this moment, walking through the venue to gauge the diverse audience, I noticed several folk older than the Biltmore's traditional clientele: what I interpreted as the Hamilton contingent. Given clipping.'s ability to cross-section harsh noise with Reichian minimalism, bomb-squad production with rave and a dash of YG protest, perhaps it suggests a brave new horizon that cuts through media segregation and cultural curation with the universalism of hip-hop and noise. Or maybe I was wrong, and even live clipping. are adept at conjuring high-concept conceits.