On the edge of Vancouver's Downtown Eastside, two members of local noise-punks Shearing Pinx have just entered what they call the Abbot Street Moldy Village. The hall inside is almost bare; only a small poster insisting "Punk's not dead" foreshadows the rooms within.
The room labeled "Female Vocals" is the band's jam space, where singer/guitarist Nic Hughes, and drummer Jeremy Van Wyck take seats on dilapidated furniture. The walls are covered with art and memorabilia: a large photo of an exploding plane, not one but two Lost Highway posters, a Jackson Pollock-like painting, and countless gig flyers. "Some of it was put up by the last band, some of it by ours," says Hughes. A picture of a shirtless David Lee Roth, his hands chained together, stares down from the wall. When asked about it, Hughes shrugs, "Oh, that one was us."
Pinx had a busy 2011, which isn't surprising for a band that's issued over 50 releases since its inception in 2005, many of which appear on Hughes' label Isolated Now Waves. Just after issuing the Night Danger LP last summer, the band followed it up with Rituals in September, and now it seems they've finally earned a break.
But not for long. Pinx has just recently planned a national tour for May and June with fellow no-wavers Random Cuts, including the OBEY Convention in Halifax, and their next album is already in utero. Meanwhile, the band is letting their current effort set in its mould, at least for a little while longer.

From the shambolic "Prisoner," its drums pounding like gunfire, to the sharply cut "Sapphire," Rituals is grippingly dark and primitive. Summoning a tribal energy perfectly suited to the album's title, the tracks sound like they were chewed up, gargled with gutter water and spat back out.
The songwriting process is simple. A machine of perpetual motion, the band is constantly jamming and recording the results. "We just piece things together until it's long enough," Van Wyck says, only partly serious. "It's improv."
Collaboration with other musicians has always helped shape their sound as well, whether local or international. They've recorded with San Diego band Night Wounds as Grime Hut, formed a band with Bitches for one night only in London called FOX PISS, and collaborated live with U.S. Girls, AIDS Wolf and Nu Sensae. "You want to interact with your community," says Van Wyck.
"Especially sax players. Every time we find someone who plays saxophone… 'Come on for a song!' Then you've made something together, and it's a tighter bond than just sharing a stage." So it would seem; Jesse Taylor of Twin Crystals was one such saxophonist, having appeared on "Marked Man" from 2010's Void White, and was recently recruited by Pinx as second guitarist/vocalist.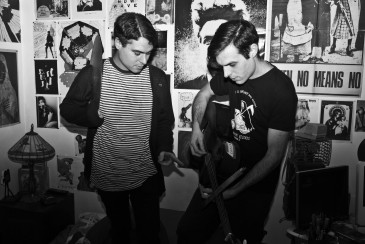 Taylor is an old friend of Shearing Pinx, a former front row regular at shows, and a bandmate of Hughes in the on-and-off synth-punk project Channels 3+4, whose last offering, Christianity, made its way to vinyl in 2010. This camaraderie clearly helped make Rituals as unified as it sounds.
In spite of the band's artistic openness and considerable fan following across North America, Pinx has remained largely underground in Lotusland. To Hughes, it's no surprise. What's surprising to them is that someone actually created a Wikipedia page for the band, a fact they only learned during the interview.
"It's hard to be… overground," he admits. "The music's not accessible. There's just no chance." Rituals is a less radio-friendly unit-shifter and more like the jam space's Pollock painting: Prematurely judged, it might simply seem like shit thrown at the wall, but upon closer inspection, it's so much more intricate and inspired.
The record's coda, "Enemy," recalls groovy '90s grunge, but distorts this reflection with a level of nearly industrial dissonance. Likewise, "Rituals of Life," with its looming sludge-metal riffs and Hughes' vocals echoing like cries in the dark, is an album highlight that can be as repellent as it is magnetic.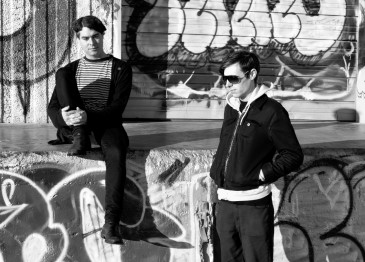 Yet alongside the band's cynicism is an unwavering need to play music. It's a drive that started for each founder when they began playing in bands as teens (Hughes in Enderby in the Okanagan, Van Wyck in Bogner, ON).
"Even when there was nowhere to play, we'd play parties, coffee shops or skate parks, and people would always cut us off after two songs, like, 'No! No more, you guys suck!'" laughs Hughes of one of his earliest projects. "Back then, everyone wanted to be Nirvana."
Taking cues from noise-rock influences like Sonic Youth, Pinx has become known for their earsplitting sound, built around an emotional aggression that's the blood and guts of the band. In conversation, however, Hughes is unexpectedly soft-spoken. "I'm not a violent person," he explains—he does his screaming and thrashing on the records. "There's a lot of heaviness, heaviness, just heaviness all around this city all the time, it's so extreme. So it's useful to have that outlet."
In 2008, Exclaim! described Vancouver punk as "harsh music for a harsh environment." Pinx resonates with that, and with the whole idea of an environment shaping music, citing German industrial and California sunshine pop.
"It's just natural," says Van Wyck. "You have to fight for it not to."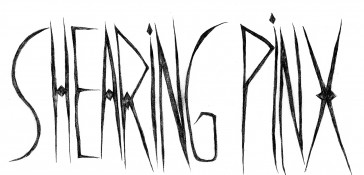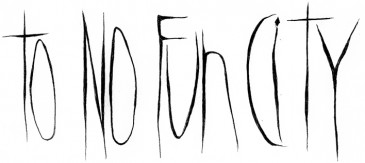 lettering by Dana Kearley
Unfortunately, Vancouver tends to shape its music scene so that it curls in on itself. It's earned its embarrassing nickname "No Fun City" because of excessively strict liquor licensing regulations, overzealous cops and bars that consistently rip off gigging acts. All of this makes bands like Shearing Pinx feel like they're choking with red tape. "The things people have to go through just to have a space…" sighs Hughes. "It's so greedy."
Nevertheless, as the poster in the Moldy Village says, punk's not dead. If you peer under the rug, in the city's back alleys and abandoned buildings, acts like Shearing Pinx are filling the empty spaces with self-funded, all-ages, and most importantly, unadvertised shows.
"It's active resistance," says Van Wyck. He and Hughes insist that if the scene could have a place that was legit, it would, but currently it's unaffordable. Still, according to the drummer, there is a wide-ranging alliance of people working together to keep Vancouver's alternative scene breathing. "We know each other, we help each other with shows," he explains. "Healthy or not, it is a community, and it's always gonna be there."