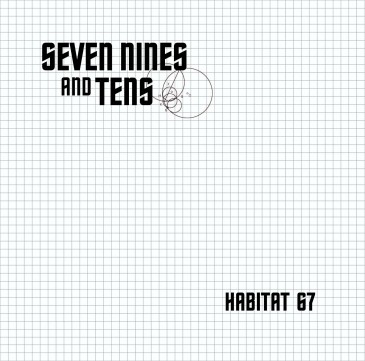 With their latest release, Habitat 67, Seven Nines and Tens offer a visceral fusion of progressive metal and ethereal space rock, and the amount of innovation and talent that this four-piece brings to their compositions is simply staggering.

To call their riffs titanic would be an understatement. The closing passage of "Crystalline Xanthine Alkaloid" threatens to crush the unprepared listener under its sheer colossal heaviness. However, the album finds its dynamics with songs like, "I Grow Tired," the most melodic track on the record, which reminds me of Porcupine Tree, with its great sense of quiet/loud dynamics that accompany its winding, intertwining soft passages.
The group keep things interesting by occasionally trading off their heaviness for more subtle jazzy jams, like "Retrograde Orbit," and by utilizing their great ear for dynamics to mix in gentle, almost soothing, shoegaze inspired guitar-work within their brutal, sonic heaviness.
The addition of keyboards also deserves notice as it adds immensely to the intergalactic atmosphere of the album, providing an ambient yet simultaneously melodic backdrop for the group's twin guitar attack.
Habitat 67 is eclectic, challenging and at times and strikingly beautiful. With this latest effort, Seven Nines and Tens prove without a doubt, that they are a force to be reckoned with, in this, or any other galaxy.