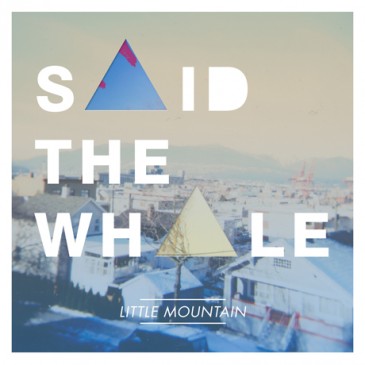 The greats of Canadian music share the same plight, as far as catching on in the United States. Neil Young made it. So did Nickelback. As did Justin Bieber (mind you, if Usher can't make you famous, no one can). Then there's Celine Dion and Shania Twain, and also Bryan Adams, whose music isn't even considered Canadian according to the Canadian Radio-Television Commission's Canadian Content regulations. The Hip tragically never made it in the U.S., despite taking home 14 Junos and reaching number one in Canada with nine of their 12 studio albums. Keeping The Hip company are an entire class of Canadian groups who, by choice, remain content to never hustle their talents south of the border.
As demonstrated by their 2011 documentary Winning America, Said The Whale wouldn't mind catching on down south. With their third LP Little Mountain on the precipice of its March 6 release, frontman Tyler Bancroft chats with Discorder from his cozy Vancouver apartment to discuss where the band's sights are set next.


The local quintet are gearing up to get back in their van and drive. They've spent the past five years trekking across the country, slummin' it in their tour van while winning over Canadian audiences one fan at a time. Their unwavering commitment to honing their music on the road and even moreso in the studio has earned them the coveted Juno Award for New Group of the Year, which they won in 2011.
And while it's "a blur of alcohol and appetizers," Bancroft jokes, taking home a Juno has certainly done something to solidify the group's presence in the Canadian consciousness. With this next 42-date trip that includes 16 U.S. stops from Seattle to Austin to Brooklyn before crossing Canada from St. John's to Vancouver, Said the Whale are hoping to win over the hearts of Canada's neighbours.
"We are starting from scratch again, just like we did in Canada five years ago," Bancroft explains, adding they had once played to three people in Thunder Bay, ON. "The reality is you just have to get in the van and drive around a whole bunch of times until you can expect to have an audience at any place."
North of America, the buzz over the upcoming release of Little Mountain is palpable. What you can look forward to is the familiar light-hearted pop-influenced folk contrasted against some surprisingly darker numbers, including the sweet yet sombre final curtain "Seasons," with its unusually simple piano accompaniment, and the album's lyrical lament for Vancouver, "Big Wave Goodbye."
Having taken a more collaborative approach to songwriting than in the past, Bancroft says that Little Mountain, "may be a little bit more representative of the musicianship in our band and of everybody as a whole."
That collaborative effort indeed extended outside of just the musical aspect within the band. They joined forces with Vancouver's Amazing Factory Productions, who worked with the group to produce a video for each of the album's 15 tracks, to be released one-by-one via various Canadian media outlets. A screening of all 15 videos took place February 25 at Vancouver's Rio Theatre, less than a week before they hit the road.
"It's gonna take a while," Bancroft says referring to growing their fanbase in the U.S. "I think all we can really do is get in the van and drive; go make fans one at a time." With more than two months, ten states and ten provinces on the road ahead of them, that's a pretty accurate way to put it, and there's only one way to find out if they'll succeed on this go. The best way? Just wait and see.