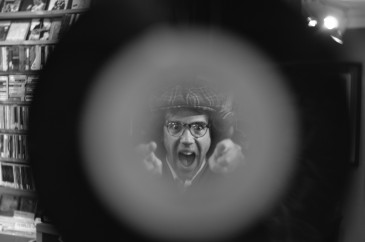 In an interview from 2008, Lady Gaga puckered up and planted a kiss on an issue of Discorder Magazine. The cover featured a photo of American transgender icon Amanda Lepore, who earlier that year played the pop star's Fame Ball. Over three years later, I sit down to interview the CiTR radio personality who captured Gaga and Discorder's first kiss. Pointing my audio recorder in his direction, I start the interview. "Who are you?" Leaning into the recorder with a smile he says, "Nardwuar the Human Serviette from Vancouver, British Columbia."
Sitting in the basement of Neptoon Records, we're surrounded by thousands of vinyl albums, alphabetized from floor to ceiling on all four sides. It's an audiophile's paradise, and a fitting spot to interview with Vancouver's plaid-clad audio aficionado about his new compilation LP, Busy Doing Nothing.

Wearing his trademark golf-style cap with detachable pom-pom (a gift upon his mother's return from a visit to Scotland), Nardwuar is to the Canadian music scene what Don Cherry is to our national pastime. After years of witnessing his unabashed approach to interviewing musicians and quizzing them on music-related minutia, it's hard to picture a nervous Nardwuar's first day at CiTR back in his early days as a student at UBC.
"I learned everything at the CiTR," he says. Recalling those first few intimidating years he adds, "Yeah I never really knew much about music. I guess it was just because I didn't know anything that I tried to find the interesting information."
Today the inside of Nardwuar's brain is a library of endless album info. His preparedness and unpredictable interview material have impressed the likes of Michael Moore, Jay-Z and Snoop Dogg. He's garnered a reputation for turning up to interviews prepared with rare music artifacts in hand and will always be remembered as the toque-wearing university reporter who had the guts to tell Soviet Statesman Mikhail Gorbachev during a press conference to "keep rockin' in the free world" in Russian.
Connecting the dots between artists and odd bits of little-known Vancouver facts is one of the many ways Nardwuar has promoted local talent over the years. On the new album, Nardwuar, his band The Evaporators, and a handful of other artists pay homage to some Canadian classics.
In regards to his own long-running outfit, Nardwuar traces his history with the band's guitarist John Collins, bassist/vocalist Stephen Hamm and current drummer Shawn Mrazek back to his early broadcast days at CiTR; Nardwuar met the band's original drummer, Scott Livingstone doing push-ups back in high school phys-ed class. "Your dreams can come true in high school PE!" he says excitedly, and we both laugh. And of course, it was during an interview at the radio station that Nardwuar also met friend and past collaborator Andrew W.K.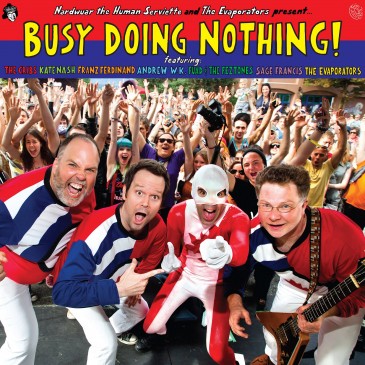 The follow up to The Evaporators' 2009 shared seven-inch with W.K., A Wild Pear, Busy Doing Nothing initially started off as another split with post-punks Franz Ferdinand. The Scottish group's proposed contribution? A take on iconic Vancouver power pop group the Pointed Sticks' "Real Thing."
Soon enough, though, Nardwuar had attached UK indie-rockers the Cribs, who cover the Dishrags' "Death In The Family," and Kate Nash, who performs a fabulous rendition of the 90s all-girl cuddlecore favourites Cub's "My Chinchilla," to the project and had to upgrade to a compilation LP. Other guest spots on the album include Montreal's Fuad & The Feztones covering the Evaporators' original "Welcome To My Castle," and the package also comes with a 40-page calendar of band shots, both candid and in concert, by local photographer Bev Davies.
On top of being a throw-back that tips its hat to some of Vancouver's finest punk bands, The Evaporators also contribute some new tunes. The band once again work with Andrew W.K. on opening number "I Hate Being Late When I'm Early," which references all the times Nardwuar has been late for his Friday afternoon radio show. The two can be seen running through the halls and jamming in the lounge of CiTR in a video for the song.
"How do you end up being late when you're early?" I ask Nardwuar.
"I get distracted!" he confesses. Finishing up our conversation, I had to share the irony of getting trapped in traffic with the words to "I Hate Being Late" stuck in my head, after having left my house early for our interview. (Thanks to the burgundy Honda Civic that pulled away, opening up a parking spot three feet from the front doors of Neptoon Records, I made it just in time.) Pointing the recorder back in Nardwuar's direction I ask, "Should I do it or should you?"
With this he immediately responds with his signature, "Doot Doola Doot Doo," pausing to wait for my, "Doot Doot!"