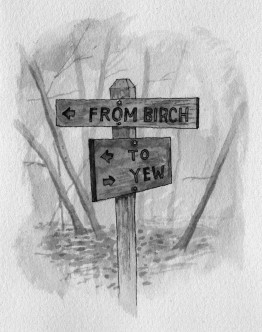 Norika Yue is the one-man band behind SHiNDiG 2011's third place act, From Birch to Yew. Though just 18-years-old, it was surprising to observe how grounded and confident Yue is in his music, despite feeling like he doesn't deliver what people may initially expect from him. Due to his young age, being a one-man band, and playing soft indie-folk tunes while in the midst of the music scene's tilt towards electronic/dance music, Yue finds himself head on with a few extra hurdles that other artists may not have to deal with. He's an artist against the odds. But, after talking to Yue for a couple of hours at Mink Café, it was obvious that this was exactly what makes him unique.


Yue goes to school in Calgary but constantly travels back to Vancouver to visit family, friends, and to promote his music. He missed two weeks of class just so that he could participate at SHiNDiG. While it may feel like a hassle to most, Yue said it was fun. It's a perfect example of his optimism and charisma.
However, when asked about the competition he said he felt like his chances weren't so good. Yue reveals that he almost didn't even make the cut to be a competitor. "I came into SHiNDiG as an underdog because I was a replacement," he explains. "Another artist dropped out and that's why they contacted me late."
He also felt uneasy being a one-man band up against full groups that played upbeat rock and dance numbers that easily got the crowd moving. That's something he feels is more challenging for a guy who plays simple and low-key indie-folk songs.
"I really want a band though," Yue confesses. "But all the people I've played with wanted to change the sound … make things way more poppy or make it, like, electro pop! And that's something I really don't want to do."
Yet, from listening to From Birch to Yew's tracks you would never guess there was only one member in the band. The multi-instrumentalist blends a soundscape of piano, harmonica, acoustic guitars and soft tambourines all on his own.
The track "Dear Zoe" demonstrates the seamless layering and transition from soothing vocals and slide guitar to a gentle build up of harmonica and handclaps. It's no wonder that playing the tracks live would be a whole lot easier with a band. Still, Yue handles the different parts with ease. He make excellent use of a loop pedal and even straps a tambourine to his foot to get all the desired results.
Though disguised as a problem, part of the bonus of being a one-man band is showcasing how one guy can accomplish all those different layers. It's mesmerizing to watch, in the tradition of solo artists like Owen Pallett and Andrew Bird.
There is something old school and organic about the way Yue approaches music. There are no filters, vocoders or simulated beats to gloss over the raw sounds of his guitar picking or husky vocals. "I guess music to me has always been about the acoustic essence. I'm just not a fan of synth sounds or whatever," Yue offers. And though he feels this works against him since it's what is popular nowadays, Yue's sort of "anti-technology" view is refreshing. He even admits that he sucks at just using social media to promote his music.
"It moves so quickly!" he laughs, "I feel really old and out of the loop, even though I'm, like, 18!" He grins and just sort of shrugs. Yue knows the genre he wants to make without being effected by what sounds are trendy. And thankfully, his persona isn't convoluted by tweets, status updates, and profile pics. It's what stood him apart at SHiNDiG — so perhaps being "out of the loop" isn't so bad after all.
From Birch to Yew will be back in Vancouver in February and we'll be sure to keep you posted on upcoming shows!