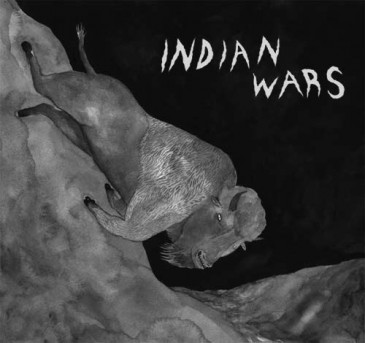 Hello! We are back in black after a wee break, but as always ready to recognize the greatness that is 7" vinyl!
To begin, Vancouver foursome Indian Wars are jumping head first into the shallow waters of the garage rock pool already inhabited by the Black Lips, the Strange Boys, the Smith Westerns and many others, but they seem unfazed and ultimately ready to challenge. This is thanks in large part to catchy songs and some strong support from their brethren Dead Ghosts (whose guitarist Big Cat lends his recording skills). Songs like "Carol Anne" and "Pockets" will get lodged in your brain and refuse to let go with their crackling guitar breaks and rollicking drums. And they're both saddled with reverb-drenched vocals with a penchant for '60s garage records bolstering the whole mess. Let's hope they can keep their heads above water long enough to outlast (or at least improve on) this current trend, 'cause right now this hits the spot.
Also satisfying the palate recently was the latest blast of pop-infused punk at the hands of the Nymphets, a then Montreal-, now Brooklyn-based trio of kids who like their Dickies and Toy Dolls as much as their Troggs, as they take a stab at "With A Girl Like You" by injecting it with surf-styled drumming and syrupy sweet vocals. With the other two tracks, it's hard to be angry as alluded to in the song "I Hate Everybody Else" when you hear them plow through this barely two-minute blast—only a wide smile and flailing hands as you reach for the turntable to spin this one over and over again results here.
Lastly, Phonecalls ring in with their mostly mid-tempo debut EP of the Spinanes-influenced pop ("My Lullaby"), a cover of the Zombies gone goth ("Tell Her No") and a song in which the only vocalizing is two words ("uh huh") which when matched with the title "Yeah That's Right" conjures up two heavily-stoned friends trying to make conversation at the end of a very long night of partying. Judging from the influences listed on their MySpace page, they certainly prove to be a sonically interesting mixture on record, but perhaps this local trio is more captivating and cohesive in a live setting. Why not see and hear for yourself?
Indian Wars: Bachelor Records
www.myspace.com/bachelorrecords
www.myspace.com/strangehandsband
The Nymphets: Signed by Force
www.myspace.com/signedbyforce
www.myspace.com/thenymphets
Phonecalls: The Broadway To Boundary
www.myspace.com/thebroadwaytoboundary
www.myspace.com/phonecallsringring