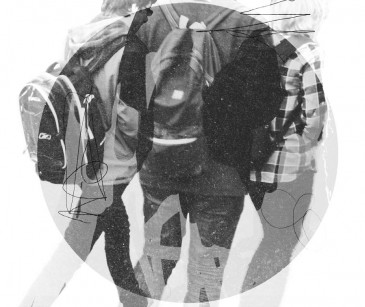 Abbotsford, B.C.:
Murder capital of Canada, home to many a Menno(nite) and hotbed of high school musical talent. About five years ago, You Say Party! We Say Die! busted out of the small-town-minded city, as did Fun 100. The next wave is now, and it's awash with musicians who are, honestly, quite happy to stay put. In the case of Oh No! Yoko, a quirky, keyboard-laden indie pop band, they don't really have a choice—all three members are currently in grade 11, so the occasional school-night show is adventure enough for the time being.
For anyone not attending W. J. Mouat Secondary, a first introduction to Oh No! Yoko was likely provided by the CBC's On The Coast radio program when they held their Best High School Band competition last fall. Shortlisted to the top 10 were two Abbotsford bands, Oh No! Yoko and Christian hardcore screamo band, We Lay Fallen. The fact that, all of a sudden, moms the province over were into their music, had the boys in the bands pretty darn excited.
"We got lots of publicity," gushed Liam Hamilton, Oh No! Yoko's drummer. Bandmates Everett Morris (vocals and keyboards, mostly) and Nic Denis (bass) are just as stoked by the way things played out. The band didn't come away with the top spot, but they did get an envelope filled with $70 cash! The band's song "Courtyard Bankrupt" received a healthy dose of CBC radio airtime, and, at the live in-studio finals, they had a chance to play for screaming fans and Canadian music celebrity judges like Lee Aaron and Joey "Shithead" Keithley of D.O.A. fame.
As much as the boys really wanted to win the top prize and share a bill with their beloved Tokyo Police Club, they're pleased with the two Feb. 13 slots they were given at Cultural Olympiad events.
"It's during the Olympics," said Denis. "There'll be lots of people from all over the place that haven't heard of us that might just be stopping by, thinking 'There's no events going on right now. So let's just stop, have a hot dog, and watch this.'"
Oh No! Yoko is a crowd-pleasing band, to be sure. With clever, at times remarkably nonsensical, lyrics, Morris stands tall and assured at the helm of a band that seems to revel in its goofiness. The boys are completely earnest, however, in their love of music and are totally committed to making the most of their current good fortune. Besides, they've worked long and hard for this.
"Liam and I had a two-man band for a little while in grade 5," explained Morris. "We played some metal music and it was pretty fun." Somewhere along the way, the band experienced a genre shift, and in grade eight, the two boys asked their friend Nic to join in. "We used to be a four-piece," admitted Hamilton, "but we kicked Lucas Thiessen out because he plays rugby."
And so it seems to go. All three have devoted varying amounts of time to bettering their musicianship (Morris is still taking piano lessons, Hamilton claimed he took one drum lesson and taught himself the rest and Denis admitted he only took up the bass because he knew the band needed a bassist). Meanwhile they continue to find time to participate in track and field, work part-time jobs and excel at their French immersion studies. Did I say excel? Perhaps it's a good thing that I didn't actually get any solid quotes from the boys' teachers…
But who needs good grades when you're in with the scene? The Abby scene seems held together by the strong bonds of religion—and turns a blind eye to musical genre. There is no shortage of churches making their gyms and amphitheatres available for shows. Show bills are diverse, but inclusive. For Ones Coming After (FOCA) is an organization currently putting together live shows around the Fraser Valley. We Lay Fallen's bassist, Joel Trask, explained the nature of this group: "FOCA is a non-profit organization that supports less fortunate youth in the lower mainland. They also help out local bands with things such as getting shows and T-shirts. They put on FOCA events with all the FOCA bands in order to raise money for good causes."
Oh No! Yoko claim no church affiliation, but the band has seen nothing but love from the local community.
"We're friends with all the other bands, too," said Denis. "We just help each other out."
The band particularly enjoyed a recent show at Northview Church, where getting on the bill proved quite simple. "We just go there and have fun. They always welcome us," explained Morris.
"They asked us to not have any swearing in any of our songs, or vulgarity or whatever, but we don't," added Hamilton.
If you're looking to listen to some of Oh No! Yoko's music, the band has yet to produce more than a handful of CD-Rs, but they've got a ton of tracks available on their MySpace page, which also contains nonsensical posts and awkward/awesome photos. To provide some tangible support, you can always wear a one-of-a-kind pin, hand-made by Hamilton in Art class (Thanks, Ms. Lam!).
So much of what Oh No! Yoko is all about reeks of d.i.y. cuteness.
"We usually write our songs based on people in our school. Stuff that happens to us," explained Hamilton. Morris credits lyrical inspiration to "relationships, as in friend-wise, not like passionate lovers." After making this comment the group falls apart laughing, as they do after most questions. It is certainly a sense of comedy, most notably a charming toe-in-the-water approach to sarcasm and cynicism, which keeps these three creative. As to where inspiration starts, Denis explained that "a lot of it just comes out of our heads, on the spot, and sounds like it would be funny if it actually happened. Most of our songs, to us, are hilarious. We'll take one situation and over-exaggerate it for an entire chorus."
According to Morris, who acts as a leader, the band's music is nevertheless a collective from start to finish. "We just chill in Liam's basement and write lyrics together, see what fits best and stuff." The boys have been friends since pre-school and they're eager to see where the music will take them, but are also realistic in their goals.
"Maybe we will tour or something, [but] I don't plan on getting extremely famous or anything," Morris said.
"It's kinda hard nowadays," Denis said, commenting on the concept of touring and making it as a band. "You don't make as much money. You still have to go to school to have a back-up plan."
Sounds like somebody's been listening to his guidance counsellor! But no doubt a good deal of credit is also due to the boys' parents, who support what they are doing wholeheartedly, even if it means driving them down to East Hastings, like it did for their first gig.
"It was scary!" Morris said about the area around the Chapel, where they played during grade nine. Apparently a trip to Subway, sponsored by Hamilton's dad, smoothed things over and paved the way for repeat big-city visits and a fan base build-up.
What the fans love about Oh No! Yoko is their wacky spirit and catchy harmonies—the music may even be secondary to onstage antics and online presence. This is a band very much focused on three guys having fun. They like their classic rock, and their metal, and are into new stuff, too ("Not like Much Mega Hits, but, like, the Wedge and stuff," Morris asserted). And while their sound is not necessarily ground-breaking, the seeds of good songwriting have been sown. Morris' song-writing skills, as often as he'll stick to the story that he "just put[s] stuff together," show incredible promise. Everything the kid touches turns to catchy. His solo project, A Soccer Practice, demonstrates that catchiness (and his Midi/Autotune proclivities) to a tee.
Oh No! Yoko has stumbled across a great deal of luck in the past year. They came second at the Abbotsford High School Battle of the Bands last spring. After the band's CBC win, they were nominated as one of the Top 10 High School Bands in a YouThink/Tom Lee competition, the winner of which will be announced early March.
This is a band that wants to play to the masses and get noticed, but they're still happy to represent the kids on the home-front. "There's a lot of good bands around here [in Abbotsford], just unheard, right?" Morris said. Bands like the Birch Taxis, We Lay Fallen, Rags to Radio and Ivory Coast are all tearing it up in churches and nut barns across the Fraser Valley, so you can either board that West Coast Express or cross your fingers that the big city'll keep drawing them in.