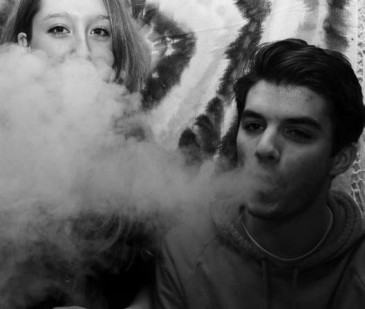 Koban owe their continued existence as a band (and a fruit basket) to some conscientious bus drivers who saved bassist Brittany Westgarth from her burning home.
Late at night a fuse blew in the house that they shared with some friends, which caused a fire to break out while everyone was sleeping. Sam Buss, the other half of Koban, was at work, but Westgarth was woken at night to discover a lot of smoke and a group of worried bus drivers who had seen the fire from the street.
With only a short period of time to get out, Westgarth had one priority—to save her and Buss' bass guitars and then wait for the fire department.
The fire department arrived quickly. Luckily when Westgarth and Buss went in to survey the damage, they found their music equipment remarkably unscathed.
"I said I was going to send [the bus drivers] a fruit basket, but I never did," Westgarth remarked with a bit of remorse while sitting in the waiting room of their Gastown jam space. They chatted with Discorder in their home-away-from-home, while smoking a hookah filled with strawberry-flavoured shisha that was in the middle of the room and Westgarth was sipping on a vile mixture of Nos energy drink, vodka and what was possibly Tang. After one sip of it I decided to go without, which seemed to be the decision Buss also made. The fire was only the second disaster the band has survived, considering their equipment had survived a flood a few days before the fire as well.
"A higher power wanted us to start this band," Buss said stoically between tokes on the hookah.
Koban are a two-piece backed by a drum machine. Westgarth and Buss both provide vocals showing heavy punk influences—and the two of them lay down some wailing riffs over top of the mechanical beats. The sound is unique, falling somewhere between punk, metal and No Wave. Though they don't actively emulate their idols, you can hear bits of the bands they listen to (Joy Division, Warsaw, Big Black, Shellac, Nick Cave and Fugazi) in their music. They had originally planned to play with a real live human drummer, but circumstances never worked out and eventually their sound evolved to rely on the drum machine.
"We played with probably three or four people as drummers and they either thought we sucked or were way too busy with other bands," Buss said.
Their music is unique in Vancouver's scene and the duo feel a little bit out of place in the city.
If you have not yet heard of Koban this is understandable. Until December 2009 they performed as Manta Ray-Gun, a name under which they garnered some fans when they achieved semi-final status at CiTR's battle of the bands, Shindig, in addtion to numerous shows around town.
The name Manta Ray-Gun didn't stick with the band's idea of themselves though. "I kinda started to hate telling people we were called Manta Ray-Gun," said Westgarth, before stating that she thought it sounded silly. After a trip to Japan, they decided to rename the band Koban. Kobans are small boxlike buildings manned by community police detachments that provide assistance in the neighbourhood. In Buss' and Westgarth's case, Kobans provided a lot of directions around town.
The duo enjoyed Japan's music scene. "Their culture embraces fringe music," said Buss.
Westgarth and Buss have always felt that their music is a little bit on the fringe of what's going on.
"All the people [who were into music in high school] were really into classic rock and we were into punk rock," said Westgarth. Even now with the band's punk influences they don't feel like their music is punk enough to fit into Vancouver's punk scene and too punk to fit into other scenes. (Personally, I think they fit in just fine in Vancouver's diverse music community, but that's just me.)
The duo met in high school when Buss, grounded, couldn't play his first show for his high school band, Shumagorath.
"One time Sam was grounded and [his band] asked me to fill in for him and I played his first show," said Westgarth laughing. They've been playing together since and they definitely work hard at it.
"We practice a lot; we record a lot," said Westgarth. They have a busy schedule with their regular week having them meet up to practice at least four times. Though they tend to spend most of their time improvising when they jam, it's not something they would ever do live. As a two-piece, a jam has too much potential to go bad in a live setting.
Their performance is tight and well practiced, with the drum machine giving a cold mechanical backing track they make up for it with their stage presence. If you ever see them play you'll be able to tell right away that they are having a blast. According to Buss, they make an effort to make their live shows "more like art installation with music." They've displayed visuals from the Max Headroom TV hack that happened in Chicago in 1987, and have a strong identity with that era's aesthetic values. Buss also likes to use images from Commodore 64 games or the early works of bodily horror auteur David Cronenberg.
The band records a lot in their home studio. They've released an EP length cassette tape as Manta Ray-Gun, which they've sold out of, but they've got a split 7" coming out with Mongst and Fortress on Isolated Nowaves. They probably won't ever be releasing CDs, but they do plan on making their music available for download. You can find their music and their upcoming shows at www.myspace.com/mantaraygunband. They will be playing Discorder's Fundraiser on March 5 at the Biltmore too, so make sure you get there early enough to check them out.