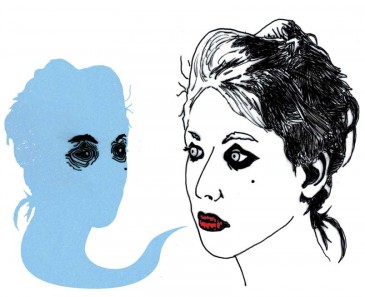 "Four years ago, I just had a guitar and it just sort of culminated at that point. I had never written any songs before and didn't know guitar at the time. I stole my Dad's guitar and thought about things that were going on," Olivia Fetherstonhaugh, who writes, records and performs as Fanshaw, told Discorder one recent evening.
Thank goodness for us that that night came along. Fanshaw's sound and lyrics have captured Vancouver audiences since her Shindig win in 2007. Her low, husky vocals resonate in a very personal and intimate way and her songs have the power to trigger instant affection and warmth. Mint Records must agree. They signed Fanshaw to a record deal and Dark Eyes came out in February 2010.
"I wrote half the record in a few months," Fethersonhaugh said while wearing a casual black sweater with her hair slightly askew. The rest of the record, however, took another four years to complete. "I always intended it to be a full length album and was willing to wait instead of putting the early stuff in," she said.
Over that period, Fetherstonhaugh has been developing the band Fanshaw, in addition to focusing on writing songs. Although the band is pretty much a solo act, there have been appearances from Larissa Loyva of P:ano, Kellarissa and the Choir Practice, where Fetherstonhaugh and Loyva performed together. Victoria, Victoria and the Shilohs' Johnny Payne, Shane Turner of Love & Mathematics and Shane Turner Overdrive as well as Kyle Koenig, C. Chad Warford, Nick Anderson and Ian Somers have also played in Fanshaw at various times.
"There's been times when band members were coming in and out, but I met Johnny at the Shindig finals [in 2006] when he was playing with Victoria, Victoria. I guess I just approached him after the show and asked him if he wanted to play drums for me, and he never left!" Fetherstonhaugh said, laughing.
However, Fetherstonhaugh admitted, "The past year has been all about recording."
Dark Eyes was recorded at Hive Studios with Howard Redekopp, a well known producer who has worked with the New Pornographers, Tegan & Sara, and You Say Party! We Say Die! among others.
"I wasn't worried about having a perfect recording because I didn't have time to think about it. The time constraint was very liberating," Fetherstonhaugh said. This may be due in part to the fact that when writing, she's admitted to taking over a year to complete a single song.
In Dark Eyes, Fanshaw creates an old-school feel while exploring new avenues for creating and channelling sound. The pop tunes of Feist and the lull of Kate Bush are evident comparisons in her songs. Less pop than the former and dreamier than the latter, Fanshaw's songs are instantly gratifying and soothing. Busting out with beautiful vocal lines, the record is inherently dark and potentially dangerous. An album like Dark Eyes' draws its meat not from its lyrical content or its effective structure, but its ability to utilize space and sound together.
The overall tone of Fanshaw's debut is that of gorgeous, melting drones, stepping into a world that begins and ends with rhythmic, haunting soundscapes. Fetherstonhaugh slips in and out of the qualms of mystery and the everyday.
The song "Rebecca," for instance, is based on the novel by Daphne Du Maurier. The book is narrated by an unnamed woman who becomes the second Mrs. de Winter, the first being Rebecca. Among more sinister plot twists, the narrator has to deal with the ghost of the seemingly perfect Rebecca.
"I liked the character in Rebecca because she was oppressed by peoples' expectations of her," said Featherstonhaugh.
Despite an album title that brings to mind the shadowy fantasy of youth, Dark Eyes has a pretty uplifting heart. Because the music is so clear, the core flows through seamless intimate melodies. With each listen, it reveals a journey that entwines fantasy and reality. "O Sailor" evokes amazing imagery and contains Featherstonhaugh's best vocal performance with lines like: "I'll put my red lipstick on / And my red-cross uniform / Then I'll go down down down / I'll go downtown."
Perhaps we can expect more dark melodies in the near future. After returning from her mid-February New York debut where she played at the Cakeshop and the Zebulon Café, and after playing our own fundraising party at the Biltmore March 5, Fetherstonhaugh will retreat to Qualicum Beach for a month.
"I'll have no human contact," Fetherstonhaugh said, explaining the trip to Vancouver Island. "I'm going to cat sit for my Auntie. She has a grand piano, so I'm going to take some time to do some writing."