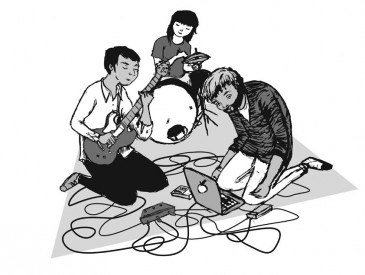 When Vancouver's premier punk pigpen the Cobalt folded in August, Bill Batt and Anju Singh were among the many musicians left with virtually no venue to play at. [ed. The Cobalt has reopened, but without Wendy13 running it and nothing worth the trip has happened there yet.] Batt, Singh and Shearing Pinx drummer Jeremy Van Wyck were the organizers of Fake Jazz, an influential night of experimental noise and punk held every Wednesday at the defunct bar.
Arranged as an open mic of sorts, artists would apply to play and were scheduled in by Batt, Singh and Van Wyck on a rotating basis, ensuring that everyone got a turn to bring their innovations to the table. Everything from Grateful Dead inspired jams to sonic performances conducted with drills and water were welcome.
Just as it ended, Fake Jazz was garnering a reputation in national music press, Exclaim in particular, as a breeding ground for West Coast musical innovation.
Six months after the Cobalt's death, an informal Downtown Eastside practice space is now home to many orphaned Fake Jazz performers.
In early February, Singh's band AHNA had just finished playing a searing set of their signature hardcore drone at the back alley venue when Discorder sat down with her and Batt to talk about the past and the future of the landmark music night they both loved.
"[It was] a gong show, or a train wreck, but great," said Batt, recalling early Fake Jazz days. "It was … some of my favourite people just playing when they didn't have much of a chance to do that."
"People were doing anything they could imagine," said Singh. "It just kind of allowed people to express things they don't know how to express any other way."
"It was a supportive space," confirmed Batt. "It felt like home."
Time away from the Cobalt has been difficult for Singh, Batt and their peers, but it has not been entirely defeating. In March, they will host the first Fake Jazz Festival, a showcase of Vancouver's fringe underground community.
Running from March 24 to 28, the festival will showcase mainstay Fake Jazz acts like Shearing Pinx, AHNA, Batt's band Stamina Mantis and Black Mage as well as newcomers like Glaciers, Scant Intone and Cat Wrangler.
Batt and Singh think it's nice to get some attention for their bands, but for them, organizing a Fake Jazz festival is a chance to have fun with close friends and local musicians. And of course, putting together a festival gives them another chance to engage in the cathartic experience of playing live.
"[It's about] staying sane in [a] twisted, shitty world," Batt said.
Batt's band mate Mike Ugly has a simpler take on the importance of playing music.
"I'm bored. It entertains me," Ugly added, giggling deviously nearby.
Recently, other good tidings have come from Batt and Singh's devotion—a new space.
On March 3, Fake Jazz will take up a weekly 9 p.m. to 1 a.m. slot on Wednesdays at Lick, one of Vancouver's premier queer nightclubs, located on Abbott Street.
They admit that if Wendy 13, the Cobalt's former manager, were to open up a new space, they would be there in a second. However, in the meantime, Lick's fine cement floors and comfortable darkness fit the bill for Fake Jazz.
From the astral beats of locals Coin Gutter to the electro-acoustic nihilism of headliner KK Null, the Fake Jazz festival will be an extended showcase of early drum blasting as usual for Vancouver's most ambitious noise acts. Almost.
At 1 p.m. on March 28, the final day of the festival, Singh and Batt will host a cozy pancake noise breakfast for festival goers.
They hope that the gathering will help to end the festival on a high note, giving audience members and players a chance to socialize and eat with one another and engage in an act of community.
"Breaking bread makes family right?" Singh asked. "We're breaking pancakes."