I had seen Smuther a handful of months back, at a show at Red Gate. It had been ages since I'd seen so much energy in a crowd, or seen a mosh pit with such enthusiasm, not since long before I moved to Vancouver. When I saw their name come across the pitch list, I just knew I had to interview them, get a glimpse behind the power and energy of this band that caught my eye and stayed in my mind.
Cora How did you all meet to start Smuther?
Gloris: Who wants to give the origin story?
Joey: We all kind of knew each other from the scene in Chilliwack, going to shows over the years. But Smuther in particular started out of the ruins of Me, Noah and Taylor's previous band Cheat, we broke up, and we wanted to make a new band with new guitarists. Then we recruited Gloris, and Jordan quickly after 'cause we realised we wanted to have a second guitarist. That's pretty much it. We played our first show in September of 2021.
Gloris: Our first show was at an old punk house, now defunct. A place called Perro's Palace in chilliwack. That was our first actual legit show on the books.
Cora: So you got started in the Chilliwack scene because of a band explosion, which definitely happens, and you had your first show right as COVID was kicking off.
Joey: Well, just as restrictions were lifting.
Cora: OH! I forgot just how many years it's been. (Laughter)
Gloris: It still doesn't feel that long.
Cora: Right, so as restrictions were lifted. Oof, time just hit like a brick.
Cora: So from there you, when did you start playing outside of Chilliwack?
Noah: What happened is we had our first show booked, and Blue Anxiety was supposed to play in Vancouver, but they had issues at the border and had to cancel. So we got called to play our first show in Vancouver the next day after we played chilliwack. Since then its just been back and forth.
Cora: That must have been one heck of a first weekend as a band.
Noah: Yeah, it was super sick, we got to play with Your Problem in Chilliwack, and then we got to play with Blood Ties and Bootlicker in Vancouver.
Cora: That's a pretty significant lineup there.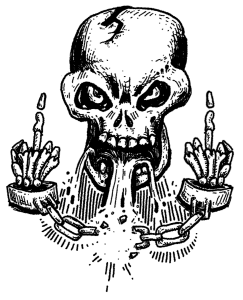 Cora: So your music, where does it come from? Inspirations, bands you pull from, origin stories, that sorta stuff.
Gloris: I think Joey can speak best to that.
Joey: Most of the writing in the band, a lot of it just comes from trying to draw from the whole spectrum — punk, metal, hardcore. It's hard to pin down a ton of really specific influences or anything like that, but honestly my main driving force behind writing and playing [is that] I just want to make music that people are going to move to.
Gloris: I feel like that's a hard question to answer, we have a lot of different inclinations, but definitely the line we try to toe is "Hardcore for punk, and punk for hardcore." That's kind of our thing.
Cora: Can you tell me a little bit about the process of making the album?
Joey: It's pretty straightforward. We had been writing a bunch of songs since our demo. Pretty quickly after we recorded and released the demo our sound kind of shifted. A little bit more of a hardcore direction than a punk kind of thing — which is where we started. For a long time our recorded work didn't really reflect our live sets, or energy, so we were really excited to get that recorded at least. We had been writing and practicing a bunch of new songs. We picked our favourites and recorded at Lindsay Studios in Port Coquitlam. Recorded and engineered by Jack Thomas, now of Canada's Got Talent fame. (Laughter)
Joey: Jack, real pro, super easy process. We recorded all the instruments in one evening and then went back a week later to do vocals. Mixed it and that was it. But the cycle of getting things released is always longer than you think.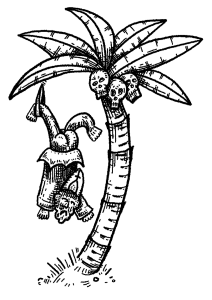 Cora: It sounds like you as a band move with a lot of momentum in pretty much everything.
Noah: Pretty much yeah, that's the goal. Go fast, get it done.
Joey: I've been in bands where the momentum has just been nonexistent. So I guess, for me at least, it's been important to keep the momentum going — not let off the gas.
Gloris: Yeah that's very much been our MO. Catching what we can when we get it, making the most of our opportunities, trying to be as quick with it as we can. Sometimes we don't feel like we get a lot done, but when we talk to other people it turns out we actually do quite a bit. So we're glad that we're able to achieve that. It's one of our main goals to get things out there before we get sick of them.
Cora: Yeah, I know from my experience if I spend too long looking at something, it's just going to go in the bin.
Joey: Yeah, exactly.
Cora: So is there a direction for all of this momentum? Some sort of dream gig or ultimate goal for the band?
Gloris: I think it's just to take this as far as we can. Obviously playing internationally is a big thing. But as far as dream gigs I think we've already played with a lot of the bands we could have hoped to play with. Getting to play with international bands has been really sweet.
Noah: And we're currently booking a tour for August.
Gloris: Yeah, we're doing a two-week tour in the second half of August with Ghaul, our sister band. Jordy plays bass in that band. Ghaul existed before Smuther, so he does time between them and us. We're going along with them, and playing a couple of fests along the way […] such as Don't Want To Hear It, which is still brand new. That'll be out of Edmonton. There's another date that's not confirmed yet so I won't mention that one, but something is in the works.
Cora: I'll tell the readers to keep their eyes peeled.
Gloris: Yeah! No we gotta be careful, you don't want to tell everyone about everything all the time, so we don't jump the gun on too many things.
Cora: But you can tantalize them a little bit.
Gloris: Yeah exactly.
Cora: Do you have anything in the works at the moment?
Gloris: Actually we're getting ready to record a promo tape. It's a bunch of new songs we've written since the EP, it's going to be a quick and dirty thing.
Cora: How has your sound changed from your EP to this new demo?
Gloris: More dancey parts,
Joey: I have been throwing in more metal riffs, but yeah, more dancey parts is how I would describe it. I think I've been trying to do Sepultura meets Billy Club Sandwich. (Laughter)
Noah: Should we talk about Skwah Nation, Rez Rocks?
Gloris: Oh, like what it is?
Noah: Yeah. So, technically this isn't part of Smuther but it is something we do. Out here in Chilliwack here we practice on Gloris' home rez, Skwah Nation. For a long time we had this goal of booking shows on reservation and last year [we finally did it.] They popped off. It's been nice to be able to get hardcore bands that we want to come play out in Chilliwack. I mean Chilliwack is a pretty small town with not a huge draw to anybody outside of it, but enough people come to shows out here so we can actually throw a show.
Gloris: Yeah Rez Rocks is definitely our little project to extend the reaches of northwest hardcore. Our idea for it is a semi-biannual kind of thing, because having huge shows out this far isn't super sustainable on a weekly basis. Once every few months seems to be the sweet spot. We've been trying to coordinate it with the Whiterock hardcore shows, since Robert the lead singer for Ghaul is a large proponent of that. It's not directly related to the band, but we want to plug it, keep your eyes out for future Rez Rocks.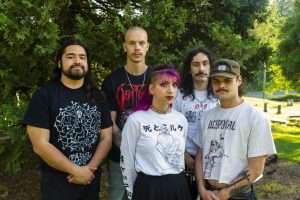 Cora: Yeah, I am SO up for this, Rez Rocks is a great idea, and I'm glad I get to put this in a magazine.
Gloris: Yeah the first one was really cool, cause for a lot of people in this community it was their first time seeing live music, period. It might have been people's first time hearing a hardcore or death metal band, cause we had Groza out. It was sweet, 'cause for us, we're used to it. We've been involved and going to shows since forever. It's easy to forget that not everybody is not involved in this kind of thing. That was really cool for me personally — being able to introduce so many people from around here to this thing that we do. A lot of people in the community know us because they hear us practice every single week, but it's cool to have them involved in it and hopefully some kids will start bands so they can help carry it on. We definitely need more Indigenous people in everything, but especially in DIY music and punk and hardcore. Sometimes we get bugged by people like "How come you don't have any more Indigenous bands, Indigenous acts" and we're like "cause there's like three, and they're mostly in Alberta."
Cora: Yeah, if you look over my shoulder you'll see a pile of instruments. I SUCK, but I really want to start an Indigenous punk band, and finding other Indigenous people who want to be in a punk band is slow going as well.
Gloris: (Laughing) Yeah, you just gotta hold out, you never know what will come along. We all got pretty lucky with this group that we got because thank goodness because it is very difficult to coordinate a group of people to get together at the same time every week. It's a feat, so best of luck on that.
Joey: I think a big part of Smuther is just going out and starting a band — that was the point. Like Gloris was saying, the goal of having the Rez Rocks shows is getting kids to do it. Get out there. Smuther is like, "just go for it."
Jordan & Noah: Do the damn thing!
Joey: Get involved, go to shows, learn an instrument, start a band, make posters, volunteer, there's so many shows happening all the time every weekend. Vancouver's scene is popping off all the time.