Strikingly beautiful, simultaneously heartbreaking.
Illusions of Control is a documentary directed and written by Shannon Walsh, that follows women from many different parts of the world – such as China, Canada, Japan and Mexico – who work to overcome the challenges that confront them.
The audience is introduced to five women: Silvia has begun a search for her missing daughter in Mexico, Kaori is organizing women in her community to keep record of the radiation in Japan, Yang works in an expanding Chinese desert, Lauren faces a disease that will change her life forever, and Stacey explains the arsenic crisis in Yellowknife. As I followed these women throughout the film, I came to understand their point of view and see what their lives are like.
The film expands the viewer's awareness to the struggles people face in other parts of the world. I personally learned about a lot about issues I was completely oblivious to, as the film expanded my understanding of and
connection with humanity. The film delivers a vital message about human nature: that we have the ability to persist no matter the situation, even if the obstacles are beyond our control.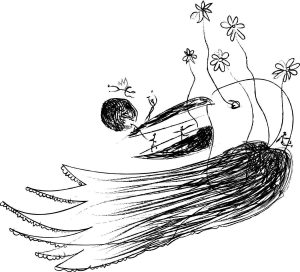 Illness, climate change and corruption, are amongst the obstacles faced by some women in Illusions of Control. Due to the heavy subject matter, the score, alongside some of the sights we view, the film has a similar air to that of a horror movie. Wide and long shots of barren landscapes, signs displaying the word "danger", paired with the subdued soundtrack, left me with a chilling sensation.
At the same time, there were moments that were very aesthetically pleasing, shots framed with intentional symmetry, where everything is still except the clouds. As I was distracted by the beauty of these visuals, the film would then introduce a new person, facing a new challenge. The disasters we see in this film are not easily forgotten. Thought provoking, eye opening and heartbreaking, it makes me feel grateful for things I take for granted, such as clean water.
The most memorable thing in this film was the love the parents had for their children. It stuck with me because I have always wanted kids, but knowing that you can't always protect your loved ones is a terrifying reality. In Illusions of Control we meet a few people who are trying to find or protect their children in the face of crisis: kidnappings, arsenic in the air and water, and pollution.
Trying to shelter one another from external factors that are bigger than us is extremely difficult. All we can do is try our best to provide for our loved ones, and love them unconditionally. The film reminded me a lot of the novel Never Let Me Go by Kazuo Ishiguro, in which the protagonist is part of a world that doesn't give her the freedom to live. There's a moment in the book where two main characters are talking, and one of them says
that he feels as if he is standing in the middle of a river, trying to hold onto his friend. However, the river's current is too strong to keep them together, and they are separated.
This heart-wrenching metaphor can describe how issues going on in the "big world" disrupt our "small worlds", meaning that the lives of many, are at the mercy of external factors that are beyond their control.
Climate change is one of those "big world" problems that affect us. Animals are caught in the middle of it, where their habitats are destroyed, and there are people whose homes are surrounded by toxic water and air. Issues as daunting as climate change cannot be overcome by one individual single handedly. Yet there are so many individuals that are directly affected by it every single day. Even then, the women we are introduced to in Illusions of Control continue to strive forward, in efforts to improve the lives of their families.