Moniker Press is a Vancouver-based risograph print shop started by Erica Wilk in 2014. Wilk uses it to print both her own work and collaborative projects with local and international artists. Moniker's first project was a book called Duality, in collaboration with photographer Shannyn Higgins. Since then, Moniker has grown to develop a mandate that emphasizes print as a collaborative and experimental platform. Wilk is constantly looking for ways to bring out new and interesting risograph aesthetic from what has once been considered to be a limiting process. With her project, Mobile Moniker, Wilk has travelled to Eastern Canada, Europe and Mexico to meet, collaborate and experiment with risograph printers around the world.
Wilk is a self-proclaimed problem-solver, which drives her experimentation with risograph: "One thing I enjoy is pushing the limits within the restrictions of risograph printing and bookmaking."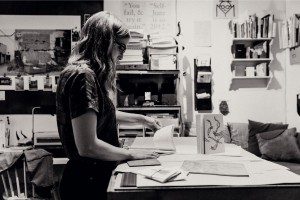 What also excites her is the interactivity between projects. Moniker's latest release, 100 Days of Bulimia, is a book based off Janet Ford's Instagram series by the same name, combining online and print media. Another innovative project is the poster, i. ii. iii.: Trio, a collaboration between Wilk and the artist Sylvie Ringer, which invites the viewer to cut out shapes to create a three-dimensional piece. Wilk also likes to invite collaborators who aren't familiar with print: "I'm interested in working with artists and writers, and whoever wants to make a book but maybe hasn't made books before."
Mobile Moniker began in 2016 as a way to continue printing with risograph while travelling, and for Wilk to make her own work again after "feeling very disconnected from creating art." Wilk explains, "[I was] aiming to find a more clear direction for Moniker's mandate." At first, Wilk didn't know if the presses she had contacted would be receptive to her ideas. Their responsiveness and hospitality has given the project an air of excited uncertainty. Wilk explains, "Some of the collaborations we did, they're very playful, and we did them in an hour. You meet a stranger and then all of a sudden you have to make something together."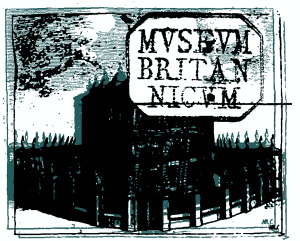 Seeing how other presses work around the same restrictions has taught Wilk different ways of using risograph, not to mention troubleshooting: a large aspect of printing riso is learning to fix machines, working around paper jams, printer errors, etc. Wilk has seen how other presses operate as businesses. Through Mobile Moniker, she discovered what she did and did not want to do with her platform. "I'm not interested in publishing mass quantities of prints or, for example, paperback novels. There's so much to be explored with risograph techniques that I would rather focus on smaller editions and experimentation," she says.
Keeping Moniker's publishing practice non-commercial is emblematic of Wilk's broader push towards a more politically conscious mandate. In Mexico, Wilk was around presses that print riso "less for the actual medium and more as a method to distribute ideas, often relating to resistance [or] counter-information," including Gato Negro Ediciones, Casa de El Hijo del Ahuizote and Red de Reproducción y Distribución. They inspired her to produce political content here in Vancouver: "While I want to continue experimenting and pushing the medium of riso and collaboration with everything that I'm printing, I am also starting to intentionally focus on work that might have a more political and inclusive nature — such as 100 Days of Bulimia."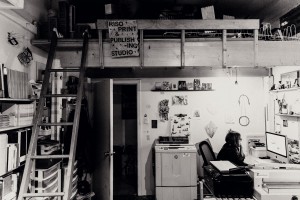 Wilk feels that print is for "getting ideas to a larger audience, creating discussions and community." She says, "I would be amiss as a publisher if I wasn't striving to contribute to those movements." By inserting herself into each project, Wilk brings her passion for strong aesthetics to collaborative work, explaining that she is "interested in connecting the content with the format."
Moniker also seeks to grow a community around print by hosting open studios every few months. Wilk hopes that future workshops will make risograph a more accessible medium. "I love collaborating with people, so wherever I can do that is ideal. And if people want to learn from me and then do their own collaborations, that's even better."
Moniker Press is a platform founded in experimentation and collaboration that is moving towards the collective and political. Wilk is expanding not only Moniker's mandate, but its facilities as well, with a new printer and ink colour on the way. If you want to see Moniker's work, look forward to their upcoming release, Suburbanatomy by Adi Hadzismajlovic, a collection of short stories.
x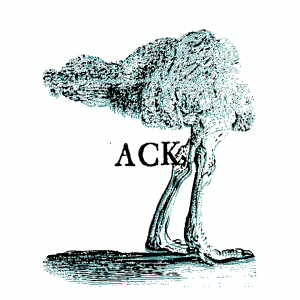 For more information on Moniker Press, visit monikerpress.ca and keep an eye out for the Moniker table at your next art book fair.