In 2016, a record-breaking 180,000 people attended Pemberton Music Festival over the festival's four days, similarly, festival attendance worldwide is climbing. As festival season has officially kicked off with the arrival of summer, I pose the age old question: Where are the femme, non-binary, and trans musicians?
While the demographics for music festival attendees are almost evenly split between female and male, on stage there is a noticeable imbalance. Before it was cancelled, Pemberton's planned lineup featured 65 acts in total, including only seven all-female groups and nine mixed-gender groups. Unsurprisingly, this trend continues across the majority of North America's big music festivals. According to an investigation conducted by the Huffington Post that looked at 10 popular music festivals in 2016, only 22 per cent of the acts weren't entirely made up of cisgender males, and it goes without saying that headliners specifically tend to be male-dominated.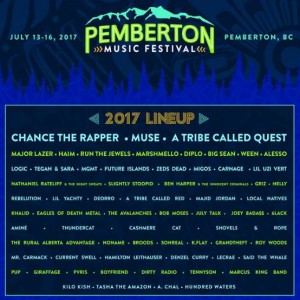 With statistics like these, it's obvious that music festivals have a gender problem. To that, festival organizers have been quoted responding that gender imbalanced lineups are a product of inequality within the music industry.
Systemic sexism certainly plays a role in homogenous festival lineups, regardless of music genre. Although women dominate pop music charts, female pop artists aren't usually among those who are asked to headline and perform at events like Coachella or Lollapalooza. Billboard's 2015 investigation into genres and demographics at Coachella suggests that electronic and 'indie' artists are the most prevalent festival performers. While the independent music community seems to establish more inclusivity at large events, the electronic music scene in particular still seems to be one of music's biggest boys clubs.
Another argument that promoters and organizers simply book whomever's popular and available is also problematic because it favours bands that have more funding for promotion. After all, how can promoters seek out bands that aren't financially able to 'put themselves out there?' Perhaps it's the way that organizers go about seeking artists for their festivals that don't prioritize gender parity either. It seems like organizers aren't willing to scout for musicians that represent diverse perspectives, that it's more convenient to fill lineups with similar-sounding bands that fit the so-called "vibe" of so many music festivals.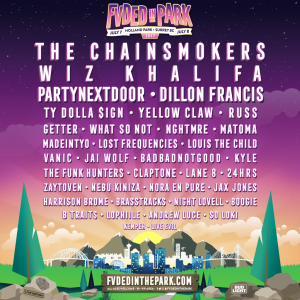 Having an imbalanced festival lineup is not only reserved for the 'big' music festivals. FVDED In The Park's modest 36 artist lineup will only have two women gracing their stage in Surrey's Holland Park this July. After seeing a lineup like this, it's easy to assume that the gender distribution reflects how few female electronic artists are out there. However, a quick trip over the border to Seattle's TUF FEST tells a different story. TUF FEST which features only female, non-binary, and trans electronic artists show that there are female DJs and electronic artists. And furthermore, TUF FEST proves other bookers and promoters are just being lazy.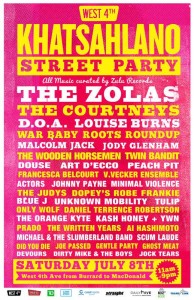 Justice McLellan, employee at Zulu Records and one of the lineup coordinators for Khatsahlano Music Festival admits that the 'gender problem' found in many festival lineups might have to do with a shortage of female, non-binary, and trans bands represented by booking agents, managers and labels. "Having [booking agents on a band's] side is going to help you get slots at ticketed festivals. A very high percentage of the bands pitched to the festival by agents are male rock bands."
Gender diversity is, according to Justice, a top priority of Khatsahlano's. Justice ensures this is accomplished, in part, by having an application process that doesn't favour bands with the backing support of booking agents and labels. "Khatsahlano is a free festival focused on local Vancouver talent. We don't book many bands through agents, if any."
Having cisgendered male-dominated lineups not only makes for homogenous festivals, but also perpetuates a certain atmosphere of the music community. A lack of female representation on larger stages may implicitly contribute to the rhetoric that female, trans, and non-binary artists only fill a very specific niche in music. The lack of diversity reinforces the notion that white, male musicians continue to be the most dominant artists, who also generally find the most success in the industry.
Festival organizers should be more concerned that lineups are increasingly under scrutiny by the music community. Shouldn't it be in festivals' best interests to create more gender-conscious lineups? Some think so.
"I think [festival diversity] speaks volumes in what the festival represents in terms of who's welcome and the vibe. If there are artists from different communities, it's going to signal that this is a welcoming environment for everyone," says Justice.
Speaking to the strength of diverse lineups, Justice continues, "Being a fan of many Vancouver bands from different scenes, it's wonderful to get bands together who would never play the same show." He considers this year's Khatsahlano, "Fingers crossed for a Breakfast Club ending where all of the bands go home with a new understanding of each other."
With smaller festivals cropping up, many of which attempt to prioritize equitable lineups, there is hope yet for diversity. Vancouver Folk Music Festival, now in its 40th edition, has set an example for festival diversity by presenting artists of different cultural backgrounds, genders, and ages. Music Waste showcases Vancouver bands in a D.I.Y. fashion, facilitating shows for artists who often do not have the financial means to promote themselves in ways that may attract other music festivals. Calgary's Sled Island takes on a collaborative approach to festival organization, enlisting guest curators, past examples including Kathleen Hanna and Peaches, to ensure fresh perspectives and the engagement of new communities.
The success of small music festivals seem to be the bottom-up solution, but the challenge is demanding this of larger festivals. For festival-goers, this means supporting organizers who prioritize diverse lineups, setting a precedent for others. The homogeneity of festival lineups will only be challenged when attendees finally decide it's something to get angry about.
X
REFERENCES:
Cortes, Amber. "How a New Festival for Female, Non-Binary, and Trans Artists Plans to Crush the Patriarchy (Eventually)." thump. July 13, 2016. https://thump.vice.com/en_us/article/tuffest-seattle-female-trans-queer-festival. Accessed May 23, 2017.
Friedlander, Emilie. "We Crunched the Numbers and Electronic Music Festivals Still Have a Gender Equality Problem." thump. July 14, 2016. https://thump.vice.com/en_ca/article/2016-electronic-music-festivals-gender-breakdown. Accessed May 23, 2017.
Hernandez, Jon and Bal Brach. "Does Canada's music scene lack diversity? Musicians and industry weigh in." CBC News. August 27, 2016. https://www.cbc.ca/news/canada/british-columbia/does-canada-s-music-scene-lack-diversity-musicians-and-industry-weigh-in-1.3735825. Accessed May 23, 2017.
Lewis, Carly. "Music festivals have a serious problem: The don't book enough female acts." The Globe and Mail. June 26, 2016. https://www.theglobeandmail.com/arts/music/music-festivals-have-a-serious-problem-they-dont-book-enough-female-acts/article30611581/. Accessed May 23, 2017.
Lipshutz, Jason, Natalie Weiner. "Coachella's Music Evolution: Genre-By-Genre Breakdown." Billboard. April 17, 2015. https://www.billboard.com/articles/columns/music-festivals/6538604/coachella-history-genre-by-year. Accessed May 23, 2017.
Vagianos, Alanna. "Music Festivals' Glaring Woman Problem." The Huffington Post. May 25, 2016. https://data.huffingtonpost.com/music-festivals. Accessed May 23, 2017.