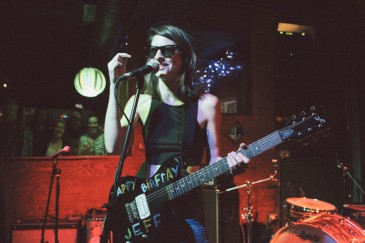 The ten-hour drive to Sled Island was a delightful one, considering I had a mystery bowl from the Tiki lounge the night before and packed the morning of. Along the way, we ate many popsicles and five-cent candies and fed prairie dogs French fries; I was thrilled at what was to come, it being my first time going to Sled.
My pals woke me when we arrived at the ritzy Fairmont downtown. There was a stark contrast between the wild-eyed youth and the dapper business people milling around in the palatial lobby. We followed the arrows and decorated our wrists with all kinds of colorful bracelets.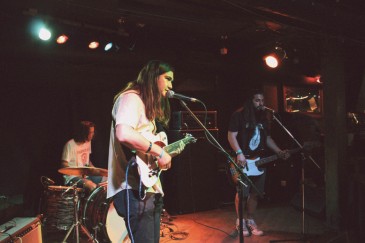 Then we assembled at Broken City for Skinny Kids, Pinner, The Courtneys, and Colleen Green. There were many sweet, familiar faces, which was very comforting considering I was in a place that I had never been to and got very lost on my stroll to the venue.
Skinny Kids, as always, played their delightful, fuzzed out songs that I have imprinted in my brain from getting the chance to see them several times back home in Vancouver. They remained very enjoyable, and for the Calgarians who were seeing them for the first time, it was apparent they were dazzling fans new and old. There was a well deserved swarm of people around their merchandise table afterwards to prove it.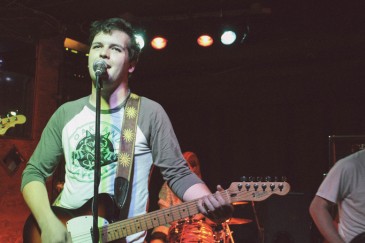 Pinner were a dream. They always slay me with their raw talent, not to mention what down to earth and lovely people they all are. They play their instruments so well and will probably blow-up really big, but they are the type that no matter how successful they become, they would still invite you to their birthday party. Katie, the drummer, gives the best bathroom-girl-talk advice I encountered on the whole trip — and trust me, there was a lot of that.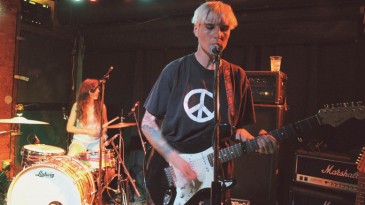 Next, the Kintaro-eating, baseball-playing sweethearts of Vancouver, The Courtneys, were charming as always. If people hadn't fallen in love with them previously, it was undeniable they had after this show. They cracked dorky dad jokes between songs, and their comically sized set list, as always, was a great touch.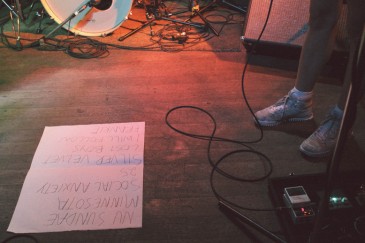 Finally, Colleen Green came onstage and check-check-checked, being very appreciative of and joking around with the sound guy, who she called by his first name as if they were best friends. While she played her relatable, bratty, and honest songs, Green was only accompanied by an iPad — which provided back up drum-beats — her sunglasses that never came off, and her guitar that said "Happy Birfday Jeff" in sparkly letters. With these few things, she put on an impressive performance and was very gracious of my over-the-top and dorky fan-girling after the show.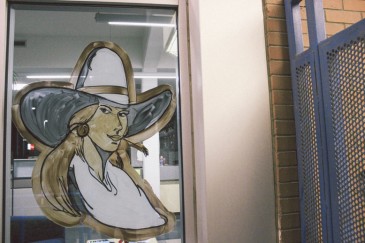 After the shows, I walked home, slightly lost, eating a piece of pizza off of a paper plate like the adult woman I am, and I noticed almost every window had a cheesy-looking Calgary stampede mural… It was so strange to me that the stampede was what everybody celebrated instead of this wondrous music festival that was happening.
When I finally had found my way home with a dead cell phone and no idea of where I was, I was greeted by the Skinny Kid boys & one of my best friends, where we drank beer some very keen strangers had gifted us after we allowed them to come up after they drunkenly pleaded we do so from the streets below. After that, I crawled into my thin, floral print sheet that I had snatched off my bed earlier that morning in a daze, and dreamt of day two.