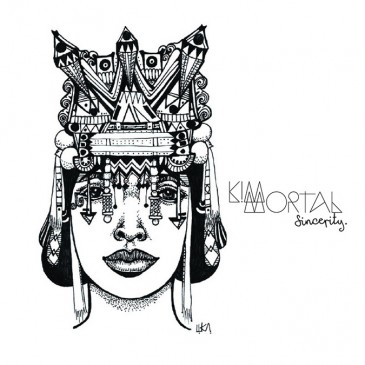 Sincerity. opens with the melancholic "Doubts," tricking you into thinking the album will continue on in typical singer-songwriter fashion, but when the violin and soft drums kick in, it becomes clear that Kimmortal is serving up something a little more innovative.
The second track, "Dying in Flight," is an anthem set to ukulele chords in which Kimmortal lets us know that she's a capable rapper, releasing words with power on a level somewhere between the rawness of an artist like Angel Haze and her own impassioned spoken word.
"She" reveals Sincerity.'spolitical undertones. The album deeply explores themes of womanhood and queerness in songs like "Blue & Orange" and "Peace." Kimmortal delves into her ancestry and speaks about her life as a woman of colour. "I'm Not Sorry" is a triumphant declaration of selfhood and artistry which can be taken as a personal rebellion all on its own.
Backed by cinematic cello strings, Kimmortal sings a quiet song of longing on "Between the Earth & Sky," two tracks after she rages in "Brushing by Heaven's Shoulder" as she sings, "So I'll be criticized for searchin' outside of these lines / So you'll be criticized for thinkin' outside of these lines / So we'll be criticized for lovin' outside of these lines." The album ends with the title track "Sincerity." which emerges as an earnest prayer to the self.
Kimmortal has a brave and vulnerable voice which moves fearlessly from soft song in "Blue & Orange" to rap that seems to come from the belly in "Ancestral Clock (Boom Bop)," but it is her honest, observant lyrics that carry this album.
Kimmortal's courage is both inspiring and soothing. Sincerity. is for anyone who needs to feel like there is someone in their corner, a strong hand on their shoulder.