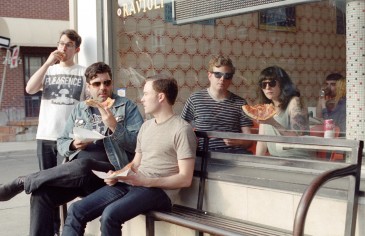 The word ketamine refers to two things: one is the name of an anesthetic substance famous for being a recreational sedative. The other refers to a five-piece acid-wash pop band famous for their 2012 release, Spaced Out. Both are highly addictive.
Formed in 2010 by Paul Lawton and James Leroy, the former Lethbridge band has found a new home in the culture capital of Toronto, where all of the members except for Leroy now reside. Despite having only released their debut album a year ago, the group has amassed an assortment of seven-inches, as well as an EP, 11:11, and their second LP, You Can't Serve Two Masters, both due out this year. Discorder recently had the chance to catch up with Lawton over the phone to discuss dual band identities, "dumbing down" their new album, and what happens when you tell Canadian music how you really feel.

The molecular structure of the Ketamines' band is a unique one; while Leroy and Lawton formed the band and write most of the music, Leroy still calls Lethbridge home. Lawton is the go-to member for things like promoting the band and touring, along with Alexander Hamlyn (guitar), Andrew Payne (vocals/guitar), Jesse Locke (drums), and Sara Ford (keyboard). But Lawton denies that having the creative hives of Ketamines separated by a whole country has impacted the way they create music.
"I talk to him as much as I did in Lethbridge. I also think the distance allows for difference, adds more to the plot." Even when Lawton and Leroy shared a postal code, they would turn to the Internet as a way to send music back and forth for collaboration. Adding 3,000-plus kilometres between them hardly affected the creativity.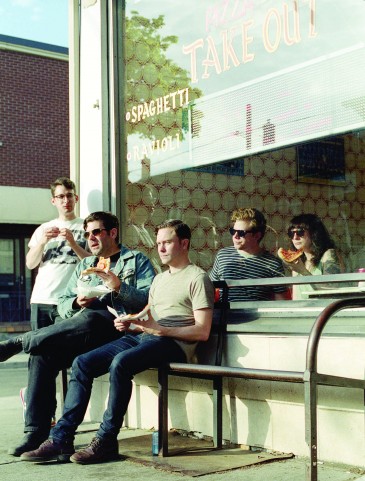 By the time you're reading this, Lawton and the rest of the Ketamines band (sans Ford) will already be in the throes of their June tour with Zebrassieres. But don't be alarmed if you think you're seeing doppelgangers when you attend their show; the two bands are made up of the same people, but with a bit of instrumental musical chairs. Bars will pay for each band playing, and so the touring yields twice the profit for the members.
"Isn't that exhausting playing twice in a row?" I ask.
"One of the first concerts I went to was Guns & Roses and they played for three hours. I'd rather be on stage than be bored or waiting to get paid." The two bands also have noticeably different sounds, with Ketamines emitting more of a psychedelic-pop vibe than the Zebrassieres' punk sound.
Where there's a band touring, there's a new album to promote. Lawton's philosophy behind the band's more recent music was "dumbing things down in a way that there's still intelligence behind it." Instead of adding layer upon layer during recording or injecting things like spacey sound effects, the band chose to focus on a more simple song structure, adopting the mentality of "just because you can add something, doesn't mean you should." The result on You Can't Serve Two Masters is a tighter, rawer, but as catchy-as-ever sound that seems like a natural progression for the band.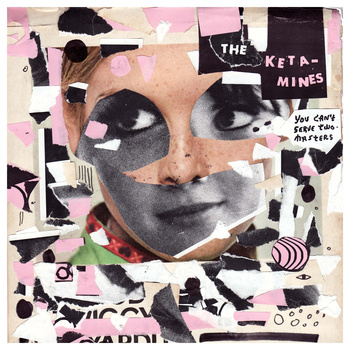 Aside from the splatter of upcoming new music from Ketamines, you may recognize Lawton's name from somewhere else: the Slagging Off blog. The group was asked to play Canadian Music Week in Toronto and were to receive wristbands as payment. The deal seemed fine until Lawton started to browse the lineup of over 1,000 artists; he didn't recognize any of the bands playing, despite co-owning a record label and having toured Canada extensively over the past several years. Lawton chose to start a blog reviewing the bands alphabetically and after 200 bands, had found "maybe three" that he "wouldn't mind seeing." Though initial response to Slagging Off was slow, once it took off, it really took off. "On Tuesday it started popping up on my friend's Facebook feed. By Thursday, someone had hacked my computer."
It's not like Lawton was personally attacking the bands he reviewed, but rather the state of Canadian music in general. "The music industry is fucked right now and no one knows how to fix it. It just keeps getting worse and worse," says Lawton. Instead of adopting the "If you don't have anything nice to say, don't say anything at all" mentality, he decided to take the opposite route.
"I believe that this [keeping quiet about criticism] is damaging Canadian music. Instead of pretending that you don't exist, I'm going to let you know and confront this head on." Spoken like someone who actually gives a shit about what happens to music in Canada.
Just like the drug, Ketamines are a fast-acting, powerful force who, with their explosive blend of psych-pop, will leave you craving for another hit.
_________________________
You Can't Serve Two Masters gets released on July 15. Ketamines will be playing in Vancouver at the Rickshaw Theatre on June 15 with Warm Soda, The Ballantynes, Zebrassieres, and Tough Age.