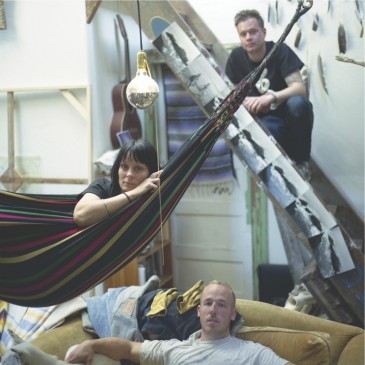 Needles//Pins turned three years old this May, released their first full-length album, 12:34, on Lethbridge-based Mammoth Cave Recording Co., and are embarking on a cross-Canada tour in June. 12:34 is scheduled for release in Europe next spring, bringing talk of an overseas tour. But no one in the band is having a Mary Tyler Moore "gonna make it after all" moment about their growing popularity. In fact, no one in Needles//Pins seems concerned with "making it" at all.
"When we started," explains Adam Ess (guitar/lead vocals), "I was like, the only reason we're doing this band is to hang out and have fun and get drunk and smoke cigarettes and fucking play music. And 100 per cent, that is still the ethos of this band."
Macey Budgell (drums) and Tony X (bass) nod in agreement. Their defunct Myspace page cites "BEER / SMOKES / PIZZA" as influences; and three years later, not much has changed. The three band mates tease and talk over each other like siblings, swear like sailors and at several points in the interview, debate who they can call to bring more beer. Their hilarious, fuck-it-all rock'n'roll attitude matches the band's loose, catchy garage punk sound, exemplified on the tune "Best Friend" ("Shimmee to the left, now shimmee to the right/with all the cool kids at the bar tonight/Everyone gets to be your best friend but me"). They are bratty, they are funny, and almost entirely carefree, which makes strange and beautiful sense considering what the Peter Parker sides of their lives are like.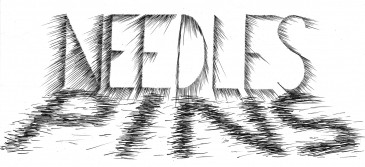 By day Macey is the owner and operator of Vancouver's probably first—and possibly only—vegetarian burrito shop, Budgies on Kingsway. Tony runs his own construction-based company as a framing contractor. And Adam, who currently resides on the Sunshine Coast, is working on a PhD in Cultural Anthropology at UBC.
For all the members of Needles//Pins, the band is their escape from the pressure of regular life. Some might take up squash or mountain biking. Tony, Macey and Adam formed a band where having fun and fucking up are the keys to their happiness and sanity.
"You see so many bands where someone fucks up and the other dudes glare at him and they're so mad," says Adam. "When we fuck up we just laugh and it's fine."
"Fuck else can you do?" asserts Tony.
"But people are weirded out by that," continues Adam. "They don't understand. They're like, you just laugh and have fun and you're sloppy and no one cares. And we're like, yeah! We don't care."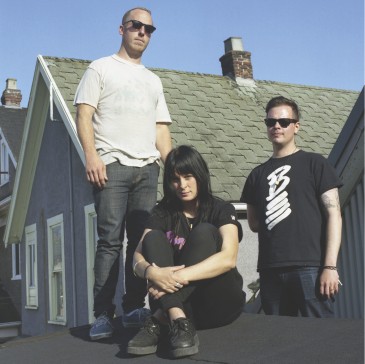 Not to say that this is all some Jekyll and Hyde scenario where the serious entrepreneur/academic by day turns chain-smoking, binge-drinking rocker by night. Everyone in Needles//Pins seems almost allergic to taking themselves seriously. Adam confesses to taking up Anthropology because it was at the top of the Arts course list ("It was in the As!"). And Tony, with total sincerity, declares that he will fold his business in order to go on tour, if necessary.
"Am I gonna get the opportunity to do this again? Maybe not," he reasons. "Am I going to get the opportunity to work construction again? Yes. So, whatever. I don't give a shit."
And then, there is a level of superstition that goes on in this band. Their upcoming album is named for the time, 12:34, which Macey believes is a potent signifier. "Macey is obsessed with 12:34!" says Adam. "It's a number that haunts her entire existence."
"But it's a good thing," Macey explains. "To me, 12:34 is a really good number. It's a sign that I'm going in the right direction. I am thinking something or saying something and then I look at the clock and it's 12:34, that's a sign."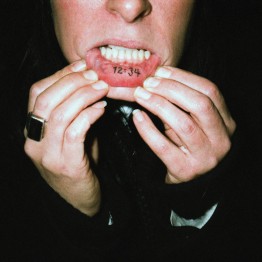 The numerous stopped clocks on the walls of Macey's cabin-like Strathcona home, all pointing out the time 12:34, are proof. The album cover for 12:34 is a picture of the time in question tattooed on the inside of her lip. The band gleefully recalls a flight Macey booked to Lethbridge, only to discover that her arrival time was 12:34 p.m.
"She was convinced she was gonna die!"
Over time, the number has become fixed in the whole band's mythology.
"Then she finally accepted the fact that she was gonna die," Tony continues, laughing. "She accepted death, and was all 'Fine, if that's the way I'm supposed to die, that's how I'm gonna die.'"
Luckily, Macey's flight landed safely, and that auspicious time continues to point the way. Like a beacon or some bazaar mantra, 12:34 seems to serve as a way for the members of Needles//Pins to focus on what is important about their band. It's a reminder from the universe to forget all the bullshit and live a happy life doing what you love. The album, their embodiment of this guiding principle, was recorded in less than a week last fall with Jordan Koop of Twin Crystals at his Noise Floor studio in Ladysmith, BC.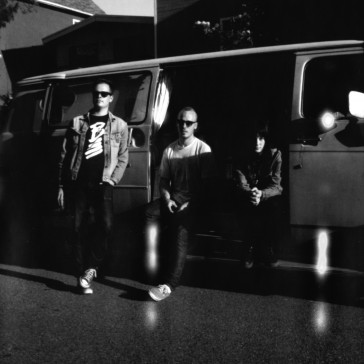 Just weeks away from tour, the three exude the nonchalance and confidence of people who have hit their stride. They recount the numerous false starts and wrong turns each has taken along the way: spirit crushing nine-to-five jobs, ill-chosen engineering studies, serious music careers that "fucking sucked." But now…
"Fuck. We're stoked!" says Macey. "I'm a fucking business owner and I have a hobby. I play in a band."
Ladies and gentlemen, I think we've just discovered the punk rock equivalent of Zen.