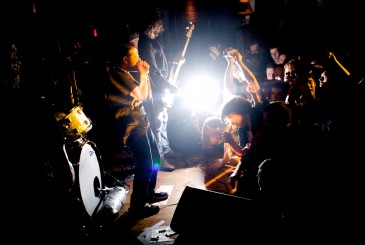 One never knows what to expect at a show like this one: four bands, two ex-Black Flag vocalists, one free show. All taking place on Easter Monday. I had thought I was making good time to see just about everything, but when I arrived at Fortune, White Lung was already approaching the end of their set. As far as I could tell from the two songs that I caught, the band's set was typical for them: frantic beats, squealing guitars, and singer Mish Way's impossible to ignore yelping. If anything, the set was most notable as being a great gauge of Fortune's incredible sound system. I don't know if I've ever heard vocals so crisp at a punk show. All in all, they had a fine outing.
Piggy came next, and…what can I say? It was great to see long-time local icon Ron Reyes getting up on stage, and band looked like they were having a good time. That being said, I wasn't thrilled by the one-time Black Flag singer's new music. The band itself looked so cobbled together–with a singer who looked no older than seventeen, a giant balding keyboardist, a pink haired, twenty-something bassist, and Ron Reyes–that the coolest thing on stage ended up being the drummer's Scratch Acid shirt. I mean, it makes you feel bad picking on the comeback kid–it wasn't hard to see the determination on Reyes' face as he dug into his misplaced guitar solos. There's no one that wants to be proven wrong by this band moreso than me. Right now though, what they have is simple, toothless progressions, uninspired melodies and vocals so mumbled I wondered whether their singer was drunk. The band will be opening for Agent Orange soon, and I'm honestly tempted to check it out and see if they've gotten any better. As it stands, though, I'm not feeling optimistic.
On the complete opposite end of the spectrum were the Jolts. The band had the crowd moving right away and kept up the energy their whole set. The Jolts don't stray far from the CBGB-style punk of the '70s (i.e. the Ramones). They've perfected the whole-band shout-along, always a nice touch, and handled themselves with ease on stage. Their songs were fast, relentless, and fun; perfect punk to dance to, which, for the most part, the crowd did. The Jolts' songs are infectious enough to get more than just the three or four 'mosh-to-anything' guys moving, and the night really started during their set. Looks-wise, the band presented themselves honestly without seeming inauthentic–the power of a leather jacket, I suppose. Long story short, they were a blast. I can't see how anyone wouldn't have had a ton of fun during their set.
And then, it was time for the main attraction. Attendance had been rising steadily all night, and by the time Off! took the stage, the place was packed. The band's first three songs "Black Thoughts," "Darkness," and "I Don't Belong" were over in less than five minutes. Following that, however, was the first of many set breaks where vocalist Keith Morris would talk to the audience. Though on paper, Morris, a 55-year-old guy sporting a strange, dreadlock-combover hybrid, sounds unimpressive, the singer's a legend. The respect he inspires in an audience is far more a product of his stage presence than his esteemed resume, though. Sneering and pacing between songs, often going bug-eyed with rage, his performance was so compelling that it was easy to forget he also sang in Black Flag and the Circle Jerks. It was hard to not be paralysed in awe.
Apparently that wasn't the case with the rest of the jerks in the audience. Now, stage diving is fine in moderation, but to have to lift the same dozen entitled morons over and over sucks. Meanwhile, ten minutes into the show, Morris gave the crowd a warning about throwing beers onstage. A second warning came towards the end of the set, resulting in a short walk off from Morris. Go figure? All that, plus one drunk guy getting tangled onstage in guitarist Dimitri Coats' cables, is enough to make one muse aloud on why people are so surprised that incredible, free shows like this one are so rare.
All that being said, the crowd's pigheadedness wasn't enough to put a damper on the night. Off! are old pros, and they made their set look easy. If you watched the band on mute, you might not realise how intense their songs are, with Coats shredding away like it was nothing and drummer Mario Rubalcaba barely breaking a sweat as he beat his kit.
Morris' between song asides were kinda fun, ranging from funny to interesting to confrontational. It's kinda cool to learn that "Jeffrey Lee Pierce" is a pseudo-eulogy to the late Gun Club singer of the same name, or that "Poison City" is about 9/11. Sixteen songs later, the band left the stage briefly before returning for an unexpected encore. I say unexpected because every Off! song, save "Peace in Hermosa," had already been played before the break. Morris quickly explained that the band would encore the way Black Flag did in his time with them, by restarting the set. Three songs later– "Black Thoughts," "Darkness," and "I Don't Belong," for those of you keeping score–the show was really over. Not a minute too soon, either; I was exhausted.