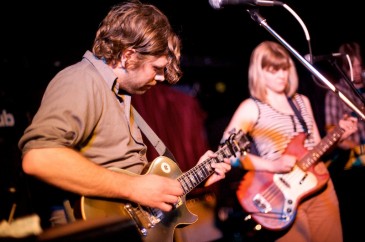 Chalk it up to too many shows going on elsewhere in town, or maybe that people were scared to leave their houses on Friday the 13th, but whatever the reason, only thirty people showed up for the long awaited Vancouver debut of LAKE. Having just released Giving & Receiving, their third album of sumptuous, low key lounge on the super hip K Records, you'd think there would have been a lot of people eager to see them. Surprisingly, this was not the case.
Despite the potentially demoralising prospect of playing to such a sparse crowd, opening act AgesandAges seemed unperturbed. Sung with conviction by all seven members, the Portland outfit's rich, summery harmonies were genuinely rousing as they deftly navigated through countrified '60s pop full of joyful, a cappella breakdowns and vibrant syncopated handclaps.
It was very telling that George Michael's "Careless Whisper" featured on the playlist in between sets, as the '80s ballad epitomises the gawky but peculiarly sexy mood-lit soul that forms LAKE's core sound. It would be easy to presume that they might reference such corny examples of pop culture by way of conforming to the tedious hipster notion that it's good to like stuff "ironically," or that it's "so un-cool, it's cool," but LAKE seem far too unassuming and sincere for that. Instead, the band use such influences artfully, mixing it up with understated indie stylings and pensive moods, performing with such obvious affection that they don't ever come across as cheesy or contrived.
LAKE's music is not immediately striking; the subtleties of their songs often only become apparent after the third or fourth listen. Opener "Skeleton Costume" was so light and easy on the ear that it strayed perilously close to being bland; it was almost offensively inoffensive. What saved it from such a fate was the touching melancholy of multi-instrumentalist Eli Moore's gentle vocals as he sang a deceptively pleasant tune with the decidedly heavy chorus, "Walking away from the ruins/How many bodies are buried?/Walking away from the ruins/Wearing a skeleton costume."
"Madagascar," from 2009's Let's Build a Roof, was perhaps their most potent distilling of laid-back swoon. Other stand-outs included "Giving & Receiving," a truly beautiful song possibly about karma or fish, or maybe both. The tempo and mood of their set stayed consistently relaxed and only changed up a gear for their energetic reworking of the traditional folk song, "Sing 99 & 90," which they aptly introduced as their only "rock song."
It was a shame that more people weren't there to witness such a great show, but the resultant intimacy only served to enrich the experience for the lucky few that were there.