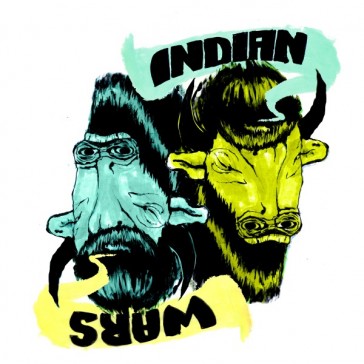 Picture this: you're sitting on a deck covered by a tin roof as the rain falls above you. A tall, long-haired man is showing you a table he sanded down to raw wood, one which is still in need of a staining to protect it from the elements. Whiskey and beer are passed around with thanks. Are you at a cabin in a remote part of B.C.? No, you're enjoying the company of local rockers Indian Wars. Band members Frase With (guitar), Dave McMartin (guitar), Craig Pettman (piano, harmonica), John McMartin (drums) and Brad Felotick (vocals and bass) were all present at their spacious home on Cambie St. when Discorder caught up with them to discuss their new album Walk Around the Park, a garage-rock album infused with liberal doses of old school country.
Indian Wars was born out of chaotic jam sessions held at the McMartin brothers' grandmother's basement in Tsawwassen in the winter of 2008. "We used to fuck around a lot," says With, adding that they'd skateboard together in their hometown before jamming in the evenings. "I used to play guitar and it was the worst thing you've ever heard," Felotick recalls with a laugh. Pettman is the newest addition to the crew. He joined a year ago when the band needed someone to play keys on a Velvet Underground cover.
Always armed with a good story, With describes a show the band recently played at the Biltmore (with fellow locals Bummer High and The High Drops) where the band ended up convincing the very drunk guitarist to take his off his shirt to don some body paint. "We didn't want to offend anybody, since our name is Indian Wars, but we just said, 'Fuck it, who cares?'" With chuckles. "The next day I got a bunch of text messages. 'How do I get this stuff off my clothes? I got my favourite jean jacket fucked up from your warpaint.'"
Indian Wars do not shy away from their influences. Instead, they wholeheartedly embrace them. "We listen to Neil Young and Johnny Cash all the time," says Dave McMartin, when asked about the strong country influence on Walk Around the Park. "That's The Way It Goes," sounds like a dusty Buffalo Springfield B-side thanks to its boot-stomping bass line and rousing gang vocals.
"We can play rock 'n' roll and we can play country," With confirms. "What's the difference between us and Neil Young? We haven't sold as many records. Yet."
The guitar wielder is quick to point out that Indian Wars draws from its peers as well. "We're into a bunch of new garage bands: Black Lips, Demon's Claws, Jacuzzi Boys and Dead Ghosts are rad." The garage influence is clear on tracks like "George Ellis" and "Won't Do A Thing," two fast-paced numbers that highlight Felotick's gritty, visceral vocals and the band's hook-laden guitar work.
Lyrically, Walk Around the Park focuses on large ideas, like our motivations in life and the purpose we serve. In "Old Hotel," Felotick sings about how "the working class ain't such a gas when you know somebody like that / Just goin' to work everyday and hopin' you get sacked." Dave McMartin, who wrote the lyrics, smiles when asked about the song's meaning. "My dad's a reporter and he told me about this book Up In the Old Hotel, by Joseph Mitchell. What I took from that book is, it made me wonder what else there is besides working your everyday job. You can go to work, but at the same time still have something else on the side." His brother nods in agreement before adding, "It's nice that we have this," while gesturing at his band mates.
Closer "Walk Around the Park" is another stand-out. The song boasts loads of twangy guitar and scorching harmonica riffs with a beat that methodically pushes you forward like you're taking a stroll. It also describes characters anyone who has spent time in Vancouver's East Side would be familiar with. "There's a man across the street who's going out of his head / He's howling at the moon and his eyes are going red," Felotick belts on the cut with conviction. The line speaks about one of the many individuals the band encountered at their last residence.
"The song is about our old neighbourhood," Dave explains. "We used to live in a house on Fraser and Broadway … We had people stealing shit off our porch. The house turned into a place where you dreaded coming home to."
"There were homeless dudes trying to steal the plums from our trees," Felotick adds. "Sometimes you just needed to go for a walk around the park and get out of the house."
"Walk Around the Park" provides much of the steam for the direction of the new album. "It was different from what we'd done before," explains Dave. "It's less garage-y, more of a narrative song."
With their first LP under their belts, it's clear from the pride in their voices the men from Indian Wars are happy with how Walk Around the Park turned out. "In the end, you make music for yourself," says Dave. "If you don't like it, what's the point?"
Indian Wars open for The Black Lips at the Commodore on June 15 and play Calgary's Sled Island Music Festival on June 25.