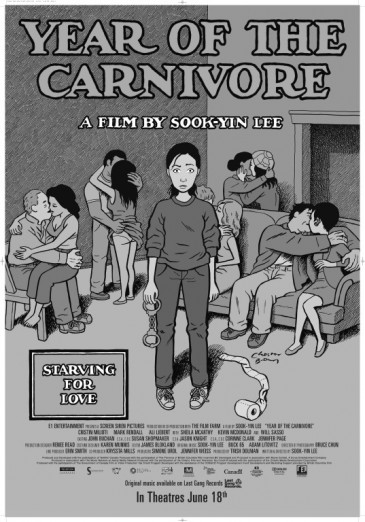 Sook Yin Lee's debut film as a writer-director, Year of the Carnivore, is a quirky—even squirm-inducing—coming of age story. This romantic comedy can be cute and cheeky, but doesn't shy away from hard truths, with characters colliding in unredeeming experiences at regular intervals. But if you can endure the uncomfortable parts (possibly viewing it through a couple of fingers), you'll notice that what resonates is a story filled with beautiful and relatable human emotion.
The film is the next installment in the eventful career of Canadian hero Sook-Yin Lee. Originally from North Vancouver, she has hosted a CBC Radio show, VJed at Much Music, led a band (Bob's Your Uncle), and acted (in the controversial Short Bus).
Year of the Carnivore is the tale of a woman exploring sex, love and all things in between. Our young tomboy/heroine, Sammy (Cristin Milioti), is awkward, inexperienced and has hopelessly fallen for her dear friend Eugene (Mark Rendall). After mustering the courage to confess her feelings, they engage in a gruelingly uncomfortable exploration of each other's bodies. The dissatisfying night ends when he rejects her as being too inexperienced. Disaster ensues when she sets out to prove him wrong.
This film creates an interesting juxtaposition between fantasy and reality. Every character is struggling with expectations of how life is "supposed" to happen, and how the truth rarely measures up. "Society creates these standards that really only a small percentage of people can actually fit in to," Lee told me over the phone on the topic of sexuality. As a tomboy, and the Asian minority in her high school, she felt she couldn't meet impossible standards set by her siblings' Cosmo magazines.
"I still feel oppressed by my inability to walk around in bikinis and heels!" she said, laughing. Without much to learn from, unearthing her own sexuality was simultaneously painful and funny. "I got my sex training from a pamphlet at a doctor's office!" she laughed.
As Sammy struggles with her emerging sexuality, other characters grapple to reconcile their experiences with their expectations. Eugene thinks he can find resolve through fame and rock 'n' roll. Sammy's parents (Kevin McDonald and Sheila McCarthy) are trapped in a marriage of habit and convenience. The neighbors (Emily Holmes and Patrick Gilmore) experience post-partum difficulties. Every character's reality is a bleak cry from the social fairy tales of their youths. Plus, Lee doesn't candy coat her delivery. When I asked if her intention was to create a no-holds-barred movie for her audience, she replied, "I wasn't trying to be harsh! This just came from things I've seen and my own experiences. Some things in life are too painful … We don't want to talk about it but it exists. You know, but these things are beautiful too … when we put ourselves out there for others."
She explained that each character comes from a personal experience. Sammy's story comes from her first love and all its complications. The cynical Sylvia (Ali Liebert), who believes that love is a human invention that precedes the business "contract" of marriage, embodies an old frame of mind.
Surely it is Lee's ability to infuse her own escapades and observations into her storytelling, that gives it so much truth. "Love is a theme I find myself exploring. I can only tell the story from my personal view point", she said. Her perspective is usually bold, sometimes crass and always empathetic.