On what was one of the first balmy, clothes-drenching evenings of the summer, I biked across the Georgia Viaduct, just as the sun sank low enough for the day's heat to (mostly) melt away. Outside The Media Club, the sidewalk was punctuated with sad, sweaty little faces hoping to scoop extra tickets — the show was sold out. In the parking lot across the way, around the sidewalk, and scattered on the stairs, were hurried last sips of beer, cigarettes, spliffs.
Inside, Jaye Bartell tuned his beautifully worn, classical guitar and began to, as Kevin Morby would later describe, "get the stage hot." Bartell was an endearing mix of sincerity and quirk, sporadically cheers-ing the crowd between songs, beer bottle in hand.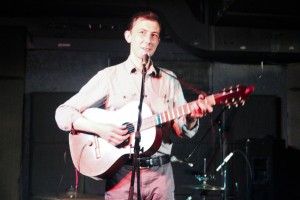 It's no wonder Bartell first found lyricism through poetry in earlier years. By the time he moved hollowly into "Tuesdays," (from his new album, Light Enough), a devastatingly lovely, haunting ode to the melancholy of youth, the room had gone entirely silent, hanging on every phrase, every rich, baritone lilt. With his soft gaze and timeless lyrics, Bartell's was a nostalgic performance that might have belonged to any era.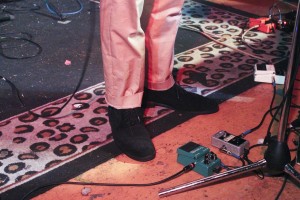 The room buzzed in anticipation, a flood of people inching toward the stage despite the thick, sauna-like mugginess in the air. In an equally meditative and avid state, Morby's three-piece band strummed into the first song, Kevin soon darting on stage, donning a full, toffee-toned suit, a crisp white shirt, and a bolo tie, his hair an endearing mop of sweaty curls.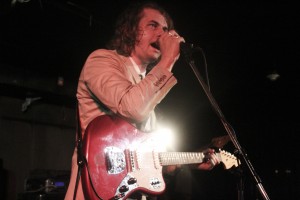 What followed was one of the most authentically compelling performances in recent memory. The mood was fluid, ranging anywhere among ambience, folk, twangy blues, smooth country, and jazz, all imbued with Morby's deep, melodic drone. Unsurprisingly, the audience shook to every cue, missing no beats. This was largely due to Justin Sullivan's relentless drumming: watching him meditatively pound in and out of see-saw rhythms was nothing short of hypnotic. We entered a trance. Luckily, Morby lured the crowd back to reality with a swift "muchas gracias" and a cheeky smile. He consistently extended an invitation to cathartic thrashing, as he bounded back and forth across the stage through much of the performance. Still, moving through favorites "All of My Life" and "Miles, Miles, Miles" gave the audience time to sing softly along and regain any intimacy that had perhaps been scattered by enthusiasm.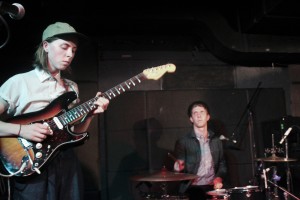 Halfway through the set, Morby started into slightly awkward if not infectiously endearing banter while tuning his red Fender Jaguar, revealing that his elementary school nickname had been Butter Beer. After a few more adorable quips, Sullivan and guitarist Meg Duffy chirped "come on man, let's do this!" With a resoluteness they'd not had before, Morby and his band moved into "Harlem River" (roughly ten minutes of bluesy rapture), into which the audience dissolved entirely, lost to a kind of melodic syrup that had permeated the room.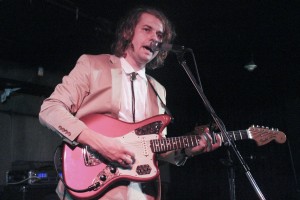 After comedically feigning the end of the set, joking that they'd just go "sit to the side unexpectantly before coming back," Morby bounded off stage with a facetious "goodbye," exaggerated air quotes, and a grin. After returning to play "Parade" and one or two more songs, the band filtered off stage, leaving Morby to close with Townes Van Zandt's  "No Place to Fall." This being one of my most cherished songs, I left The Media Club feeling full, knowing I'd just experienced a performance to delicately tuck away and treasure.