It was around 9 p.m. when I arrived at The Lido, already brimming with people drinking and chatting in the cozy, antique-clad East Van venue for Jay Arner and Supermoon's show to kick-off their national tour.
The friendly crowd of mostly mid-twenties to late-thirty-somethings seemed to know each other already for the most part, making me feel as though I had crashed an intimate going-away party for the bands, as opposed to a free-of-charge concert. However, despite initial feelings of being an outsider, I got comfy once I was two Fat Tugs deep,bumped into some pals and made others. My friend who had just moved from Halifax joined me, as well. I was excited that her first concert as a Vancouver resident would feature such incredible local bands, both of whom having recently released records — Supermoon's Playland and Arner's Jay II —that were featured heavily throughout the show.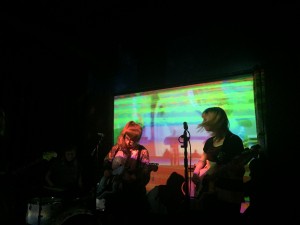 It was about 10:20 p.m. when Supermoon climbed onto the wooden stage to greet the intimate crowd. With the venue's characteristic projections colouring bassist Adrienne LaBelle and guitarist Alie Lynch with rainbow video game animations and stock footage of old-timey cars drummer Selina Crammond and guitarist Katie Gravestock were left in the dark.
Supermoon's side smiles and moody, fuzzy surf pop made listeners want to skip around and giddily sway whilst simultaneously head bang. Basking in their sweet, sweet tunes brought the peaceful rosy-cheek smiling emoji to mind. Mid-set, Lynch and LaBelle abruptly switched places and instruments, resulting in a few bumpy moments, which adoring audience members seemed quick to forgive.
LaBelle, who plays in both bands, got back up on stage a bit later to play bass and sing backup for Jay Arner.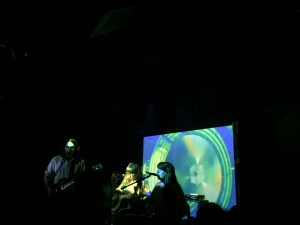 Arner draped himself over the mic at the stage's most left corner, with  his bandmates LaBelle and Jessica Delisle, both of whom are at least a foot shorter than him, comfortably taking up most of the stage. If you've ever wondered what it would sound like if Tame Impala was stripped down, and had their their sensitive older cousin start writing for them, check out Jay II. His heartfelt and personal lyrics delivered alongside synthy, lo-fi pop rock left audience members feeling weirdly upbeat and sometimes sad. They played a gentle, punchy set, leaving audience members in a pool at the front, dancing along with their wavy and hypnotic melodies.
The show ended like it had began — dreamily and with an oddly aloof nature, despite the hometown crowd. Arner's band vanished with grateful smiles and a sincere "thank you," and the audience immediately peeled away from the stage, leaving it empty and washed in the fading projections.