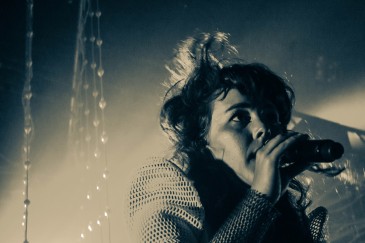 The Vogue Theatre was packed for Purity Ring's light show on Monday, June 15. Their latest release Another Eternity divided critics, with some saying they lost their unique sound from their debut Shrines and replaced it with morphed top 40 music. The night's show was heavily focused on colorful lights and special effects, which complemented their new music and brought it to life on stage.
Clouds of cigarette smoke filled the floor as we waited for the first act. Pop experimentalist Cecil Frena's latest project, Born Gold, pumped up the crowd with their zippy pop beats. Eric Cheng and Mitch Holtby accompanied with fast percussion and clanging symbols over Frena's murky nostalgic synths. Holtby captivated the crowd, quickly moving around his unique percussion setup which included cymbals and what looked to be a small bird cage.
Born Gold warmed the crowd with their unique sound and played a compelling, energetic set packed with joy and noise. The trio sported a very peculiar ensemble of white spandex pants and tank tops, which complemented their one of a kind set as Frena passionately moved to the discordant noise he and his friends were producing.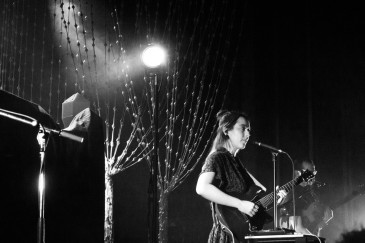 If Monday night's show was a battle of the bands, Braids would have taken home first prize. The Montreal-based trio quickly won over the crowd when vocalist Raphaelle Standell-Preston amazed concertgoers with her wide vocal range. After performing their song "Blondie," off their newest release Deep in the Iris, all hands were high in the air earning them the biggest applause of the night, and, with this one song, Braids effortlessly stole the show. In addition, Austin Tufts brought some of the best drumming I've ever seen along with Taylor Smith, who delivered just as commendable work on the keys. It was an intimate set blending mesmerizing vocals and wild percussion, and like one concertgoer said, "That was the shit."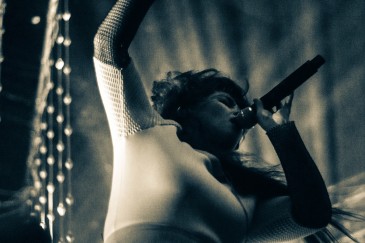 No introduction was needed for Purity Ring. The Edmonton-bred duo packed props including flashlights arranged as an organ and mirrored gloves. Vocalist Megan James explored her futuristic world in ropes of lights while Corin Roddick stood in the middle of the stage hitting his crystal-shaped drum set to produce icy beats. A giant moon hovered behind him, doubling as a drum for James to bang during "Dust Hymn."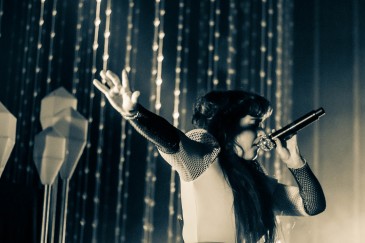 Wearing a two-piece bodysuit with shoulder pads, James looked like a goddess floating back and forth on stage commanding the audience to follow her every move. Purity Ring's focus on the futuristic ambiance of the show complimented their unique mélange of electronic and future-pop, but although the set was visually breathtaking, it appeared they got too caught up in the spectacle and in the end felt more like performance art than a concert.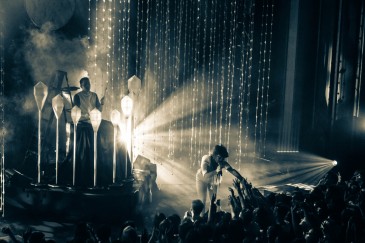 Leaving without an encore, the show came to an abrupt end. While the audience applauded and cheered politely, the lights came on and concertgoers began to leave the theatre. The ending felt flat and a bit disappointing after the lively promise at the beginning. For better or for worse, Purity Ring showed they have evolved and may need to increase their on-stage engagement to allow their audience to catch up to their new look and sound.