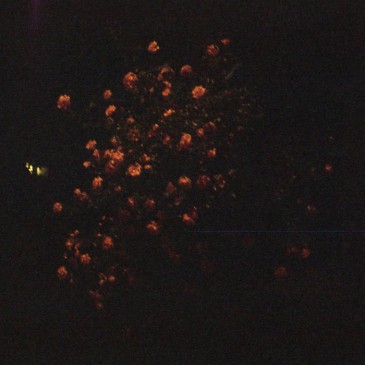 When they say 'don't judge a book by its cover,' they hadn't come across Dark Glasses' new self-titled record. One glimpse at the album artwork — a painting of a bouquet of flowers almost swallowed by darkness — reveals a detailed representation of the sound within.
The four-piece lo-fi post-punk band hailing from Victoria wade their way through shadowy instrumentation, eerie vocals, and low lit atmospheres, occasionally bursting through with bright and beautiful moments. The very beginning of the very first track stands as a beacon of light in Dark Glasses' gloom; a crescendo of lightly distorted guitars skitter across one another, bright notes rolling and bouncing back and forth, only to cease suddenly, making way for a clean and quick drum beat. After a few moments, the bass and the guitars kick back in, shifting the tone of the track from gleaming to gloomy.
Almost halfway through the record, Dark Glasses once again illuminate with their shortest track on the record, instrumental "Robber." Oscillating synths that sound straight from Tarkovsky's Solaris swell and recede for less than a minute, clear and devoid of any of the record's haze.
But for the most part, Dark Glasses wallows in darkness. Vocalist Declan Hughes rarely reaches upwards or downwards for notes, settling in to a monotonic croon. Drummer Adam Martin shifts between tight, rapid fire delivery, to lethargic beats. The notes on Caleb Kramer's guitar generally land a near quarter note off from the expected mark. Bassist Rob Coslett lets the low end get lost beneath it all. On the penultimate track, "Blindness," the gloom of the record is exemplified with its groggy rise from a low end drone into a detuned guitar rattling overtop a slow and steady drum line.
Yet, from the glittering guitar lines of "In Vogue," to the saccharine lyrics of "You Know It's True," Dark Glasses choose the moments to irradiate their post-punk blackness carefully. More often than not, Dark Glasses sounds as if the band was in the process of tuning up when they hit record, but flashes of artistry and expertise rise up through its murky depths.