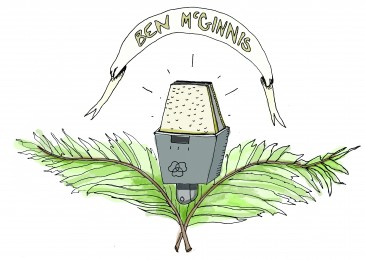 Ben McGinnis just wants to get better at being a stand-up comedian. Self-described as a "diminutive white nerd," his clean, observational style lands onstage with a low energy, presenting jokes as if he's letting the audience discover them on their own. His on-stage 'character' is an underdog, what McGinnis describes as "a little bit of reality and a little bit of an act."
I meet with McGinnis at Trees Organic, a small boutique coffee shop two blocks from Waterfront Skytrain Station. I get a mocha that I consume almost immediately. He gets an herbal tea that he barely touches. The dim light, small black chairs, and beige walls mirror McGinnis' comedy quite well: not out for flashy zest, but aiming for nicely delivered content. As we sit down, he puts his hands together, hunches into an understated pose, and maintains a slight resting smile as we begin talking.
"I was the victim of identity theft recently. And it's not so much the money they stole, but it's just scary to think that's someone else is out there blaming all their problems on my father." That was the first joke McGinnis ever told on stage and after its delivery, McGinnis knew right away that stand-up was his passion. It's still the only form of comedy that's stuck for him.
"With stand-up, the good thing is you're on your own and you're only responsible for your own acts and to a larger extent, your own career," says McGinnis. "And if you perform well, it's all on you and you get the glory. With improv, I struggled ceding control to other people. I feel like a lot of the people who do stand-up are kind of control freaks and I relate to that. (Laughs) I don't know if that's a good quality in me though."
McGinnis had wanted to be a comedian since he was a teenager. It took ten years of anxious anticipation for him to finally get up on stage. When one of his friends decided to try stand-up, that was McGinnis' prompt to attempt it himself. In those early days, McGinnis felt like he faced hard barriers: not knowing anyone in the scene, not knowing how to get booked, and not truly feeling like he belonged. His friend's decision to try stand-up motivated  McGinnis to face his fear and sign up for a comedy course in 2006.
"The first time I performed was a showcase at the end of the comedy class," says McGinnis. "So it was a very generous audience and a very welcoming place to do comedy. If I watch it now, it's obvious to me that I'm very green and nervous and making mistakes, stepping on laughs, and being uncomfortable, physically on-stage. But the combination of anticipation and terror and joy afterwards is something that I've been chasing ever since."
As of 2006, McGinnis has only risen and improved as a comic. His first paid gig was at Yuk Yuk's in 2010, he filmed a half-hour comedy special at the Waldorf in 2012, and he performed at the NorthWest Comedy Fest  in 2015, igniting his love of festivals.
"You feel like a real comedian," says McGinnis. "You get a badge that says 'Artist' on it, so that's very flattering. Usually you can walk to the front of any line-up at the shows and that's very exciting. Any person doing stand-up in Vancouver probably feels disconnected from the big-time, so when you go to comedy festivals you feel more connected to that feeling."
In terms of his process, McGinnis likes to be well prepared. He's a writer's comedian, preferring to thoroughly craft and hone his jokes before they see the light of day. When he needs to build his act, he puts himself in a certain mindset, an artificially created comedic fight-or-flight mentality.
"I try to fake the pressure of being in front of a crowd," says McGinnis. "I don't sit at my computer typing. I walk around my apartment and pretend I'm doing a set. I've found out that that helps quite a bit. Because when you write, something could be quite clever or 'writerly,' but with stand-up, you really have to get rid of a lot of stuff. Only the funny parts are important. All the stuff you think is clever or well-written you can pretty much throw out."
His comedy is rewarding for an audience who buys into its subtle delivery. When he hits on a good joke, he holds for attention the way a kid who just made their dad laugh would. As to what McGinnis wants in the future, he has simple needs: more of the same and just to improve.
"I really just want to get better at stand-up," says McGinnis. "It's the only thing I've done that I haven't stopped doing or wanted to stop doing. I've done a lot of other creative stuff and it's never really stuck. I'd love to be a headliner and develop a crowd for my work. But my big goal is just to write better jokes and get better at what I do."
McGinnis certainly knows what he wants. His loyalty to the craft is his defining feature. As interests go, McGinnis' number one priority is pretty all-consuming. Through all this thought and conservation, only one sentiment has remained: Ben McGinnis just wants to get better at being a stand-up comedian.