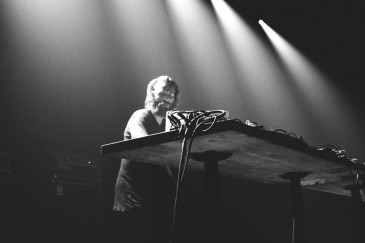 There's a somber chic at the Imperial. They loop The Shining ballroom music on PA. The space is a dark box. Depth, lower than low, is impressed in an ironic turn: decorative terracotta soldiers don't stand guard, instead looking down from lofty perches. Burial and transformation are apt metaphors for the electronic manipulation that Ben Frost and Tim Hecker pursue. But the strength of the Imperial also lies in its sonics. It lent to a night that at best evinced the somatic pleasure of volume, or otherwise, sounded real expensive anyways.
Frost cut a striking figure onstage: beard wild, hair spilt over his face. Much of his sound is derived from the manipulation of guitar, and his set opened with a dissonant shred. That initial movement of noise towards the incline, the consuming bass rumble, charted the gradual progression and maximal sound of Frost's tracks. And when it first hit, it was stunning. The physical force of the low-end, as it rumbled through architecture, then the floor, the body conducting it in turn, was an incredible feeling of illumination: a spiritual moment that reconciled Frost's crescendos with Hecker's poignancy.
Save for moments of exploration, like an interlude where cute MIDI moved to feral snarls, the majority of the set was comprised of Frost's industrial rhythms in steady incline. Noise would jut in over mechanical drones. Synth would fill the room in harsh arpeggios, or menacing cyberpunk progressions. However, there seemed to be something off. Frost's sonics provoked a physical reaction. But to some degree, one got the sense of rhythm, however irregular, deployed for a crowd of people who weren't really interested in dancing, or moving much at all.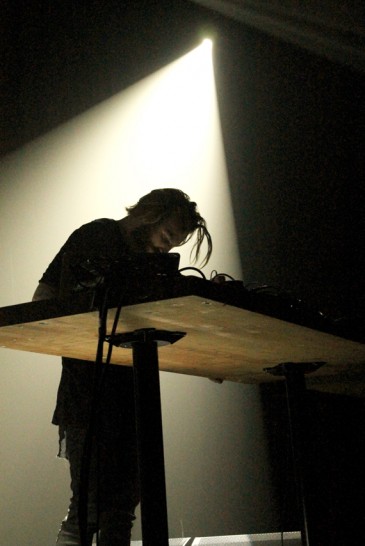 Another quality of this performance were the lights deployed for Frost, who was marked by an array of flashes that would disorient the stage, or dance on the curtain backdrop. It gave a stutter to his movement on-stage, a more mechanical physicality. Frequently the lights would calm and synthesize, washing upwards, bathing Frost's face in a concealing light.
Contrarily, Hecker's set was submerged in darkness. If Frost's set played with bombast, Hecker's played with introspection. Crowd reactions to the visual deficiency were more interesting than watching a silhouette use his console. Some in the front huddled down, their backs against the stage. One man shuffled back and forth, lit by one of two meagre blue spotlights that were the room's sole lighting.
As with Frost's performance, the physical crush of the sound was fantastic. Hecker's set was derived primarily from last album Virgins, with chimeras of electronic and acoustic minimalism, amplified to an enormous volume. For me, an emergent metaphor was tunneling: a mass that worms its way through earth in a thick rumble, guided by undulating orchestration or monotonic sub-bass, accruing and losing layers and drones on its own body, knocking loose blows of woodwind and wails of strings.
The set was short and intimate. A response to the tonal homogeneity of the set would be fair, as the aesthetic and physical force of Hecker's music seemed to substitute for cohesive progression. However, that somatic element is precisely what makes Hecker and Frost essential live experiences for fans of either. As David Lynch once said, "If you think you've seen a film on your fucking telephone, get real."