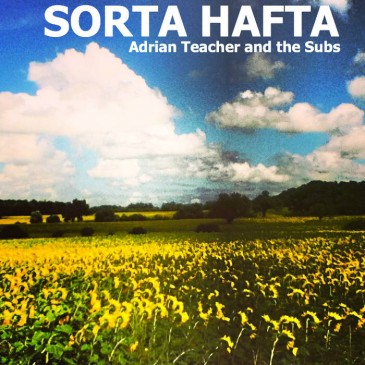 There is no genre of music safe from Adrian Teacher's ever-widening reach. As his new project, Adrian Teacher and the Subs, effortlessly proves with the no-second-wasted EP, Sorta Hafta, Teacher is just as adept at tackling the softer sides of folk and psych as he was the art-punk veil of Apollo Ghosts or the funk-infused frenzy of COOL TV.
As with all of Teacher's releases, Sorta Hafta unravels against the grain of its audience's expectations. EP opener "When Did I Get Older?" would feel at home, if slightly less rambunctious, on the last Ghosts record, Landmark. Teacher has an inherent ability to craft beautiful pop masterpieces with an ear-infecting melody, a skill that he also puts to use elsewhere on the record, notably in "Let's Call In Sick" and its calypso rhythm, and the beautiful soul-searching chorus of "One Thing Your Money Couldn't."
What's most surprising though, and also most deeply rewarding, are the elements of classic and folk music defining the difference between Adrian Teacher and the Subs and his previous projects. "Old Graffiti" is a straight-up sing-along with call-and-response vocal work between Teacher and Julie Doiron. And "Thriftin' On A Sunday" would be at home in a Volkswagen camper's cassette compartment.
Teacher has crafted something beautiful and new on Sorta Hafta. Long-time fans may still be pining for the energy and antics of Apollo Ghosts or COOL TV, but the Subs have something refreshingly close to the heart in their new EP.