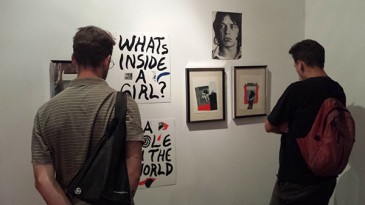 Kat & Dan's little locus of creativity on Vancouver's Eastern frontier – Horses Records – recently held its first art show: What's Inside a Girl? A Hole in the World. Featuring the work of Nü Sensae's Andrea Lukic and a performance by Pat Flegel's enigmatic alias, Lady Woland, the show gave onlookers an intriguing and intimate portrayal of young women's fanatic idolatry of reclusive rockstars throughout time.
Despite having read Andrea's write-up for the show and being familiar with both artists' music (my ears have been decimated by Nü Sensae's caustic tone, only to be mollified by the subdued warbles of Pat's various incarnations), I had little idea what to expect, and certainly wasn't prepared for the curious scene laid out in Horses' back room. But I'm getting ahead of myself; let us rewind.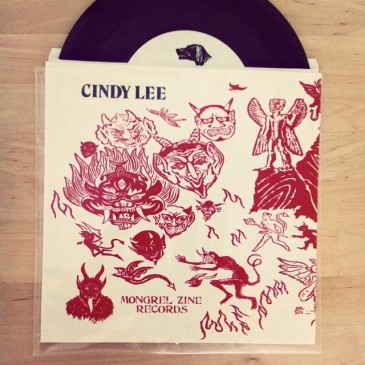 Passing by the shop's front window on my way inside, I was pleased to see Pat's seven-inch Cindy Lee/Red Mass split from Mongrel Zine Records on display – its cover evocatively adorned with Bob Scott's "Red Devil" illustration. I had come across Pat's track Holding the Devil's Hand earlier that day, and the need to grip this vinyl was strong. Despite the fact that the armless Minotaur with a tongue for a dick was on the other side of the album, I took this to be a good omen of what was to come.
Winding past Horses' record-laden shelves and zine-stacked tables, I made my way through to the back room to see what was what. Admittedly, I figured I'd find a typical collection of individual pieces that viewers could sip beers in front of and dissect. As I stepped over the threshold, though, I found myself stepping into what looked like an unruly teen's bedroom, complete with collages, magazine covers, oddball garments hanging from the wall, and an old Panasonic TV looping strange scenes in the corner.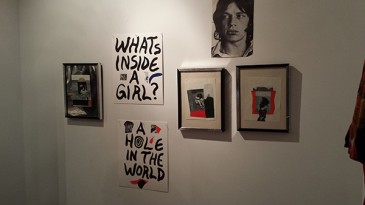 To the left of the doorway, several monochrome collages with splashes of orange framed the whimsically-lettered posters that hung from the wall, while in the space to the right a psychedelically-checkered floor spilled away underfoot, drawing the eyes towards two mirrors melting off of the far wall. Rolling Stone magazine covers featuring the likes of Charles Manson hung from the walls in plastic sleeves, along with a sloppily done-up Courtney Love-esque mannequin head, fake flowers, a kimono, and more. All the while, an old Panasonic TV looped scenes of Lady Woland puttering about a room strewn with her belongings – her face the perfect expression of vapid contentment as she pruned her plants or stared adoringly at her reflection in a mirror.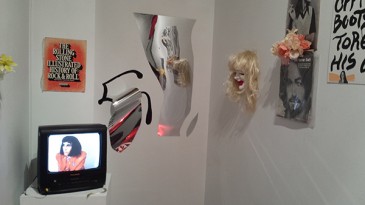 Although the scene as a whole was compelling, I couldn't help but feel crestfallen: it took less than a moment to take it all in. Aside from the collages and the looping video, there weren't any individual pieces that demanded more than a cursory glance – and even those failed to shed any light on the show's theme. What is inside a girl? Where is the hole in the world? With these questions unanswered, I was left only to hope that I was missing some key piece that would tie this intriguing setting into a cohesive whole.
That piece, it turned out, would come in the form of Lady Woland's timid presence. As the lights were dimmed throughout the shop, she took the spotlight. Dressed as she was in the video, she began to sing what Andrea called 'real torch songs from the heart' – songs that '[hold] the last candle for the one you love.' These included some original songs, as well as covers of a Skeeter Davis song, the Motels' "Total Control" and Psychic TV's "Just Drifting (for Caresse)," which the Lady shared demurely.
The crowd of spectators took turns filing into the back room to watch the Lady lay herself bare with these heart-wrenching ballads, and as her final notes fluttered off into the night, these disparate elements finally came together into a cohesive whole.
As we huddled there in the dark, taking turns gawking at this strange exhibition, it became clear that we had all been given a glimpse into the artfully constructed reality of Lady Woland. As she stood there, surrounded by images of the mythically reclusive rock stars that she so adored, earnestly singing songs of lost love, she came to embody the desperate and fanatic groupie described in Andrea's statement.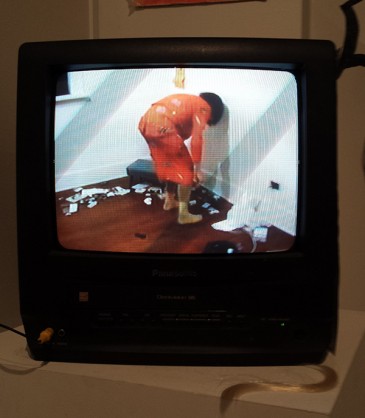 I can only guess what was passing through her mind, but as she belted out her ballads in front of those melted mirrors, I saw a woman so caught up in her own adoration for the unattainable that she had lost all perspective. She seemed blissfully oblivious to the absurdity of her performance. We, though, the spectators to this haunting set, saw not only the Lady in the flesh, but her vapid contentment in the TV screen behind her as well. She seemed trapped in this room; this prison of her own making. And dissected in this way into the real, the recorded and the reflected, it seemed like you could indeed peer inside her, only to find that she was hollow. Void. Less than human. A hole in the world.
Peering into this abyss, I found myself left wanting more – a statement that is true not only for Andrea's show, but for Pat's performance as well. After I had finished interviewing Andrea, a mutual friend of both artists, Shannon, informed me that Pat had drawn the name "Lady Woland" from the novel Master and Margarita by Russian writer Mikhail Bulgakov, in which the devil comes to Moscow in the form of a man named Woland. This, when paired with the satanic illustrations on the cover of Pat's Cindy Lee vinyl and a question from Andrea's statement – "Did the devil's music, a.k.a. rock 'n' roll, infiltrate [fanatical young women's] innocent bodies, minds and emotions?" – has left me insatiably curious about how this persona will continue to grow.
Only time will tell if this narrative will further develop. All I know for sure is that Horses Records' first art show was every bit as provocative as I had hoped it would be, and I cannot wait to see what this little shop in Hastings/Sunrise has next in store.
---
Bonus video
Nü Sensae's I'M A BODY, produced by Cody Fennell and Jenna Kuchera.