This is my first year of Sledding and I learned a few things quickly: stay close to the action, get a bike, and always, always charge your phone. The latter may seem like a duh! but seriously, scheduling changes happen on an hourly basis. Before I left for Calgary on Tuesday, Tough Age had booked their fourth show of the five-day festival at Broken City; when I first met up with War Baby at Local 510 on Wednesday evening, they already had two more shows; on Thursday, I woke up to a Sled Island email with over two dozen lineup or set time changes.
Basically, the festival schedules littered around town were outdated before they were even printed, so for all the latest updates you'll constantly be checking your texts, email, and Twitter.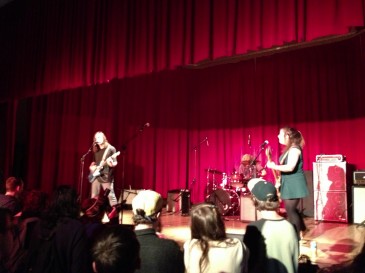 For me, that meant starting Thursday off at with the eerie and visceral sine wave manipulations of Vancouver-via-Calgary's Sarah Davachi at First United Church. Her heavy-handed sonic flair shook and shuddered as it permeated the pews and, not to mention, the eardrums of all within its reach. The sound artist sat making minute adjustments to the ephemeral knobs as she ventured through avenues of auditory textures. Layers came and went through subtle evolutions that at times seemed drawn out, while others pronounced a single stream of consciousness where Terry Riley's influence shone through.
Sadly, Davachi's half hour set was dwarfed by the fully immersed depths of Daniel Lopatin aka Oneohtrix Point Never. The lordly soundsmith began without indication as the crowd sat attentively to his sermon, St Peter looking down on us all. While the former half of his set was strikingly similar, if not the same, to that that he played at Fortune Sound Club earlier this year , the whole experience was an existential reminder of the temporal nature of our material existence.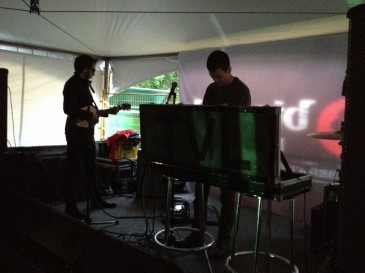 Thrown back into the prairie sunset, I found many hipsters wagging a leg to the songs of local three-piece surf rockers Gretchen at the upstairs of the Royal Canadian Legion #1 before racing below to catch the much-lauded Victoria rockers Fountain. As a band I have always wanted to like, but whose faltering rhythm section has left me consistently disappointed, I again left feeling disappointed at the quartet's awkward indie-rock tendencies.
With the skate-punk worm in my ear, I set out for Dicken's, a local pub comprised of equal parts working class regulars and denim vested longhairs. The venue conjured the heyday of Vancouver's China Creek sound that permeated throughout places like Pub 340 a decade ago.
I managed to drop in on the tail end of Vancouver heavies War Baby, whose staggering riffs filled the room with their all encompassing doom-pop which, whether it sounds like Bleach-era Nirvana or not, got heads banging.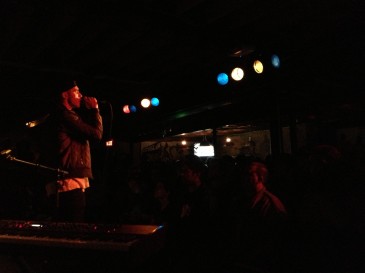 The trio set the stage for California newcomers the Shrine, an honest reminder of the skate rats that used to litter East Van. Opening with the snarky remark, "Welcome to the shrine!" the trio rolled into "Acid Casualty" whose refrain, "He's a trippin' corpse," rang through Dickens' cellar as heads bobbed on, long locks flying to the ceiling. Full of carefree energy, the trio thrashed on for 45 minutes, while making snotty remarks like, "We're the Shrine from Venice Beach, California. Surfs up!"
Their liberating jams had loosened up the crowd enough that when White Lung took the stage, a fair sized mosh pit had already formed. (Why there hadn't been a mosh pit for the Shrine, I don't know.) But punk-rock princess Mish Way and her egg-white hair commanded the stage and played to a half-filled, yet enthusiastic, room with the polished fervour that their latest record, Deep Fantasy, has been acclaimed for. Realizing it was too late to pack the room, Way intimated she would bare all to the throngs on young men moshing. Instead, she coaxed most of the sweaty male bodies to go topless before announcing their last song of the night, "Take The Mirror", as their slick trunks writhed below.