There is a persistent and deep-seated animosity between Calgary and Vancouver envisioned through the dichotomies of ostentatious pickup trucks and bicycles, unfettered love of oil extraction and hardline eco-politics. There are constant arguments for and against either city owning the crown to Western Canadian urban prowess, most of which can just be boiled down to Canucks vs Flames, hippies vs cowboys. But during the past five days of being a Vancouverite in Calgary, I have learned there is little weight to these arguments, and conversations entirely.
In Calgary, there's no messing around. The streets are wide, beer always comes in a pint (none of this sleeve nonsense), and what is touted as Canada's best barbecue, Palomino, is also a two room venue that hosts some of this town's finest talent on the daily. It's a work hard-play hard kind of town, and the infrastructure reflects that. Thankfully, that means the city is more than happy to dump a ton of money into leisure activities, and with no mountains in their backyard to climb, this has meant arts and culture initiatives like Sled Island are actually encouraged. It also means the locals who partake in events like Sled Island have been working their asses off and are ready to party, and you're bound to get swept up in the excitement if you're from out of town.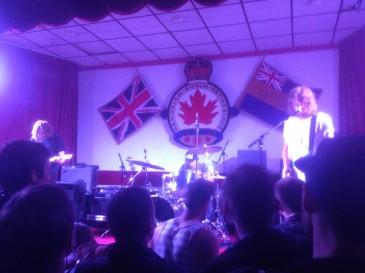 With summer in full stride, this year's Sled Island finale began in the late afternoon as sunlight poured through what small entryways it could find in the windowless Republik as Julianna Barwick sat down behind a keyboard and loop station for her second performance of the festival. Sadly, the ethereal songstress's presence was overlooked by a crowd that seemed more than preoccupied with the free pulled pork sandwiches.
Next to take the stage was the daring Meg Remy, a.k.a. US Girls: a one-woman show whose dark dance-pop kept the crowd of haggard onlookers captivated with her emotionally charged and spaced-out Chicago warehouse party vibes.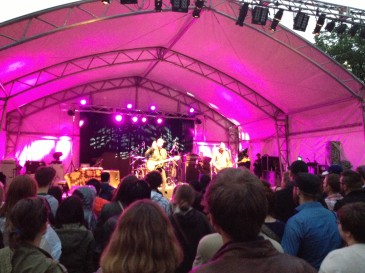 With hypnotic pacing that saw drummer Brian Costello leaping out of his seat near the end of almost every song, the orient-influenced garage rock of Chicago's Outer Minds that followed was a hypnotic head-bobbing primer for Hardly Art darlings La Luz.
As the communal hangover began to fade, the female Seattle surf-rock outfit took the stage, however with keyboardist Alice Sandahl unable to make the show, the quartet had been reduced to a trio for this performance. This didn't stop the three ladies form packing the room tight with swooning psych-pop hooks and a swaggering stage presence that drew from both their latest It's Alive and 2012's Damp Face EP. They even managed to get the exhausted crowd to form a soultrain to "Damp Face" before ending with the cool and simple "Sure As Spring."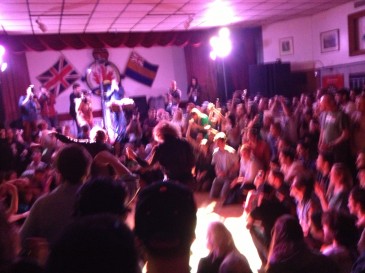 Closing out the festival was the Blind Shake, who I had seen on Saturday at Calgary's outdoor Olympic Plaza. A tight, dark room would prove to be a more fitting venue for the Minneapolis trio on the final blowout of this six-day extravaganza. With their unique brand of Dead–Kennedys-meets-Devo garage punk madness, the uniforms of this bald-headed, black sweater laden men mechanically played more than a dozen furious three to four minute bursts that ended the festival on a note of success and elation. Frontman Jim Blaha was giving a thumbs up to the crowd and thanks to the festival after each song, calling Sled Island the best festival in the world on a number of occasions. Someone even ran on stage and kissed baritone guitarist Mike Blaha's bald head before running back into the fray.
While a few brave souls wandered into the sunset towards Broken City for a final night of karaoke, this reviewer decided not to tempt fate and risk spoiling the ineffable high Sled Island has left me with and so called it a night, anticipating the impending drive home to Vancouver.