Bison B.C. and Buzzcocks @ Olympic Plaza
The rain was back for Bison B.C.'s mid-afternoon set at the Olympic Plaza, but not for long. Umbrellas and rain gear soon went the way of the buffalo as the Vancouver act's menacing and murky metal riffs blasted a hole in the clouds, letting the sun shine down on the headbanging crowd. Guitarist Dan And whipped his locks around furiously, despite admitting he just woke up before their set. At one point, though, he delivered a particularly fleet-fingered solo as he sat on the massive outdoor stage. All that shredding can tucker a guy out, you know.
A guy wearing a tracksuit and a mullet wig came out to introduce legendary English punks the Buzzcocks, but it took another five minutes or so for the band to actually take the stage. When they did finally saunter out, the group flubbed the "1,2,3,4" intro to set opener "Boredom." Also, it was kind of weird watching Pete Shelley wham on his guitar wearing his own band's merch (a bomber jacket). They played a number of classic cuts ( "I Don't Mind," "Orgasm Addict"), but the whole thing just seemed off.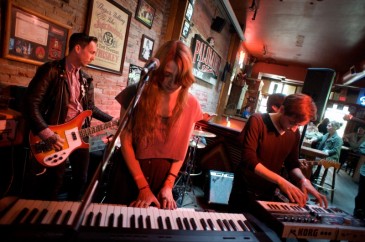 Mode Moderne @ Palomino
I caught Mode Moderne's set in the upstairs restaurant section of Palomino's as part of the Light Organ Records showcase. It was a bit odd watching the gloomy popsters get through their tunes while patrons were cutting into their steak dinners. Regardless, singer Phillip Intilé was in fine form, not letting the sunlight affect his moody posturing and late-night, Ian Curtis-styled baritone.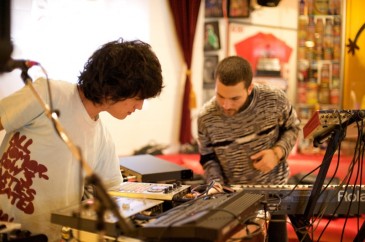 Teengirl Fantasy @ Tubby Dog
I only stayed for a few songs of Teengirl Fantasy's ultra laid-back chillwave set, but the sci-fi synth sounds, deep snap beats and echoey vocals complimented the '50s-era space flick that was screening behind them.
Neil Hamburger @ Auburn Saloon
Proving there was more than music to Sled Island, a bunch of people, including members of B-Lines, Crocodiles, Grown Ups and Chains of Love, crammed into the Auburn Saloon to catch the always offensive, sometimes hilarious Neil Hamburger's stand up set. All of his touchstones, from clearing his throat non-stop to spilling his drinks to insulting the crowd, were there as he dropped groaners about Madonna's breasts dispensing Alpo and how Loggins won't talk to Messina because he's a "retard." I left the show early, but B-Lines frontman Ryan Dyck told me later that night that a woman that Hamburger had called a whore came up onstage and cold-cocked him. To paraphrase the comedian, that's his life!
Sleep @ Olympic Plaza
Reformed doom metallers Sleep headlined the outdoor portion of the evening and delivered a set's worth of punishing, sloth-paced songs for their devoted. Members of Bison B.C. littered the stage as the 90s icons ran through a portion of their epic, slow-drip stoner masterpiece, Dopesmoker. While they definitely focused on gloomy, slow-mo progressions, guitarist Matt Pike occasionally provided some tasty, fiery blues solos. Skull-crushing, to say the least.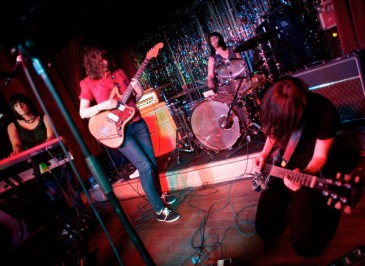 Wild Flag @ Twisted Element
Another set of icons, the Portland-based supergroup Wild Flag, played across town to an equally ecstatic crowd. The high energy quartet played both tracks off their recent seven-inch ("Glass Tambourine" and "Future Crimes") and a handful of songs that will likely pop up on their impending full-length debut. Mary Timony and former Sleater Kinney six-stringer Carrie Brownstein traded off countless high-tension licks throughout their energized set, though the former's vocal takes came across more coolly and controlled than Brownstein's eccentric shrieks. Brownstein asked the crowd why the fest was called Sled Island, but no one had a good answer. When someone in the crowd asked her about Wild Flag's tobogganing skills, she shot back with, "In the winters, we're like a downhill team." They wrapped up with a long and loose, almost Stones-y song that had Brownstein crying "I'm a race horse." One of the best sets I saw, and one that has me counting the days until their full-length comes out this fall.
It was only around midnight when Wild Flag capped their set, but after running into Edmonton hardcore kids Bayonets!!! at a pizza joint, catching experimental Montreal popsters Braids play "Lemonade" on the top floor of a movie theatre and standing in line for 45 minutes at the Legion only to be denied entry into the Kurt Vile show, I decided to call it a night.
I had to head back to Vancouver the next morning, but Steve Louie stayed through to the end of the fest. Expect a photo diary on the site soon!