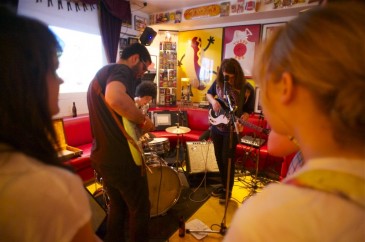 Discorder Editor Gregory Adams is spending the next couple of days at Calgary's premiere indie and punk festival, Sled Island. Check in to Discorder.ca June 23-25 for daily wrap-ups.
Even before I made it to Calgary, I was feeling Sled Island's good vibes. Just a few seats away from me on my flight was former S.T.R.E.E.T.S./Bogus Tokus bassist Mike Payette, who was heading out to the fest as a curator. He planned a few metal-oriented shows and was also about to play his first show with his new band Scarebro. More on those dudes later.
My aunt picked me up from the airport and drove me to her place, where we had an incredible vegan dinner and caught up on old times. All my Sled downtime has been spent here. It's great. But onto the shows!
Wild Nothing @ Central United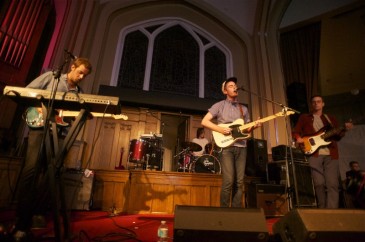 I met up with Discorder photographer/Real Live Action editor Steve Louie at this gorgeous church venue. A quick scan of the crowd revealed a ton of other CiTR and Discorder heads as well. It was like a family reunion. Things got off to a super mellow start, courtesy of Virginia's Wild Nothing. Oddly, the troupe sauntered out to the Law & Order theme before parading out their gauzy brand of dream pop. Aside from their intro, the band played it straight. Leader Jack Tatum delivered some octave-jumping vocals on the Smiths-y "Live In Dreams," but interestingly decided to skip out on his falsetto on the equally enigmatic "Confirmation." Overall, the expansive church setting had their echo-laden cuts ringing out extra heavenly.
Sans AIDS and Pat Jordache @ Tubby Dog
Across town at hot dog joint Tubby Dog, Edmonton's Sans AIDS were offering up some loose and wriggly, detuned indie pop. Playing in front of a screen showing some classic Top Cat cartoons, the trio's energized tunes seemed inspired by late Cowtown-favourites Women, which possibly warmed the heart of that outfit's drummer Michael Wallace, who stood in the crowd. A cover of Captain Beefheart's doo-wop number "I'm Glad" was ramshackle, but super endearing.
Montreal popster Pat Jordache kicked off his set by showing off his new shirt, a striped button-up number he picked up at Value Village for $4.99, but ultimately he dissed the thrift store. "They're dirty," he laughed, pointing to their connections to Wal-Mart. "It's all a scam."
His quintet then launched into the energetic soul-pop stunner "Get It (I Know You're Going To)". Jordache's touching baritone warble resonated on "Phantom Limb," which also saw him dropping a funk-tastic bassline. I can't wait to see this guy at both the Waldorf and at Zulu next week.
B-Lines @ Broken City
B-Lines are legitimately one of my favourite Vancouver bands, and, as always, they impressed at Broken City. Singer Ryan Dyck snarled at the devoted throng singing along to "Social Retard" and "World War Four," but the dude started getting pelted with Lucky Lager cans by the time "It Rains" rolled around. "Whatever you have in your hands, throw it at us," he cried seconds before a lobbed pint glass smashed at his feet. He countered with a kicking-and-crawling crowdsurf session. Just awesome.
Scarebro @ The Ship & Anchor
As hinted at earlier, Scarebro took to Calgary to play their first-ever show. Made up of Payette, Bison B.C. singer James Farwell and former Bison B.C. drummer Brad MacKinnon, the band bashed out a short set of tunes balancing '70s riff rock and early '90s Vancouver Island pop punk (think M Blanket). "Duct Tape" was a particularly adrenaline-fueled rager.
Friendo and Crocodiles @ Palomino
Calgary act Friendo delivered some super sweet and surfy, girl-fronted garage rock. They were pretty good, but their buzzy bubblegum began to blend by set's end.
Crocodiles, meanwhile, absolutely slayed the crowd at the C&W-themed basement venue. Singer Brandon Welchez commanded attention as he crooned, cried, wiggled wildly and delivered weird, spoken-word ramblings throughout the night. Coming off like the lovechild of Iggy Pop and Jim Morrison, he waxed on how the joint smelled of lepers, semen and disease during an extended build up on "Mirrors." The propulsive thumper "Summer of Hate," meanwhile, had him pick up a guitar and bash out razor-sharp jags of noise beside his six-string companion, Charles Rowell. Shades of the Jesus & Mary Chain reverberated around the room as most stood agog at the sonic masterpiece unfolding in front of them. It was loud, chaotic, sexy and the perfect capper to the first night of Sled Island.
Stay tuned for Day 2!