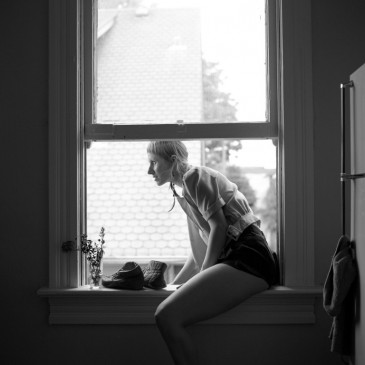 You just know when you meet someone. You can feel it instantaneously. They have the madness—that grain of insanity which manifests itself into artistic energy, the urge that pushes you on to create. Prophecy Sun emits this from every vesicle of her ivory skin.
As she revealed to Discorder over muffins and coffee at a Main Street cafe, Sun considers herself "an installation performance artist that can take many different shapes," and she really means it.
"I have too much energy," she says. "I have enough for three people and I want to get a lot done, life's too short."
Currently, Sun's schedule is split between performing with experimental duo Under the Sun, '80s-influenced vocals project Spell, her indie rock band Tyranahorse and the Her Jazz Noise Collective. She's also part of two dance collectives: Dance Troupe Practice and So So So. On top of that, of course, is her solo project, prOphecy sun.
She wasn't lying when she candidly expressed that she had energy for three—I'd say maybe even more. prOphecy sun's latest release, Not For Dogs, the follow-up to her 2009 debut, Cat Paws, welcomes you into the madness of her being the joys as well as deep pain and confusion. The album contains ethereal echoes, guttural vocal noises and classical melodies laced with spacey electronics. The cacophony of sounds arrest your ears; the journey is vulnerable as the layers peel and you experience it all.
"My solo band, prOphecy sun, is very close to my soul. Tears and laughter bubble on the surface of everything I sing," Sun admits. "I am afraid of so many things and when I play it centres me. I am a voice for the feelings inside of me and a light for the darker parts of me. I let go in ways I cannot in other aspects of my life."
Sun thoughtfully tries to explain her creative process to me, how she is constantly composing in her head, especially on her bicycle named Mr. Falcon. Every little sound becomes a beat she can work with.
"I get inspired by the wind outside, how somebody stumbles, the leaves on the ground, the movement of light, a dream. So many things are inspiring to me that I have to put blockers up so I don't get too overwhelmed," she says. "I take those seeds and allow them to grow."
Not For Dogs is hard to define because each track goes in a completely different direction. "Harmonica Train" contains a series of low groans, growls and deep breaths layered amongst high pitched wails and harmonica puffs clattering like a train moving across the tracks. The song is intense, yet the airy "of Bladerunner 2" emotes the beautiful tinkling of what sounds like clinking pieces of glass. The beautiful sound of her voice, meanwhile, is utilized in "Don't Forget Me," where she harmonizes her vocals on lines like, "Please remember me in the morning."
I was curious about her unique name, as most people that meet her probably are, and yes, it is her given name. In its entirety, it's very epic: Prophecy Dela Star Sun.
"Growing up I didn't understand why I had this crazy big name so I went by Star. When I was older, I started using Prophecy again because I thought it was more grown up," she admits. "Now I'm finally starting to feel like I have come into my name and it was a logical choice."
Fittingly, her parents are both artists. Her mother, a singer, and her father, a percussionist, played in a band together. Sun and her five siblings were always surrounded by music. She was allowed creative freedom growing up, which is reflected in her now: she drew on walls and in books, and made sculptures out of furniture in the family home.
Sun has a well-known and unique love of cats. She owns four and also makes hand-sewn, feline creatures that she displays on stage as she performs. Her cats are even heard in the music itself, with little meows or the sound of their movements creeping into Sun's soundscapes.
"I find my cats are like little angels to me," she says. "They are not like the energy vampires I encounter everyday in this city. They just sleep and eat."
Whether she's crafting kitten creatures and soundscapes on her own, playing with her innumerable bands or dancing, she is constantly sharing her creative energy around the city. To fully understand her art you must experience it in the flesh, so I strongly suggest catching her performing at one of the local haunts.