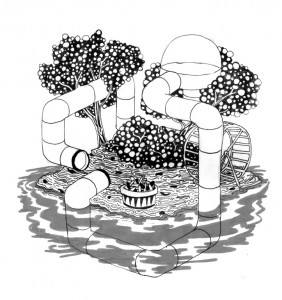 Submerged somewhere in Samuel T. Herring's bosom beats a nostalgic musical adventurer. Herring, ringleader of the playful Baltimore post-wave trio Future Islands, is suggestive of a brainy Jack Black by way of Captain Beefheart. It isn't so much that Herring looks like Black—though he does—but he also seems to inhabit the same physical space, delivering in concert a comparable, sometimes comic intensity. He also posseses a poetic whimsy most artists only daydream about.
"I've been reading a lot of Bukowski's poetry lately," Herring tells Discorder. "I find a simple pleasure reading his work. He makes me laugh, he makes me think, he's real cut and dry. I've also been doing a lot of laundry."
Herring's fondness for the wordsmith and for making acerbic non sequiturs won't seem too left-field for those familiar with Future Islands' oeuvre, especially last year's sparkling sophomore album, In Evening Air. It's a garishly pieced-together mishmash of Gerrit Welmers' clutter-free synths and drubbing drum machine sequences, William Cashion's soaring bass lines, and Herring's swooning, Tom Waits-ish bar brawl vocals.
Their signature sound is hard to pin down; a hybrid of post-punk, new wave and synth pop that flashes on Devo or the Talking Heads. Perhaps their true lineage lays in genre reconstruction—building greatness out of whatever might be in their path—and adding their silky atmospheric sheen. This is never more evident than on In Evening Air's "Tin Man," where a motivated marimba and driving bass furrow chugs along with the momentum of a freight train. Carried by Herring's sorrowful caterwaul, it's a highly charged, unpredictable and memorable recording.
Much of Future Islands' fire is spent in the studio; producer, Chester Gwazda (Dan Deacon, Ecstatic Sunshine) is like a fourth member of their euphonious family.
"Chester is one of the few people whose opinion I know I trust," Herring says with conviction. "He's also the only person that I trust with my vocals. So, for me, he is extremely important for Future Islands' recorded output—he's got the goods."
"We recorded with Chester for the first time back in 2006 as part of his junior year college project, when we were still a very new band," adds Cashion. "With each album we've grown together, learning more as we go along."
Following those early recordings and 2008's Wave Like Home's lavish electronic textures and calypso no-wave nods, the band netted label support from Chicago Indie authority Thrill Jockey. With a slew of recent releases and a third album already in the works, Future Islands have a bright tomorrow ahead of them.
"We're just lucky that we've been able to release so much," Herring says hotly. "Before 2010, we just had a couple seven-inches out. At this point, we've released five 12-inches and three seven-inches—that's pretty crazy turn around. Thrill Jockey has been pushing real hard to release vinyl with us and we couldn't be more excited."
Vinyl has certainly seen a huge resurgence and Future Islands are fired up to be part of the record revival.
"I've always been interested in limited vinyl releases. I guess that started with my Smashing Pumpkins obsession when I was growing up," Cashion explains. "They had some pretty rare singles back then and for Siamese Dream, each single was a different colour seven-inch and some of the b-sides were only available on seven-inch. This was before everything was available online, so I ended up doing a good amount of hunting for cool stuff. I still have the Pumpkins' "Today" seven-inch on red vinyl. Our last release was a split seven-inch with Lonnie Walker on peach vinyl, inspired by the "Rocket" seven-inch."
"Vinyl is exciting," Herring adds all atingle.
Also exciting are the startling live shows Future Islands have become known for. They'll be touring with Okkervil River and Titus Andronicus in June and July before embarking on a headlining tour this August.
Cashing's bass plunk and posture, akin to New Order's Peter Hook, provides an unshakable buttress for the band, but it's Herring's grandstanding that makes the Future Islands fantastical. His theatrical onstage posturing, often including wild genuflections and hyperactive hand jives, elevates their performances to dizzying heights. But this, Herring suggests, is due to the generous fans who cheer him on.
"Just knowing that there are people out there who put a lot of faith in what we do is a great inspiration. We have some really amazing fans and that gets us excited when we're preparing to hit the road," he says. "And there's a love in it for me. When I'm home for awhile, I long for the stage and the mic."
Though they're soon to stopover in our pretty patch, Future Islands are staying tight-lipped about whether they'll perform some brand new tunes from their forthcoming third full-length, which they hope to drop in the fall.
"You'll have to wait, bro," Herring jokes, refusing to budge or dole out any details, even though recording has been monopolizing his time for the last couple of months. With all his fire and cheer, it's hard to be dismayed by anything Herring might be withholding. "This is probably the biggest thing in my life," he says, "it's hard to find time for much more."
With that Herring adds a small peal of laughter, which, like his music, is bent but beautiful.
Future Islands plays the Media Club August 4.