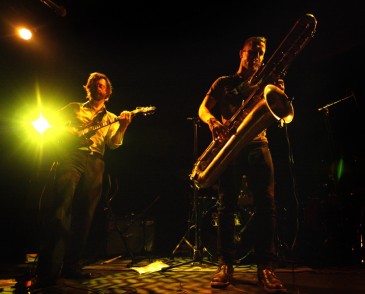 "Mesmerizing" is how one audience member described it. A "sound-track to a post-apocalyptic movie" is how another fan described the music of Fond of Tigers, who played Venue as part of this years Vancouver International Jazz Festival.
First up, however, was Montreal-based bass saxophonist Colin Stetson. Yes, such an instrument does exist, and Stetson knows how to perform a killer show using it. Brass sounds are already loud and deep as it is, but this bassy variation could cause an earthquake. With my back against the wall, I felt my entire body shake each time Stetson honked his horn. Though performing solo, Stetson's music felt very complete, with melody, bass and harmony all coming out of his single instrument. During "Red Horse," off his latest disc, New History Warfare Vol.II: Judges, he tapped his fingers on his sax's valves to create a rhythmic percussive sound that had heads moving in the crowd. He was a wicked solo performer and a great start to the night.
Walking onstage to a rapturous round of applause, local septet Fond of Tigers took us through an emotional journey of highs and lows. Stephen Lyons started their set with a quiet guitar melody before the rest of the group joined in one by one. Though things started off gently, the set got decidedly heavier by the time percussionists Skye Brooks and Dan Gaucher simultaneously struck into a heavy, syncopated drum beat. I was so stunned by their performance that I forgot the name of the first song they played, however I do remember them later playing "Soheb," a track off of last year's Continent & Western, which delighted fans. Halfway through their set, Stetson joined the band to perform "Skip," a song that, the band announced, hasn't been recorded yet. It was one of the most intense concerts I have ever been to.