When I met up with Jesse Taylor of Twin Crystals, it was in the building that the band shares with a few other Vancouver bands and artists—fittingly named, the Secret Space. The artists' enclave exists in one of the few areas of Vancouver that hasn't yet been touched by the forces of gentrification, just a few doors down the alley from the sadly, now defunct Emergency Room, the former home base of the musical scene that Twin Crystals are at the forefront of.
"All of us—pretty much anyone who's involved in the ER and most of the bands—are from the Okanagan," said Taylor, harkening back to the days before Twin Crystals, when he was drawn from his hometown of Vernon to Vancouver.
While the Metro Vancouver area boasts a population of over two million, it didn't take long for Taylor and his cohorts to carve out their place in Vancouver's music scene. "We had always aspired to move down here and play, but we thought it was like a big city," he recalled. "We didn't know what we were getting ourselves into and that it was just another small town."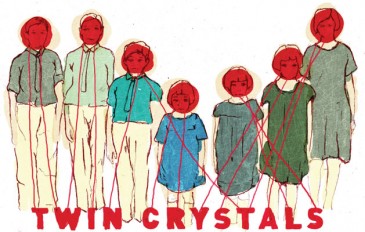 After relocating Taylor was in a variety of acts, most notably no wave outfit, Channels 3+4 and he's still involved in multiple projects outside of Twin Crystals. But while Channels 3+4 garnered some buzz overseas, it wasn't until he formed Twin Crystals with drummer Jordan Alexander that one of his projects garnered a larger following.
"I don't know what happened in Vancouver, but nobody cared before," Taylor said, explaining the climate in Vancouver five years ago. "Even when the ER started, there were still only 20 people at the shows. And then two Halloweens ago there were 500 people there and it's been like that ever since," he noted with a smile. "It's scary sometimes. It's weird to see a fan base shifting from your friends … but things are awesome now."
Twin Crystals formed when Channels 3+4 was winding down and it solidified when Taylor and Alexander rounded out the line up with Jeremiah Hayward on synthesizer. This freed Taylor to pick up a guitar and complete the band's mix of hardcore, new wave and noise. "Since then, we've never looked back," Taylor explained.
"Never looking back" has meant a prolific output for the trio, who, according to Taylor, in the last year alone have put out "seven or eight releases." And that's just the vinyl.
"We had a lathe 7″ called Disappear Forever that we only did 31 copies of. And then we did a lathe 10″ and we did 51 copies of that. And then we did the Two Girls 7″. We weren't even going to do Two Girls, but Summer Lovers really thought that was the hit and wanted to keep going with it," Taylor said, explaining just a handful of those releases on the band's biggest label to date, the relatively small, Summer Lovers Unlimited. The rest of the band's output, including their latest, a self-titled LP, have been spread out on tiny, d.i.y. imprints, which fits with the band's fiercely independent outlook.
"I don't really think any of our bands have a mainstream rock sound at all," Taylor said when asked about the prospects of Twin Crystals or any of the other recently christened "weird punk" bands in Vancouver garnering a larger following outside of their hometown. "Sometimes there's bits from emails and stuff that make it seem like things are going that way," he said before pausing. "I would totally have fun with it. It's not a fun business to be in, so you've got to do things to amuse yourself. We'd do it on our own terms."