In a city as full of talent as Vancouver, it's easy for a burgeoning band to get lost in the fray. However, MT-40, with their sardonic lyricism and resplendent hooky melodies punctuated by fervent beats, have been gradually making themselves conspicuous over the last six months.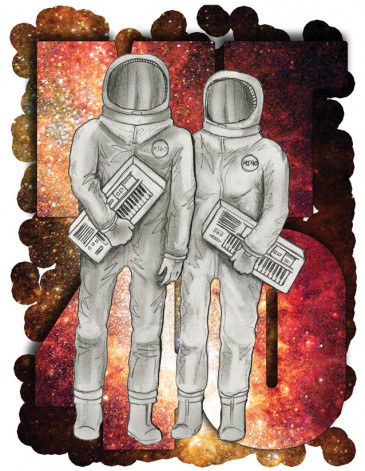 They quite notably stole the show—with some even calling it the best performance of the five-day affair—when they played the Biltmore for Music Waste.
It's become increasingly apparent at their shows that few can keep their backs against the wall and resist the urge to join in convulsive fits of spastic abandon. When asked if danceability was a priority when writing songs, Sophie Sweetland (keys and vocals), the female half of the lo-fi/electro/synth-punk duo, kept her reply succinct, "Yes definitely. MT-40 was created for dancing, nothing else."
While Sweetland mans their namesake MT-40 keyboard, Reginald Bowls, who deftly programmed a Commodore 64 as a synth, is responsible for the flippantly subversive lyrics in most of their songs. Although that may be the case, Sweetland said, "Song writing is a collaborative effort. We both come up with parts and play them for each other, and if we like it, we will try to make it into a whole song."
Sweetland's solo musical endeavours run the gamut from dream pop to drone to surf rock. With MT-40's sound, however, Sweetland shows a pronounced contrast to the other music she has written. Sweetland cited influences such as John Maus, Lady Ga Ga, and "other good main-stream pop." This contrast isn't surprising and no doubt contributes to MT-40's sonic layering of beguiling hooks and dissonant progressions with a dance sensibility.
One of their most captivating compositions is "Issabella Rosselini," a wantonly hasty romp addressed to its namesake. It's a crowd favourite and the song, Sweetland admitted, is the most fun to play.
Though they've played a few shows a month since they started in February, their first is still Sweetland's favourite.
"I keep thinking about our first show, which we played in White Rock at a house party. It was also World Club's first show. It was really good fun even though we only had like four songs and everyone was super wasted," Sweetland said.
With all the shows they're playing you might expect them to be getting ready to tour, but while Sweetland said they dream of touring, they have no plans to do so at the moment.
Sweetland includes the band she played with at MT-40's first show among her favourite local performers. "World Club, Nü Sensae, Walter TV, Modern Creatures, Sex Negatives. I go to their shows, get stoked and then hope to create that kind of energy in MT-40."
Though one has to agree on her choices for top Vancouver acts, it can be said that the energy created at an MT-40 show is unmatchable—a fact that sets them apart from the vast assortment of talent this city as to offer.
You can catch MT-40 at the Media Club, Saturday, Aug. 15, for the Olio Festival with Juvenile Hall