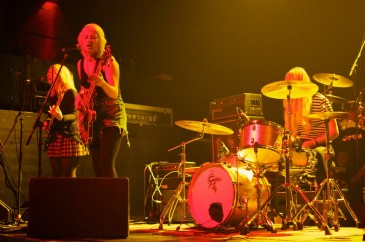 Hag Face, a four-piece punk band from Calgary, had a few words to say before launching into their excellent set, but I doubt anyone except the front of the crowd could make them out, though this was likely design rather than error. It made the sheer sonic assault that inaugurated their performance all the more disruptive. The songs seemed to follow as such, with Hag Face performing gleefully dark garage punk — abrasive, but light compared to their drops into sheer noise-rock abandon. Their maintenance of intense garage-rock discipline alongside the spontaneous and stomach churning mark them as a band to keep an eye out for.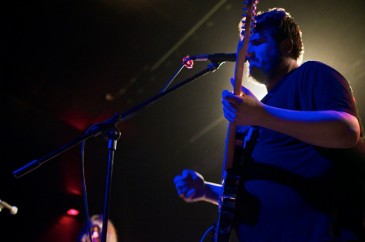 Tough Age, featured in this month's issue of Discorder, came out to much aplomb. The band pulls off scrappy surf rock with a finesse that's extremely tight. Their drummer is a particularly strong factor, creating in himself a whirlwind of potential spontaneity that is more likely control, at one point replacing a drumstick he had inadvertently tossed aside instantaneously with another.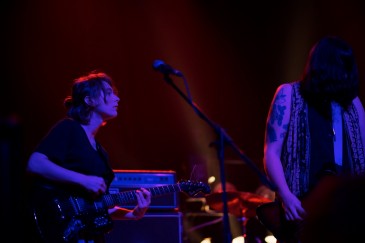 Many who came solely for Death had arrived by then. Having missed the assault of Hag Face, they were in amiable hands. Death themselves proved to be extremely accommodating, communicating in a homey tone, as if to a crowd of intimate acquaintances. Given the depths that A Band Called Death bares, it's arguable that anyone who has seen the film could function as one. It is difficult then to extricate the experience of seeing Death on stage from the film that documented and assisted their revival. Death certainly doesn't seem interested in dissuading the conjunction, filling their banter with myriad references to "David." While two thirds of Death are the Hackney brothers, Death originally had three. David was the third Hackney brother who passed away in 2000: founder, guitarist, and spiritual core of Death.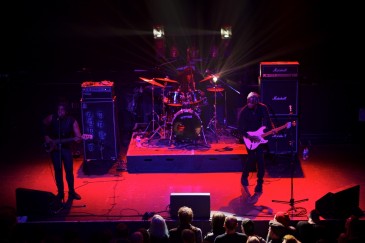 Of course, Death's furiously quick playing among contemporaries mark them as proto-punk pioneers and savage riffs still preside over their live sound. But what is equally evident is their penchant for classic hard rock and their funk/R&B origins. Nevertheless maintaining an uptempo beat, Bobby Hackney's bass-lines often lean into grooves. Dannis Hackney's drumming displays an appreciation for the technical as opposed to raw fury. The vocals mediate between soulful cries and jabbing staccato. Evincing their range, "Let the World Turn" displays the ease with which they shift from soft ballads to anthemic punk.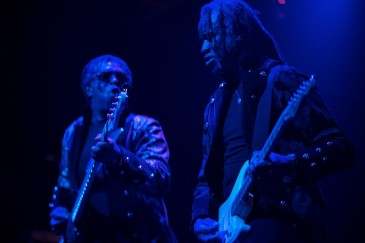 Their affinity for rock is furthermore evident in Death's sense of showmanship. Their live performance has every hint of that rock lineage, struts across the stage and windmill strums included. This was realized most blaringly in the omnipresent strobe effects which punctuated the show, exploding in unstoppable throbs, accompanying a closing jam during the encore that seemed to prelude the end of the world.
In an alternate dimension, I'm convinced Death would've been stars. If it's merely been nurtured in the few years between this show and when the members of Death left associated reggae act Lambsbread, it is all the more impressive. This charisma brings to mind the Hackney's Baptist roots, lending Bobby a preacher's flair for genuine excitement.
Whereas another band of Death's age might conjure an image of contrived reunion, both their long coming fortune and spiritual investment in the music lend them conviction and energy. To my eyes and ears, the crowd was having a great time, but undoubtedly Death was riding a much greater high.