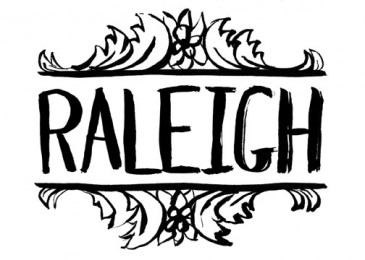 It's late autumn, the air crisp and chilly as the wind rises, scattering leaves wildly, making everything burst with a strange and strangled beauty. The warm, brightly lit Googly Eyes Studio fills with laughter as I sip tea with two thirds of Calgary's delightful folk pop purveyors, Raleigh. They've been diligent and driven lately; recording and touring steadily while still finding time to gab and gambol between mixing sessions on their sophomore LP, Sun Grenades and Grenadine Skies, set for a spring 2013 release.
The captivating Clea Anaïs (vocals/cello/piano) underscores Raleigh's regard for western Canada. "Vancouver is the cultural hub of the west and we come here a lot. The music scene here is closely tied to Calgary's and there's always a lot going on."
"We're very much connected to the Calgary scene," adds an affable Brock Geiger (vocals/guitar/bass). "Our style of music has lent itself to participating in different niches in the Calgary community; from the bar scene to the folk festival and beyond. We're not leaders of any one scene but we've made ourselves available to many."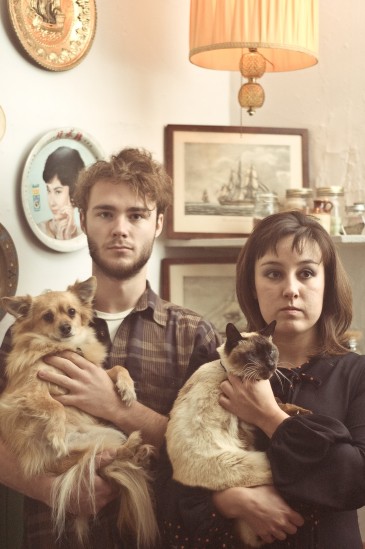 Anaïs and Geiger lead prolific musical lives beyond Raleigh (between them they play in the Dudes and Dojo Workhorse, amongst others), as does their deftly skilled drummer Matt Doherty (Axis of Conversation, High Kicks). But for working musicians to play in multiple bands is fairly common, especially in a sometimes fickle musical milieu.
"Having grown up and cut our teeth in Calgary," Anaïs says, "our various projects have allowed us to really get to know the artists there and it's a very supportive and fostering place. I'm happy in Calgary, but I would love to try out a larger city at some point."
This wanderlust may be what routed Raleigh to Montreal's venerated Hotel2Tango Studio—recording destination for legendary acts Arcade Fire, Godspeed You! Black Emperor and Thee Silver Mt. Zion—to record their follow-up to 2011's glowing debut, New Times in Black and White.
"Ultimately, we took a chance," gilds Geiger, "but it was a safe risk, for me, knowing that some of the best albums around were recorded there by Howard Bilerman, with assistance by Greg Smith."
"China Flowers," a cut off the forthcoming LP, begins with a brambly brush of guitar that gives way posthaste to a sweetly obliging cello melody as Anaïs mews auspicious and hopeful. Whether live or recorded, they are their own universe with their own cosmology and gravity.
"We were quite prepared when we went into the studio," Anaïs says. "We had the songs ready and we knew working with Howard was going to be a lot of live, off-the-floor stuff. In our minds we had a lot of things mapped out, but we wanted to add to our sound, so we used French horn, trumpet, and a saxophone, and in that respect, it was new to us. With these elements we expanded on our trio."
"This one really takes on a new life for us," Geiger adds, happy as a kid on Christmas.
With mastering nearly complete and the band seeking label backing, music fans can expect Raleigh to be touring a lot behind this release as well.
"We plan to release it properly and support it properly," Geiger says with good grace, anticipating more live shows and time on the tour treadmill.
"I control the gears for you…" Anaïs sings, more pop than rock, a sort of Baroque measure that's frequently heart-piercing and precise on "Inside Lines," also from Sun Grenades and Grenadine Skies. It pulls the listener in instantly with its beauty, colour, and pastoral conjuration. Cello notes pop and glow like stars—at times fleeting and giddy—as male/female harmonies, precious and fey, but potent, resonate like church bells.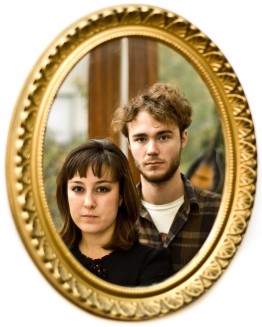 "Our sound is constantly evolving," says Geiger. "In the past we described ourselves as folky, but we've gotten more interested in bigger arrangements and song structure. We joke that it's sorta prog folk," he adds with a grin. Geiger may be close in his definition, but Jethro Tull, Raleigh ain't. They're more new-fashioned and transformable than that.
"We stay away from playing stylistically in any one genre," Anaïs adds. "We're more interested in fleshing out ideas, having fun, and stretching our material into different directions. It's hard to say exactly what genre St. Vincent is or Dirty Projectors are, and while we aren't looking to duplicate what they're doing, we similarly don't want to easily fit into one classification."
Trainspotters be damned, not everything can be put aside and pigeonholed.
"I like to set up that we're a guitar/cello/drum trio," Geiger says. "Our use of these instruments nets us a larger sound. We aren't trying to fit into a blueprint, but our two albums are tied together by the instruments and the players. Sound-wise, it's matured as our band has grown. I feel we're naturally coming into our own."
Refracted through their personal lens, Raleigh inhabit a shape-shifting capacity. Doherty, a deep-pocketed drummer, helps flesh things out as he gathers momentum like a locomotive while Geiger's guitar bursts over Anaïs piano notes that drop like rain. There's something in their music that draws you near, makes you still a moment. Silent, perhaps, and observant. A Frankenstein of their own making, maybe. Made up of available parts and pieces as its palpable genius works, plays, and stirs.