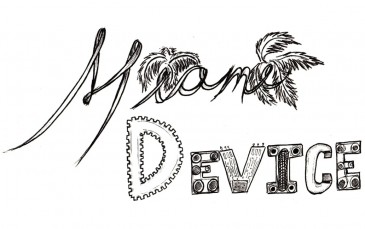 It is possible that Vancouver's Miami Device, after years of grinding the pavement, have learned to be as adaptable as their city's urban landscape. Move out before you get done in, seems to be the mantra of their upcoming debut album Monopoly.
Discorder spent an afternoon with nine of the band members at Muster Studio, an eclectic art/music space on the Downtown Eastside, discussing their name, their influences, and how they beat the odds to produce Monopoly in pure d.i.y. blood, sweat, and tears.
"The songs were recorded at places that don't exist anymore," says Brandon Hoffman (guitar) after the nearly two-year recording marathon. "Half of the album was recorded at my old house, which we dubbed 'Gladgnome,' until the house was demolished."

Adrian St. Louis (drums) finishes Hoffman's sentence like only a bandmate could. "So we took the recording to my old house, which we dubbed 'Graceland,' and finished the process there. I had to move out because the house had to be demolished as well," he laughs.
The result, recorded, mixed, and mastered by Hoffman, with assistance from Leathan Milne (guitar), is a 40-minute ride of punchy, pure-quality Afro-beats. This is a record that oozes love for the craft. And evictions aside, this floor-shaking group of musicians—10 in their current lineup—and their trumpet, trombone, tenor and baritone saxophones, synths, guitars, drums, congas and shekeres (the bead-wrapped wooden ball that sounds like brushing your teeth) have been forging their own brand of upbeat, original, mostly-instrumental melodies for a number of years. And with the December 4 release of Monopoly, Miami Device have officially arrived.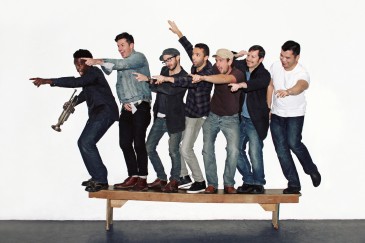 "The name [Miami Device] has nothing to do with the city," says St. Louis, the band's founding member. "There's a shaving product out there that, legend has it, shaves just enough to give men a five o'clock shadow. It's called the Miami Device, and I've been looking for it for years without success." That was six years ago, and it would take four more to finally galvanize the current lineup, bringing a full, dynamic, and richly layered concoction of Afro-beat flavours, instrumental big-band American funk, and tropical reggae undertones, all siphoned through our Zen West Coast sensibilities.
To compare Miami Device to their biggest influence, Nigerian musician, activist, and Afro-beat legend Fela Kuti is just scratching the surface. This group offers a fresh take on polyrhythms, chants, and horns.
Monopoly's fourth track, "Indian Arm," is a chilled out theme that starts with a driving reggae/funk guitar riff by Hoffman and Milne, later transporting us into familiar groove with Mike Pratt (tenor sax), Langston Raymond (trumpet), Tim Sars (baritone sax), and Kevin Tang's (trombone) perfectly harmonized brass section, while St. Louis, Syd Beagle (congas), and Justin Kennedy's (shekere) plunk together tight, lively percussion. In the end, the song opens up to a mellow, misty, and cool vibe, with a brilliant outro featuring St. Louis' splashy ride cymbal and Georges Couling's blissful organ solo. It's reminiscent of Ray Manzarek's dreamy rambles on "Riders on the Storm."
With plans to tour next year, the band's ambitions are patient, large, and long term. They briefly experienced life on the road, playing Whistler and Osoyoos in 2011 and 2012, and have shared the stage with notable international artists like Canadian rapper/songwriter k-os, Brooklyn electro-funk ensemble Chin Chin, and Chali 2Na of Jurassic 5 and Ozomatli fame. With these credits to their name, it looks like Miami Device are here to stay. And very likely with more solidity than the changing Vancouver cityscape.
_____________________________

Miami Device throw their record release party on December 1 at Sideshow Studios, (5 W 2nd Avenue) with guests Whiskey Chief. Doors at 8 p.m. $10 cover.