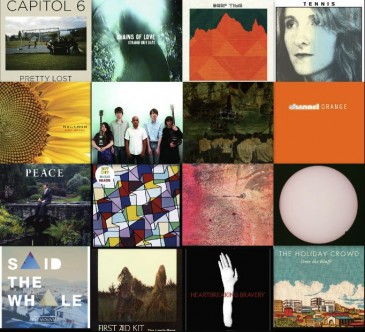 Jordan Ardanaz [Under Review Editor]
LOCAL: The New Values, The New Values. A spitfire of spastic, thrashy punk that pushes all the right buttons, everything on the New Values début is propelled to the very brink of falling apart. If that wasn't enough, there's enough attention to song writing for an album's worth of catchy hooks, all covered by a patina of self-awareness and wit. The New Values show that it's possible to make energetic guitar-based music that sounds as interesting and creative as it is raw.
ANYWHERE: Hot Chip, In Our Heads. This one caught me by surprise. I like dance music, and I like dancing; I am human after all, but I haven't encountered much of it this year. Maybe it was the bikinis and the beer-bike adventures that went to my head, but In Our Heads didn't leave my car stereo, and will forever make me think of Summer, 2012. And anything that so effortlessly makes you feel like sunshine is a winner to me.
______________________________
Sarah Cordingley [Music Dept. Manager]
LOCAL: V.Vecker Ensemble, In the Tower. I'm not entirely convinced that they're an "indie supergroup" as The Straight put it. Or even that they're some kind of avant garde ensemble of "musicians." But they do definitely pull off this lush 20 minute "composition."
ANYWHERE: Deep Time, Deep Time. This might just be the catchiest, sweetest, most cat-themed thing that's ever happened to me.
______________________________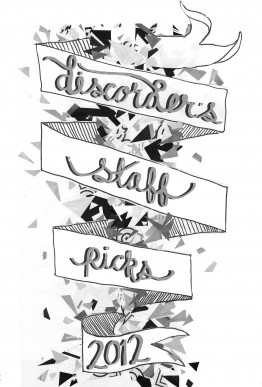 Fraser Dobbs [Writer]
LOCAL: Ian William Craig, Cloudmarks. Not just one of my favourite local records this year, but one of my favourite records of all time, period. Cloudmarks is beautiful, haunting drone in the spirit of Eno's ambient series, flecked with tape-deck noise and unpredictability.
ANYWHERE: Windy & Carl, We Will Always Be. Despite the horrendous first song "For Rosa," this is the definitive Kranky [records] experience. "Fainting In The Presence Of The Lord" is a gorgeous 19 minute journey into your own head.
______________________________
Coleman Ingram [Writer]
LOCAL: Hoopsnake, Knucklehead. Straight up doom-metal from Squamish. There is obvious Sabbath worship here, which is ubiquitous with the genre, but Hoopsnake hit all the other key elements that I love about stoner/doom on this five track outing: they have the occult sense of bands like Electric Wizard, shrieks reminiscent of Bongzilla and guttural growls like Deicide, lo-fi production like Eyehategod, but NOT the ultra-boring drone of bands like Sunn O))).
ANYWHERE: Bloated Pig, Made for Hell. Calgary metal stalwarts get heavier on their third full length. Musically and lyrically darker than 2011's Ways to an Early Grave, Made… sees Bloated Pig exploring the fringes of their influences with up-tempo songs becoming faster, slower songs tuned lower, harsher vocals spitting out more cruel and disaffected words; it's just more severe in every way. So basically, it's fucking awesome.
______________________________
Steve Louie [Real Live Action Editor, Photographer]
LOCAL: Jay Arner, Bad Friend. I know it's not an album, but seriously this is what I've been listening to all summer and fall. I happened to be in Seattle when Jay Arner played their second show as a band at the Crocodile alongside Memoryhouse and Seapony. Wow. It also happened to be my birthday weekend. Wow.
ANYWHERE: The Holiday Crowd, Over the Bluffs. I listened to more seven-inches and EP's this year, but probably the most consistent album of those this year is Over the Bluffs just for the reason that it reminds me of being amped to go to New York for NYC Popfest and the band actually played the festival.
______________________________
Joni McKervy [Writer]
LOCAL: Capitol 6, Pretty Lost. These guys make me feel like this is my '70s, like we're all wearing suede vests and crocheted dresses, drinking in a saloon in the desert of California. Feels pretty good.
ANYWHERE: Frank Ocean, Channel Orange. I haven't loved a whole R&B album since Cooleyhighharmony, so falling for Channel Orange was a big surprise. Beautiful and badass from beginning to end.
______________________________
Duncan McHugh [Writer]
LOCAL: Peace, The World Is Too Much With Us. I've been a fan of Peace for a while, but the songs they're writing now are their best yet. I heard a lot of these songs during their Music Waste set in June and I was counting the days between then and the October release. The first single, "Your Hand In Mine," is my song of the year.
ANYWHERE: John Maus, A Collection Of Rarities And Previously Unreleased Material. This is the year that I finally gave in and pledged allegiance to Our Dark Lord John Maus. A couple of years ago, before I had gotten into his music, I heard he was playing the Waldorf on New Year's Eve and wondered why people would want to go a show on a night with so many other things going on. Now I know. This album collects songs from 1999 to 2010, and shows off how weird (and brilliant) Maus has been for a long time.
______________________________
Cali Travis [Writer]
LOCAL: Apollo Ghosts, Landmark. Utterly unpretentious. The ultimate most fun you can have at a show, and at parties gets everyone sputtering, "Holy crap who is this?" And I'm like, "It's my friends, Apollo Ghosts. Duh." Except I'm sometimes nicer than that. An effing gem.
ANYWHERE: Moonface, With Siinai: Heartbreaking Bravery. Spencer Krug is my hero. His every project turns to gold, and silk, and flames, and flowers. Moonface has been a personal and courageous endeavour, and unceasingly rewarding. This album was just that.
______________________________
Shane Scott-Travis [Writer]
LOCAL: Chains of Love, Strange Grey Days. Wrecking Crew-style production by Felix Fung (the Phil Spector of the band) brings a wonderful Wall of Sound polish to these near-perfect pop confections. Nathalia Pizzaro's pipes summon the Shangri-Las and the Ronettes with a serrated bite. Her harmonies with Rebecca Marie Law Grey are heaven-sent. This is a relevant nostalgic throwback love affair.
ANYWHERE: First Aid Kit, The Lion's Roar. A lovely long player from Swedish sisters Klara and Johanna Söderberg, full of bucolic beauty that habitués of country-folk indie will quietly go berserk over. That "Emmylou" evokes the star-crossed heartache of Gram Parsons and Emmylou Harris while paying them both honest homage is one reason to cherish this record, and their honeyed-harmonies, soft as falling snow, is another. Tissues recommended.
______________________________
Jordan Wade [Host of Discorder Radio, Writer]
LOCAL: Said The Whale, Little Mountain. It includes an eclectic mix of fast paced numbers with intelligent lyrics on 'Loveless' and 'Jesse, AR' and slow reflective tracks 'Seasons' and 'Big Wave Goodbye' complete with lots of local references to our city, our home. They even released a video series for all tracks on the album. Honorable mention goes to Vancouver's Fine Times.
ANYWHERE: Tennis, Young and Old.
With their nostalgic lyrics and enchanting melodies, Patrick Riley and Alaina Moore, a husband-and-wife combo from Denver, Colorado, perfected a distinctive sentimentality. Moore's smooth sweet voice is the sugar on top of this modern indie pop meets early 1960's surf rock hybrid. It's a winner from start to finish. Honorable mention goes to Australia's Tame Impala.