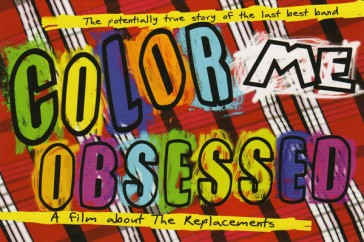 Everybody has a story about the Replacements. At least, according to the music documentary Color Me Obsessed: A film about the Replacements. The film, directed by Gorman Bechard, features stories told by all sorts of musicians, critics, writers, producers, and fans inspired by the long-gone Minneapolis punk rock band, including the Decemberists Colin Meloy, Grant Hart of Hüsker Dü, author Caryn Rose, Craig Finn of the Hold Steady and One Tree Hill creator Mark Schwahn, who was surprisingly cool. Even comedians Dave Foley and Tom Arnold show up, illustrating the Replacements' devoted and varied fan base.

Differing from other music docs, Color Me Obsessed features no live footage or audio clips from the band, and while there are countless talking heads, interviews weren't conducted with singer/guitarist Paul Westerberg, bassist Tommy Stinson or drummer Chris Mars [guitarist Bob Stinson died in 1995]. This was intentional, however, and gives the audience a chance to reconstruct the band through the stories told by their most loyal fans.
Memorable concert experiences were recounted, including several recollections about the band's alcohol-influenced performance meltdowns, or the late Bob Stinson's crazy onstage outfits (a tutu without underwear, Dr. Seuss leotards, performing inside a garbage can). We also got a sense of the band's relationship with long-time manager Peter Jesperson and with the indie imprint Twin/Tone.
The only issue with this film is that it's much too long for a format that only features talking heads. There was a long segment about how the Replacements' music affected people personally that could have been left out. Mostly because this can be said about any band and didn't necessarily seem to reflect the band's individuality.
That being said, this film is definitely worth the watch, whether you're a fan of the Replacements or have never even heard of them.
Gorman Bechard will be screening Color Me Obsessed: A film about the Replacements and holding a Q&A at the Waldorf Hotel on December 2, with an afterparty to follow featuring performances from White Lung, Defektors and DJ Tyler Fedchuk.